3D Laser Scanning for Oil and Gas Applications
TruePoint Laser Scanning is experienced in providing 3D laser scanning services in oil and gas applications to produce reliable, high quality data that can be used across your organization. We have experience scanning refineries, process areas and distribution facilities all over the United States. We can high definition laser scan the interior and exterior of buildings; structural, mechanical, electrical and plumbing features; equipment and piping down to ½ inch diameter; and any other site topography and features.
Our Experience
Our laser scanning experience in oil and gas applications include:
Refineries
Terminals
Super Structures
LPG Facilities
Natural Gas Compression Stations
Vapor Recovery Units (VRUs)
Small and Large Format Piping
Valves
Tanks
Loading Racks
Ethanol Pump Stations and Offload Areas
Natural Gas Separator Units
Metering Skids
Freighter Piers
Tower, Platforms and Bridges
Pipeline Manifold Shelters
Dock Connection Piping
Secondary Containment Areas
Benefits of Laser Scanning
Laser Scanning is SAF – Safe, Accurate and Fast. 3D laser scanning allows TruePoint to provide clients with precise data in a short amount of time. Our scan technicians accurately and efficiently capture data in locations where accessibility is difficult and areas are unsafe. The smallest details can be captured in highly congested areas. The inside of tanks and containment dykes can be laser scanned for volume calculations and deformation analysis. Laser scanning provides more information than tank strapping. TruePoint can provide reliable, accurate as-built information for facility upgrades and expansions. 3D laser scanning can aid in design, construction sequencing and scheduling, clash detection or pre-fabrication, plus reduce site revisits due to missed measurements, schedule delays and change orders. All of TruePoint's scan technicians have a minimum of OSHA-10 training to ensure they understand safe practices while on-site and how to minimize potential dangers associated with these types of facilities.
Deliverables and Services
BIM/CAD deliverables can be provided in a variety of formats including AutoCAD Plant 3D, Navisworks, Bentley MicroStation, Revit, AutoCAD MEP, or simple AutoCAD solids.
Point cloud deliverables can include file formats such as:
Leica (.pts, .ptx, .ptg)
Autodesk Recap (.rcs and/or .rcp)
Bentley (.pod)
Additional services include 2D site plans and 3D BIM models in additional Autodesk products such as AutoCAD Civil 3D. Leica TruViews and full color photographs complement the deliverables and further expand on details from laser scan data in a standard Microsoft Windows environment.
Data can be used to create accurate as-builts of the facility, aid in the generation of isometric drawings and for clash detection and pre-fabrication purposes.
Our engineers can work closely with clients to develop project phasing and sequencing, custom equipment tagging, pipe scheduling and sorting phasing in Revit. They can assign properties of pipes including pipe material specifications and conduct volume calculations and deformation analysis. We can use ClearEdge 3D Edgewise software to process piping and build custom libraries specific to client needs. Custom Revit families can also be generated to build a library of custom content.
Storage Tank Strapping Services
TruePoint 3D Laser Scanning provides tank calibration services, commonly known as "tank strapping," which is the procedure for measuring storage tanks to provide accurate dimensions for capacity table calculations.
TruePoint safely measures all the possible details of storage tanks, including vertical wall roundness and shape, sumps, piping, columns, floating roofs, interior features and floor profiles. Once all the necessary measurements are recorded, customized tank strapping charts are created for clients to determine what volume is in their tank at a specific level. TruePoint tank strapping professionals use established calibration methods, tables and equipment conforming to current API industry standards to any standard unit of measure.
TruePoint's tank strapping expertise is available for:
Fixed roof tanks
Floating roof tanks
Onshore bulk storage tanks
Vessels storage compartment (storage tanks on crude oil tankers, LNG vessels, etc.)
Storage tanks on trucks and railcars
Calibration of tank bottoms
Agricultural and chemical silos and elevators
TruePoint's team of in-house engineers works with each client to create custom deliverables, including point cloud data, AutoCAD drawings, 3D models, floor contour drawings, JetStream .LGS files, PDFs, and Excel files of strapping tables.
For storage tank strapping services, contact TruePoint today at 419-843-7226 or email info@truepointscanning.com.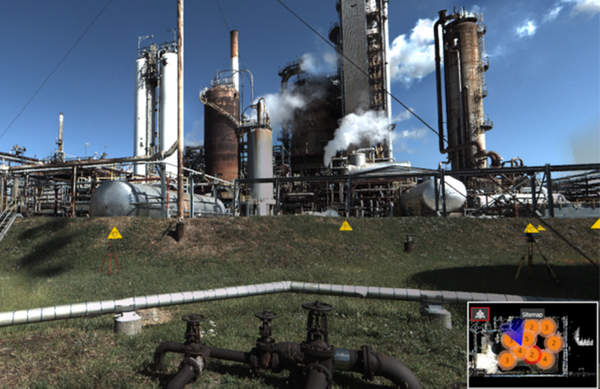 Screenshot of the point cloud information as seen in JetStream Viewer software.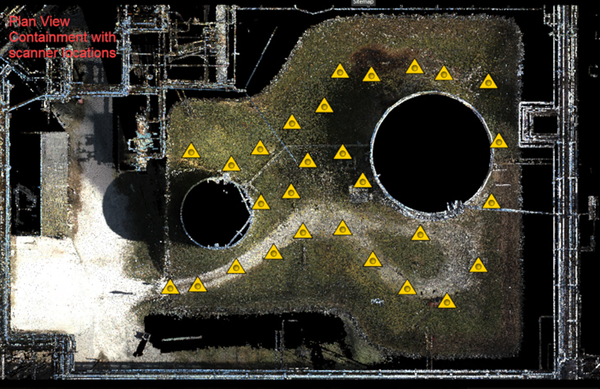 Plan view containment with scanner locations.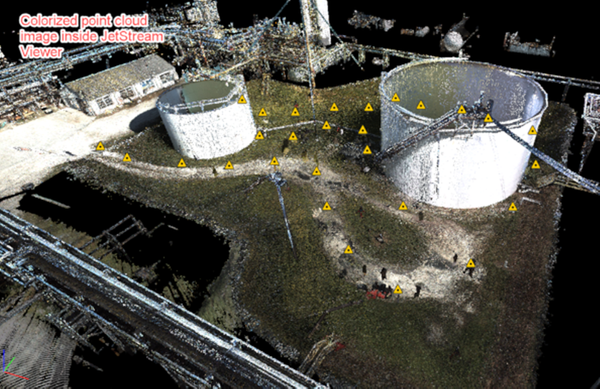 Colorized point cloud image inside Jetstream Viewer.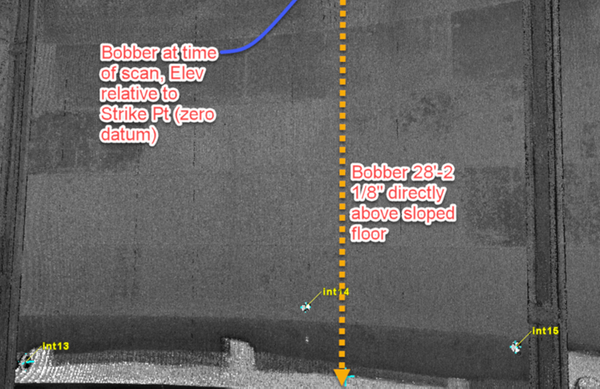 Bobber elevation screen capture.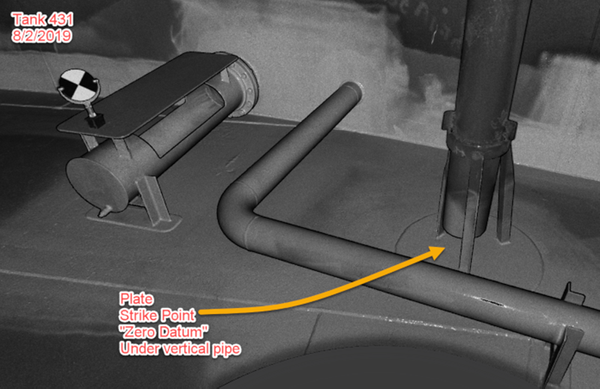 Storage tank datum snapshot.
Contact TruePoint Laser Scanning
Laser scanning is a great facility documentation and management tool with benefits that can be realized many times throughout the life of a facility. Our scan technicians, engineers and CAD designers work together to help you control costs and complete projects on time and within budget. We have an excellent safety record, and have never had a loss work day due to injury. Contact TruePoint Laser Scanning today at 419-843-SCAN (7226) or email us at info@truepointscanning.com for more information about laser scanning services for oil and gas applications.