3D Laser Scanning for BIM Modeling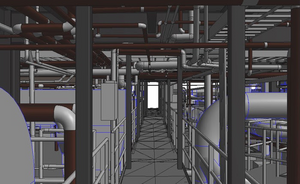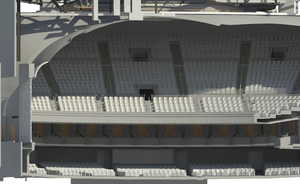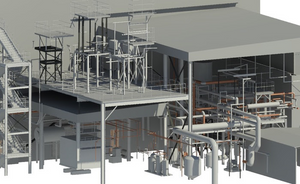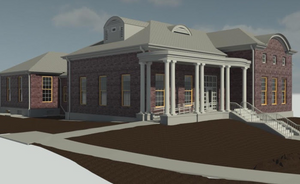 BIM Modeling Using 3D Laser Scanning Services
Laser scanning is an ideal technology for Building Information Modeling (BIM) due to its efficiency, accuracy, and level of detail. Laser scanning accurately documents as-built conditions and proves to be invaluable in facility asset management and modifications. Laser scanning can also be used for reality capture and augmented reality in many aspects of architecture, construction and engineering.
TruePoint has earned a national reputation for delivering excellent service in the BIM 3d scanning industry. More than 800 projects are completed every year on time and on budget. Experienced scan technicians collect millions of precise data points for a building or site with industry-leading survey-grade Leica equipment. TruePoint engineers, architects and CAD Designers/Technicians have mastered the technology for converting 3D laser scanner point clouds into Building Information Modeling (BIM) —ready 3D models to support the planning and design needs of any project. Having precise data helps plan for projects without the expense and worry of unknown interferences and conflicts.
Deliverables
Point Cloud Data (Raw Data)
2D CAD Drawings
3D Non-Intelligent Models
3D BIM Models
TruView - Free viewer with photos overlaid on point cloud
Customizable Deliverables
Aerial Photogrammetry
Comparative Analysis
Deformation Analysis
Digital Drawings of GPR Markings
Floor Flatness Analysis/Contour Mapping
New Construction Accuracy Analysis/Comparative Analysis
Point Cloud Modeling Training Webinars
Reconciliation of Clients 2D Design Drawings
Reconciliation of Clients 3D Design Model
Structural Steel Shape Probability Analysis
Template Modeling
Volume Calculations
Wall Plumb Analysis
Modeling Software
Autodesk Recap
Autodesk Revit
Autodesk 3DS Max
Autodesk Navisworks
Autodesk Autocad Civil 3D
Autocad Map 3D
Bentley MicroStation
Bentley Descrates V8i
ClearEdge 3D Edgewise
PointSense Kubit
Leica Cyclone
TruePoint Has Provided 3D Laser Scanning Services for Many Clients
Architects
Asset Managers
Contractors
Designers
Developers
Electrical Engineers
Estimators
Facility Owners
Historical Preservationists
Mechanical Engineers
Project Managers
Plumbing Engineers
Sub-contractors
Structural Engineers
3D Gamers and Software Developers
TruePoint Has Provided 3D Laser Scanning Services for Many Industries
Architectural and Historical Documentation
Chemical and Petrochemical Plants
Commercial Sites
Construction
Health Care
Industrial Facilities
Manufacturing and Assembly Facilities
Office Buildings
Overhead Clearances
Process Plants
Power Plants
Pharmaceutical
Refineries
Residential Sites
Schools and Universities
Stadiums, Arenas and Theatres
Space and Aeronautics
Telecommunications
Water and Wastewater Treatment Plants
3D Gaming and Software Development
TruePoint Laser Scanning Services
TruePoint has provided BIM modeling services for many industries. Our scan to BIM services provides a unique opportunity to capture, analyze and define existing conditions through safe, non-contact means. We have saved clients millions of dollars in lost productivity and materials with models to aid in design, visualization, space definition, prefabrication and clash detection.
More About BIM Modeling
Building Information Modeling is more than just a 3D model. BIM is a process of creating and managing building data throughout the building's entire life cycle. BIM encompasses not only the geometry and spatial relationships, but also documents features about the building such as the specific information about the type of materials used, the quantity used, and how those characteristics impact the building as a whole. BIM can be thought of as a database of information ranging from project cost management to the "as-built" 3D model after construction on through the operation of the facility which can be used to actively manage the process every step of the way.
Some Benefits of Using BIM Include
Being able to more accurately determine job costing, scheduling and building efficiencies
Design and pre-construction modeling for visualization purposes, as well as determining potential problems before costly design or construction has taken place (i.e. clash detection)
Interoperability amongst all disciplines involved in the building and management of a facility can be updated in real-time
Ability to have highly accurate "as-builts" for facility management, future modifications and troubleshooting
Facility management to operate and maintain a facility efficiently and cost-effectively
BIM enables architects and engineers alike to work on a single project from anywhere in the world. It condenses a plethora of information about every detail into a workable format. It makes for easier design, simpler coordination between team members and easier structure maintenance across the entire built environment—and this is just the beginning.
Client Testimonials
"Our disciplines have been utilizing the Point Cloud and TruView information and it has been of value. We have discovered a few clashes with our structural steel, which may not have ever been caught, so I feel the service has already paid for itself."
- Joseph G, P.E., Project Manager
"We have been very pleased with the results of the scanning process. The product has been very useful. And has certainly helped in the development of the project. I would certainly use TruePoint again on future projects."
- John G., President and Principal Architect
"Thanks for jumping into this assignment so quickly. What a great and productive trip. You guys work tirelessly, non-stop with all aspects of the set-up and execution. Your ability to master the technology is a game changer for us."
- Don A., Executive Vice President, Director of Architecture, Engineering and Technology
"The scan helped tremendously and has saved us quite a bit of time and trouble."
- Gene A., Mechanical Integrity Engineer
"[The Technician] did a good job of getting up to speed and working with little or no direction, which helped us concentrate on our other needs on site."
- Steve H., Project Manager