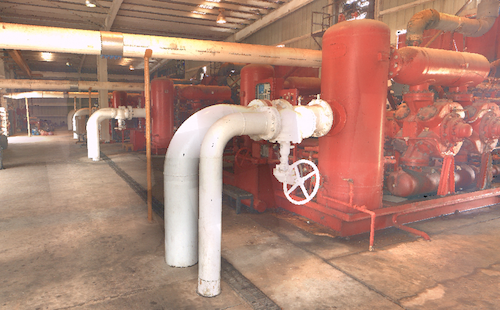 Colorized point cloud data from one of TruePoint's Leica P20 scanners.
Case Study: 3D Laser Scanning Active Natural Gas Compression Station
Location: New Orleans, Louisiana
Task: TruePoint was requested to laser scan an active natural gas compression station to provide the client with as-builts of the facility as well as clash detection for future renovation and expansion.
Challenge: The client needed data on numerous features, including equipment, piping, tie-in points, building facades, and even underground utilities. Needing so much information in such a large area would have taken significant time to hand measure and document and could have been inaccurate. Capturing the underground utilities would have been difficult using traditional methods.
Solutions: TruePoint was able to use its 3D laser scanners to capture all the needed above-ground information in just a couple of days. Working in conjunction with Ground Penetrating Radar Systems, Inc., they were able to locate the underground piping and mark the findings on the surface. TruePoint was able to integrate GPRS's marks into the 3-dimensional data. This proved to be a very efficient and accurate way to gather the needed data and then turn the point cloud into a comprehensive 3D model of above-ground and below grade information.
Deliverables: TruePoint's team of in-house engineers and architects provided the client with a colorized point cloud file (.ptg, .rcp and .rcs files) importable into AutoCAD and other software, Leica TruViews, and a 3D AutoCAD model.
Added Value: By laser scanning the existing facility, TruePoint was able to provide the client with Leica TruViews (3D 360 degree photos), the colorized point cloud and a 3D CAD model. This allowed the client to lay out a plan for replacing some of the existing equipment more efficiently and accurately. It also allowed them to have certain pieces of equipment prefabricated in order to reduce downtime.
For all of your complex spaces, such as processing plants and refineries, 3D laser scanning is an extremely cost-effective and efficient way to gather necessary field data.
For laser scanning services call Dave Schaff at 720-618-1029 or email at dschaff@truepointscanning.com.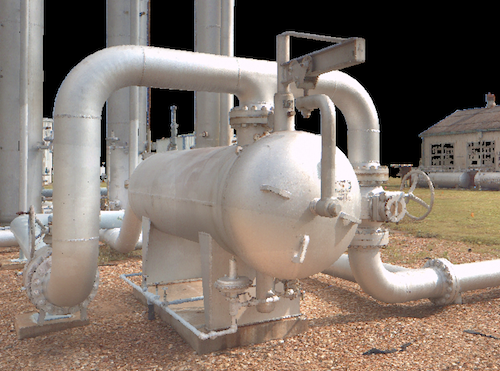 Colorized point cloud data of the natural gas compression station.