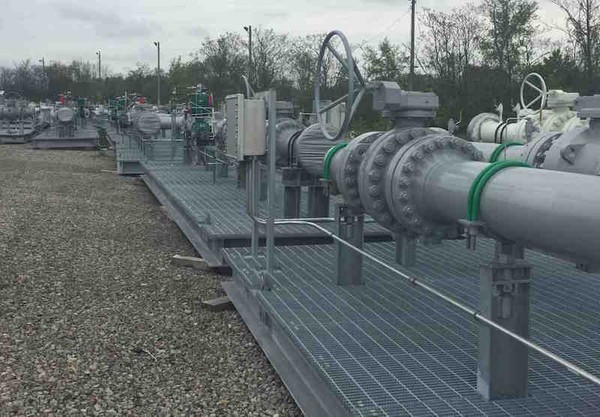 TruePoint laser scanned 100 Natural Gas Separator Units and Metering Skids near Cleveland, Ohio.
Case Study: Laser Scan to Capture Flange Information for Prefabrication
Location: Cleveland, Ohio
Task: Laser scan a total of 100 Natural Gas Separator Units and Metering Skids to capture detailed flange information, including bolt hole orientation, elevation information and pitch of flanges. TruePoint generated 3D models of each skid's flange for the client to verify the flange versus pipe orientation. The client used this information in pre-fabrication efforts to decrease their time making field changes during installation.
Challenge: The client had a limited window to capture the detailed flange information while the skids were in a staging area. Prefabrication information needed to be completed quickly so the skids could be moved. Traditional field measurement would be less detailed and more time consuming than high definition laser scanning. In addition, given that the skids were not sitting in their final resting place or located on even ground it was imperative that the measurements were all relative to the skid and not survey coordinates. The client needed to ensure that when all of the flange connections between skids were connected up that everything fit perfectly with little to no room for adjustment.
Solutions: TruePoint worked closely with the client to coordinate site access and capture detailed flange information. The laser scan technician was meticulous in the identification of each skid during data collection and relayed the information to TruePoint's CAD technicians. All of the scan data for each skid was related to itself; therefore, the coordinates for the input flange and output flange could be precisely determined within the scan data. Additionally, the client could integrate the data captured on the skids with Civil 3D site TINS that TruePoint had generated from the client's site model.
Deliverables: The client received Recap files for use in Autodesk MEP as well as completed drawings in .dwg format. These drawings identified bolt hole patterns, centerline locations, elevation of features, connection points and pitch of inlets and outlet flanges.
Added Value: TruePoint's experience with complex point cloud data aided in the manipulation and analysis of the information captured. The level of detail provided to the client in both the scanning and deliverable exceeded expectations and helped expedite the client's processing and generation of fabrication drawings. As was the goal, when the skids were all connected together there was no need for field adjusting the prefabricated pipes and flanges saving both time and money in the field during installation.
For laser scanning of natural gas infrastructure or other piping assemblies to aid in pre-fabrication efforts contact TruePoint Laser Scanning at 419-843-7226.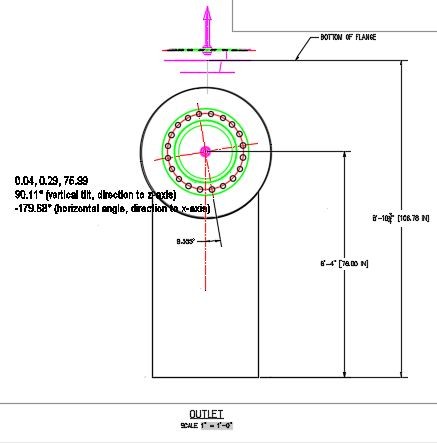 The primary objective was to capture inlet and outlet flange information.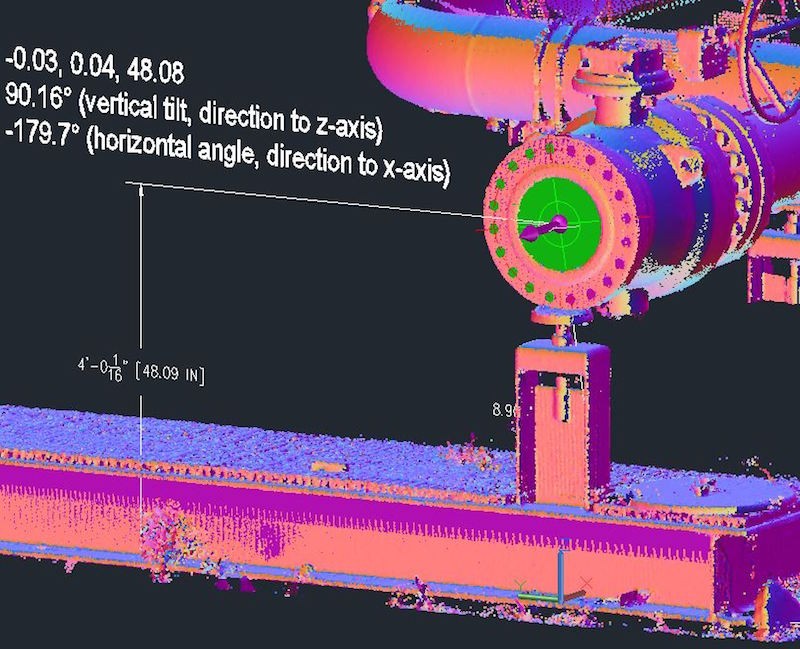 Colorized point cloud data of inlet.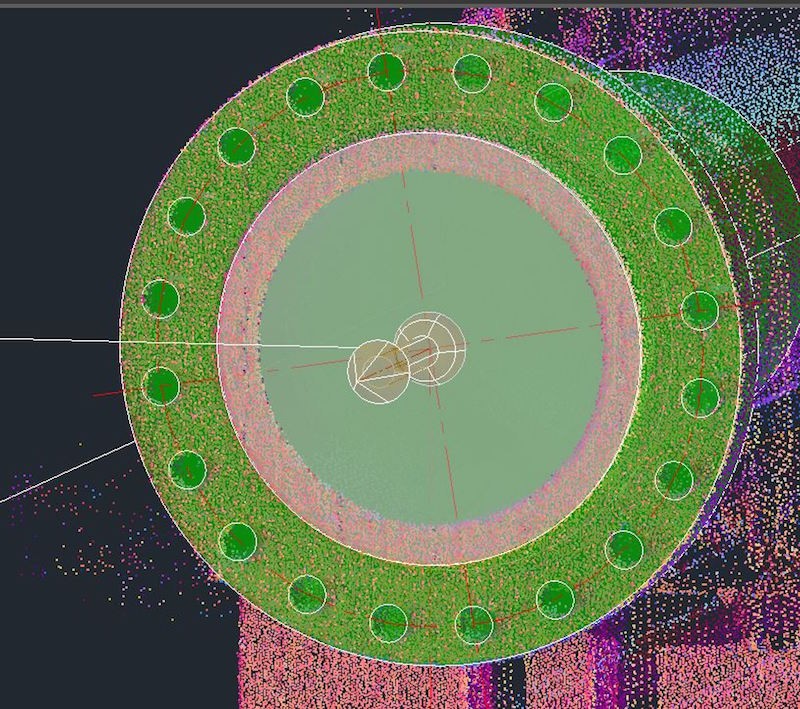 Bolt hole orientation is accurately captured by laser scanning.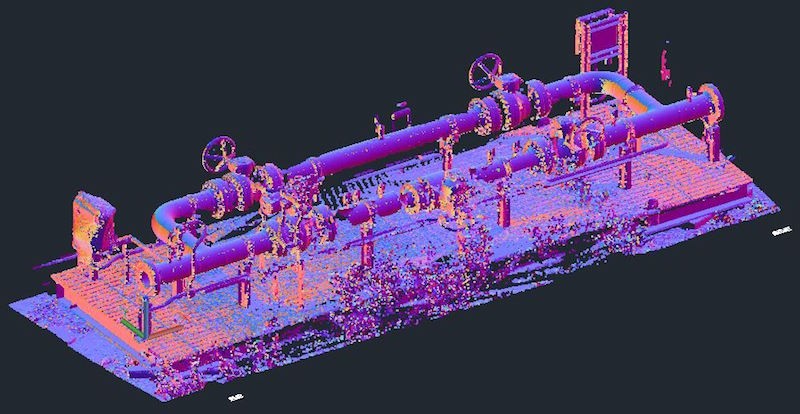 Colorized point cloud data of metering skid.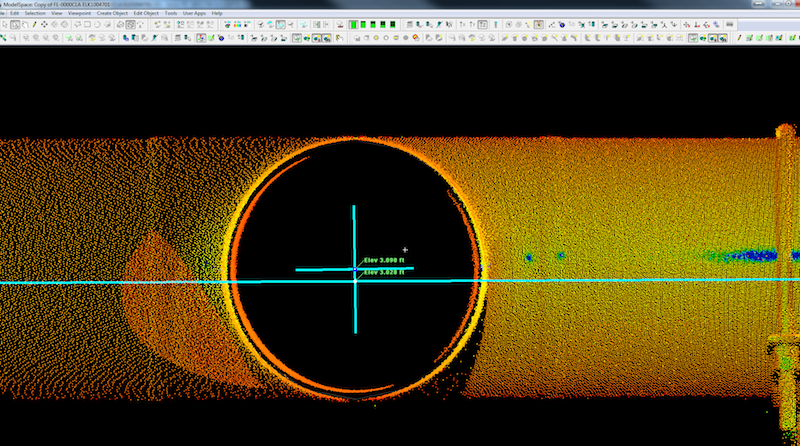 Screenshot showing ground elevation to centerline of flange.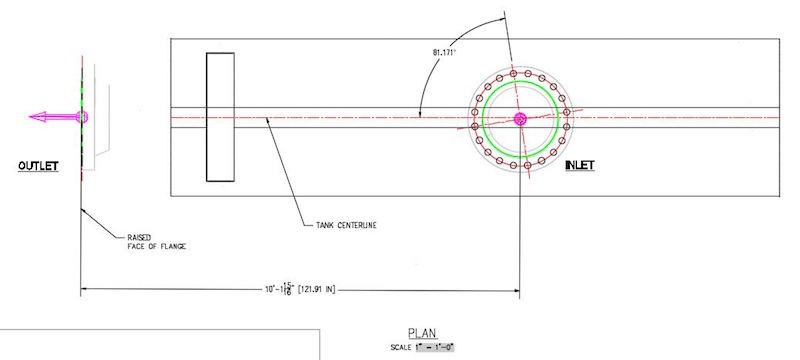 This 2D Plan View shows inlet and outlet flange information.