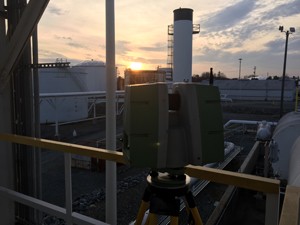 3D Laser Scanning of Interior Facade
Case Study: Petroleum Refinery Facility
Location: Charlotte, North Carolina
Task: To scan an active terminal and load rack and provide the client with a colorized point cloud. The scanning of the facility was requested by the client in order to provide them with as-builts as well as clash detection for future renovation and expansion.
Challenge: The client needed the numerous measurements to include piping diameters, locations, and elevations. The engineers, working from another state, were looking to make multiple additions and modifications to the current facility. For them to collect the information would have been a complex and time-consuming task.
Solution: TruePoint provided the client with 3D models, thereby allowing them to work from their own offices without needing to revisit the site for additional measurements. This helped eliminate design time, potential change orders, and equipment downtime. Laser scanning saved the client hours of travel time and was a more cost-effective option. Additionally, since the facility remained in operation during the process, laser scanning was also a safer option, as it allowed for scanning from a distance.
Deliverables: The client received a registered Point Cloud file (.pts, .rcp and .rcs files), importable into AutoCAD or other software, along with TruViews. TruePoint also delivered a 3D model, which will be used in MicroStation.
Added Value: By scanning the existing equipment, TruePoint was able to provide the client with TruViews (3D 360-degree photos), allowing the client to navigate the site from their home office. This allowed the client to lay out a plan for replacing some of the existing equipment more efficiently. It also allowed them to have certain pieces of equipment prefabricated in order to reduce downtime.
For all of your complex spaces, such as processing plants and refineries, laser scanning is a cost-effective and efficient way to gather necessary field data. For project inquiries on the West Coast or in the Denver area, call TruePoint at 720.618.1029 or email at denver@truepointscanning.com.