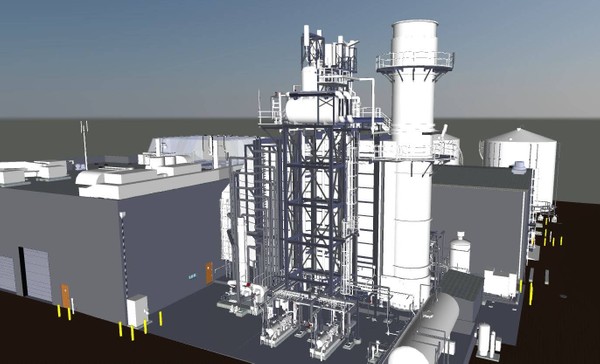 Power Plant Renovations Require 3D Laser Scanning
Location: Modesto, California
Task: An engineering firm needed to have full scope of the existing conditions of a power plant to plan renovations to the facility.
Project Application: Laser scanning to create an intelligent 3D BIM model would accelerate the engineering of facility upgrades.
Problem:
The client needed to accurately document the existing conditions of the plant without interruptions to the power supply.
The client required 2-4mm accuracy of dense piping and pipe runs throughout the facility.
The client needed to guarantee that installations complied with safety regulations.
Solution:
Where accessibility is difficult and areas are unsafe, 3D laser scanning offers a solution to capture precise as-built data from a distance.
In one day on site, TruePoint's project manager used the Leica RTC360 laser scanner to capture 150 laser scans, documenting existing conditions of the facility.
TruePoint generated a 3D BIM model for use in CAD software, including all civil, structural, electrical and mechanical features, and piping and conduit 1" and larger.
Benefits:
Due to the vast space and density of piping, it would have been much more difficult and time consuming to accurately depict the location of pipe runs, structural features and other details in the plant manually.
The point cloud data from laser scanning was used by CAD technicians to create an intelligent 3D BIM model for planning, fabrication and clash-detection.
Verified measurements and virtual planning guarantee installations will comply with safety regulations.
Using virtual 3D models, the firm can plan and model future developments to manage the facility without having to re-enter the site.
Project Manager Insight:
"With thorough documentation and virtual design planning, our client can ensure no issues arise and work is carried out with minimal interruptions to the power plant."
Alex Vargas -- TruePoint West Coast Regional Manager
For 3D laser scanning services in California, contact us below: