From the Desk of Ryan Hacker...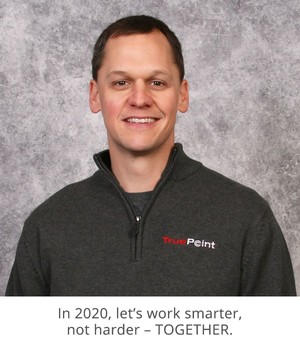 The Future of 3D Laser Scanning
How will the 2010 decade be remembered? For me, I've seen the incorporation of 3D laser scanning turn from adopted to critical. Laser scanning has become a proven solution to make planning and pre-construction easier and faster. The combination of expertise and technology helps our clients achieve things that were never possible in the past.

So, what does the future of 3D laser scanning hold?

Advanced Data Capture Platforms
We will see an increase in platforms used for gathering point cloud and high-resolution panoramas. Spaceborne, aircraft, drone, vehicle, backpack and handheld mapping systems gather data for virtually any task imaginable. This will continue to evolve and become more customized to specific industry problems presented. I can visualize a robot capturing data, eliminating the need to put technicians in unsafe environments.
Increase in Historical Preservation
After the horrific fire that originated on the roof of Notre Dame, we will see an increase in 3D laser scanning to document and protect priceless architecture. 3D data can radically change how buildings are restored.
Intelligent Collaboration
10 years ago, Autodesk products didn't have point cloud capabilities. Now they offer Construction Cloud to unite office and field teams from every stage of construction from design planning to building and operations. I expect further sharing and collaboration with digital 3D models, allowing each discipline to annotate and connect its intelligence to the project. Project managers will use BIM software to communicate at the next level for construction sequencing, infrastructure modifications and tracking of maintenance and assets.
On-Site Visualization
In engineering and construction projects, cost and timeline estimates are critical. Intelligent BIM models offer a data-driven workspace to share data and make decisions, optimizing efficiency and productivity. I see BIM coordinators and foremen carrying iPads on the jobsite, allowing them to visualize and operate using business-critical information. Virtual design and construction efforts will not be the responsibility of one department, but will change to a VDC-enabled workforce.
Automation
We have seen increased automation in modeling software. Having these innovative tools in our toolbox improves the turnaround time of converting point clouds to 3D models. Also, this year Leica released the RTC360, offering the semi-automated registration of scans. I expect exponential growth in the area of automation.
Laser scanning fosters efficiency. Our clients use 3D laser scanning services to guarantee their project's success. In 2020, let's work smarter, not harder – TOGETHER.
Featured Projects
Check out some of the recent 3D laser scanning projects TruePoint has completed.
Client Review
"We greatly appreciate TruePoint's willingness to work in tandem with the other trades onsite and schedule their work around construction obstacles."
RAY S. – ARCHITECT