NavVis VLX Mobile Mapping System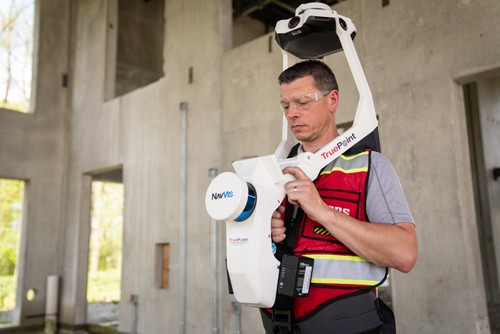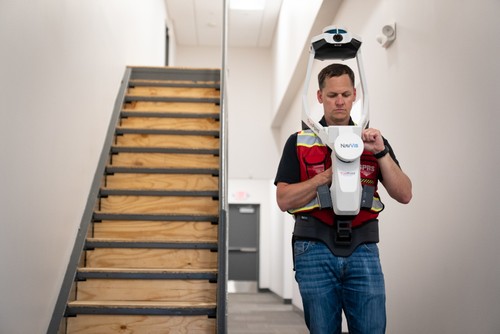 NavVis VLX mobile mapping laser scanner at construction site.
What Is The NavVis VLX Mobile Mapping System & How Does It Work ?
The NavVis VLX is a mobile mapping system designed for 3D laser scanning, providing accurate as-built documentation of buildings and construction sites. Built for architecture, engineering and construction (AEC) applications, it produces accurate point clouds, digital twins, scan-to-BIM models and CAD 2D drawings.
NavVis Main Features
The NavVis VLX captures survey-grade point clouds with two multi-layer LiDAR sensors equipped with SLAM technology. Four cameras are positioned on top of the device, taking high resolution images in every direction for complete 360º capture – all without the operator appearing in the field of view. A built-in touchscreen interface allows the user to monitor the data captured in real-time.
Foldable, wearable hands-free mapping device
High-quality reality capture with 6mm accuracy
Dual LiDAR sensors with SLAM technology
Survey-grade colorized/intensity point clouds
Four cameras capture 360° panoramic images and walkthroughs without any blind spots or operators in the field of view
Built-in touchscreen captures live scanning progress
10x faster in data acquisition than terrestrial scanners
What is SLAM Technology?
NavVis features SLAM (simultaneous localization and mapping) technology. The purpose of SLAM is to move through a given space and create a digital map. A SLAM algorithm uses a LiDAR sensor in the scanner to reliably and precisely track its position as it moves through a space. The LiDAR technology simultaneously collects an accurate, complete 3D point cloud of the surrounding environment.
SLAM-based 3D scanners can work in extremely remote locations where GPS or GNSS signals are unavailable, and make it easy to quickly 3D scan large areas like building sites and underground caves.
What are the Benefits of the NavVis VLX?
The NavVis VLX offers point cloud accuracy and quality with very low noise levels, homogeneous point cloud structure, and very realistic coloring. The interface features a reliable and scalable workflow to register point clouds using control points (surveying targets). Full 360-degree panoramic images are captured to create virtual tours and digital twins.
How is the Data Processed?
The typical output of the NavVis VLX is a registered colorized/intensity point cloud and high-definition panoramic images, in industry standard data formats like E57, LAS, PLY, PTS, and XYZ.
Data can be processed with Autodesk, Microstation, PointCab, or ClearEdge 3D into standard building documentation such as CAD drawings and 3D BIM models.
What is the NavVis Indoor Viewer?
Using the NavVis IndoorViewer, BIM modelers, Project Managers and end users can intuitively interact with their scanned data through any standard web browser. It provides a comprehensive set of tools and options to investigate the quality of a set of scans in detail, like section views that are rendered in real-time.
The NavVis IndoorViewer software can support all kinds of E57 scan data, so users can import multiple point cloud datasets from more than one scanning device and manage them in one place.
Case Study: Using the NavVis VLX in a Doctor's Office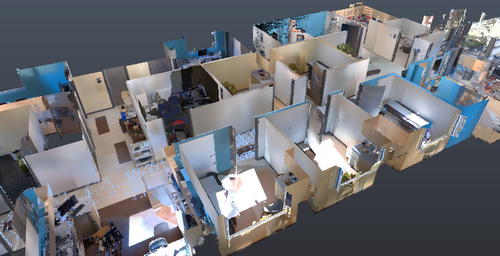 Enlarged view of NavVis data in Recap.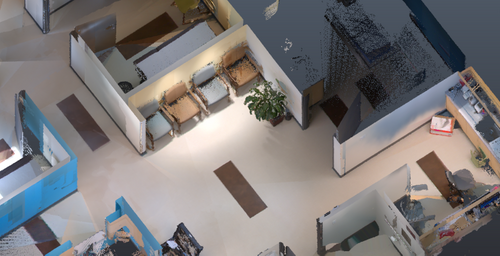 NavVis VLX close-up screenshot in Recap.
TruePoint used the NavVis VLX to capture a 3,500 square foot doctor's office interior. Highly detailed as-built documentation and HD color imagery was captured in 30 minutes.
Since NavVis VLX offers the ability to scan on the move, it offered our client this benefit: speed. "We had to scan the building off hours so we wouldn't interfere with normal business operations," says Andy Foshee, Southeast Regional Manager. "But since the NavVis VLX collects data faster than other scanners, this wasn't a problem."
TruePoint delivered a colorized point cloud and 40 HD images. The digital assets were uploaded to the NavVis IndoorViewer for easy access from any standard web browser on a computer, tablet, or phone. Read the full case study here.
In Summary
NavVis VLX is unique because it allows for the mobile mapping of spaces, capturing high quality data with millimeter point cloud accuracy. The device is versatile and suitable for any building documentation project. Its capabilities are best showcased in multi-room spaces, multi-floor spaces, narrow spaces, and mechanical/MEP rooms.
Mobile mapping looks easy to do, but technicians must be sure to maintain the correct walking speed and create loop closures (which occur when you visit the same place twice in one data set).
The NavVis VLX mobile mapping system captures the as-built environment and photorealistic digital twins. The device offers ease of use, speed, the ability to capture colorized point clouds and HD photos. The NavVis VLX is a great choice for rapid as-built documentation.
For more information on 3D laser scanning with the NavVis VLX call TruePoint Laser Scanning at 419-843-7226 or email info@truepointscanning.com