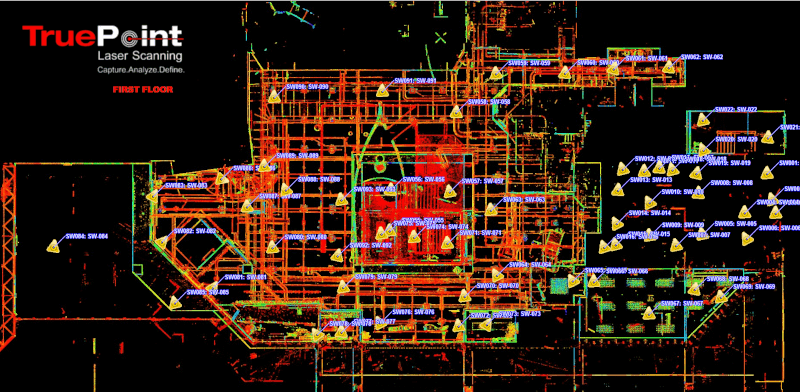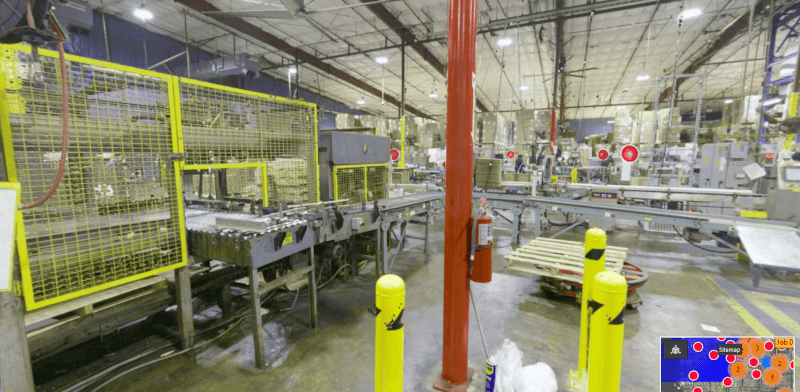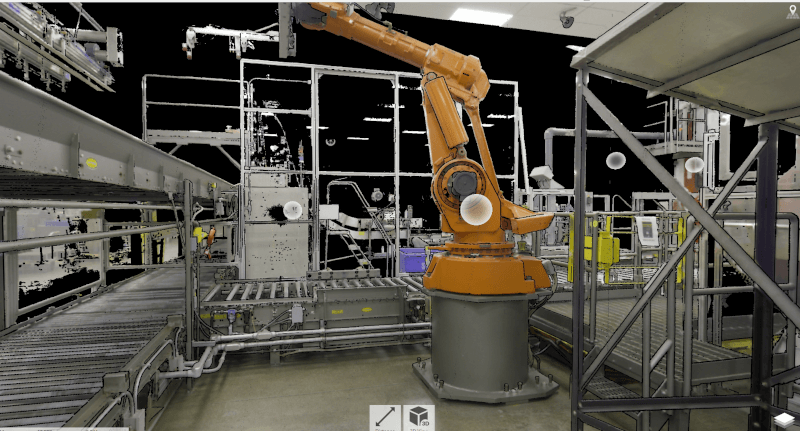 Leica TruView's provide panoramic images of point clouds on your computer as if you were standing at the laser scanner position. Users can easily pan, rotate, zoom, and have access to an intuitive set of mark up and measurement tools.
What is a TruView?
TruViews are 3-dimensional photographs overlaid on top of the point cloud data. During the 3D laser scanning process, in addition to capturing point cloud data, the laser scanner can also capture 360-degree photos of each scanner set-up location. A sitemap is created and the TruView of each location is placed in a folder. Each TruView can be opened and features a "street view" from the scanner's point of view. You may have heard TruView also referred to as JetStream.
Who Utilizes the TruView?
A TruView is used by construction professionals, designers, engineers, and architects to share point cloud data and mark-ups; take basic dimensions; estimate clearances and distances; and print and convert data. TruViews are particularly useful for visualization for those who have not been to the site and need to view specific details of a particular area. A person with minimal computer skills can use the TruView program without any problem or difficulty.
What TruView Viewers are Available?
Leica TruView is a portable software that allows users to open and view the .LGS format of the point cloud, as well as other overlay .IFC (3D model) files. Leica TruView was previously referred to as JetStream. Autodesk also has a viewer called TrueView which is used for viewing AutoCAD and .DWG files.
In total, there are three viewers or readers for TruView files -- utodesk TruView Viewer, Autodesk DWG Viewer, and Leica TruView Viewer, A.
What is the Autodesk TruView Viewer?
Autodesk Viewer allows users to easily view and share AutoCAD and DWG files in a browser rather than download software. It is only a viewer, it cannot be used to alter a file, but to inspect designs, create screenshots for presentations, and measure components. Files viewed in Autodesk Viewer can be shared via URL, this comes in handy when working with someone who does not have Autodesk programs installed on their computer. Autodesk Viewer supports most 2D and 3D files, including DWG, STEP, DWF, RVT, and Solidworks, and works with over 80 file types.
What is the Autodesk DWG Viewer?
The Autodesk DWG TruView app is a free stand-alone .DWG viewer. It is built on the same platform as AutoCAD, an industry-standard, paid-for computer-aided design (CAD) and drafting software application. DWG TruView allows users to view the latest .DWG, .DWF, and .DXF file formats, just as they would in AutoCAD, but without paying a license fee. Autodesk DWG TruView provides a useful solution for those who only need to view, convert, and export .DWG files and doesn't require design functionality. DWG TruView is a Windows-only application and it is not available for Mac operating systems.
What is the Leica TruView Viewer?
The Leica TruView Viewer is a free software that allows users to open and view AutoCAD files and other DWG files. Leica TruView shares point cloud data, design models, mark-ups, and more via Leica Geosystems' Cyclone Cloud portal. TruView Cloud allows users the ability to view, measure, and annotate laser scan data.
What are the Benefits of a Leica TruView?
Hassle-free download and installation
Easy and intuitive software
No CAD or 3D skills required
Virtual, photo-realistic visits to project sites
Share point cloud data, mark-ups, and more
Tools for annotation and drawing facilitate online collaboration
Measure basic dimensions and distances
Visualize design models
Print, create PDFs, and convert between AutoCAD formats
What are the Steps to Open A TruView?
Open a TruView sitemap in Internet Explorer.
The sitemap will open with each scanner location marked with a yellow triangle. These yellow triangle icons are hyperlinks into the TruView 3D space, providing a view from the scanner's location.
Once in the TruView space, users can navigate the point cloud data, annotate, take measurements, and move between scanner locations as they desire.
What Tools are Available in the TruView Viewer?
Measure Tab – shows the properties of measurements taken and allows the user to set the units
Markup Tab – displays the information about the user's markups and allows markup.xml files to be imported and exported
View Tab – Allows the user to create and save specific views
Conclusion
TruView is a free program providing clients with a simple tool to view and share reality capture data. TruView lets any user navigate a point cloud, measure, markup, and visualize design models against real-world conditions. TruView minimizes IT issues and require no CAD or 3D skills.
Autodesk TruViews are limited in their functionality. Users looking to alter designs should consider using AutoCAD software. AutoCAD is a more advanced, technically accurate software application that aids construction professionals, designers, engineers, and architects in conceptualizing designs and drawings. With AutoCAD, users can create floor plans, sections, walls, windows, doors, and other layouts. It is not as easy to use as the free TruView viewer and there is a cost to purchase AutoCAD licenses.
For More Information
For more information about Leica TruView Viewer, Autodesk TruView Viewer, Autodesk DWG Viewer, AutoCAD software and 3D laser scanning solutions, contact TruePoint today at 419-843-7226 or email info@truepointscanning.com.