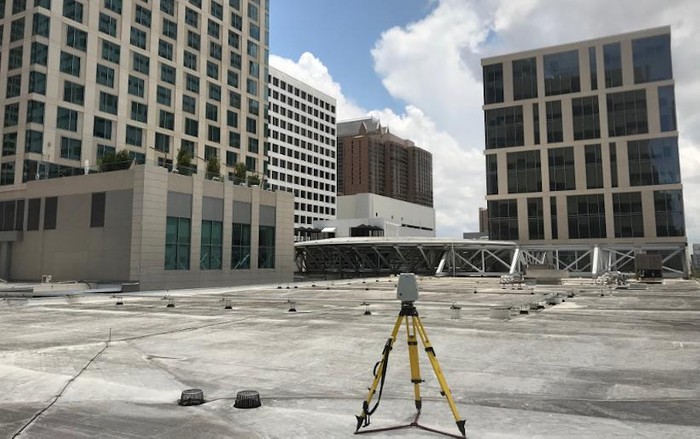 Fax machines and flip phones. Cassette tapes and dial-up internet. Gone are the days of using technology that was the norm 20, 10 or even five years ago. Why should the construction industry be any different?
Here in the Greater Philadelphia region, commercial construction companies, building owners, and architects are not only embracing new technology — they're leading the way in developing systems and methods that are shaping the future of our industry. Below we take a look at four of the top technologies that are quickly becoming the new standard of construction estimation, design, and implementation.
Laser Scanning
Data collection is at the heart of laser scanning, a method that offers a "cost-effective and accurate alternative to the costly, labor-intensive manual field measure," says Sam Arabia, CM-BIM, director of engineering and BIM services, Torcon, Inc. Typical applications tend to be for validation of as-builts and the documentation of historic architectural features.
Laser scanning has been adopted over the past several years and is now a well-established method of achieving many field measurement goals. What's holding some teams back from taking advantage of laser scanning is simply perception, says Arabia.
"People perceive the cost of a laser scan as higher than the cost of a manual field measure," he says. "But the laser scan is an upfront cost — a known variable — with a definite timeframe for conclusion and a defined tolerance. When you finally tally the hours and apply an hourly rate for manual field measure, the cost difference is staggering."
Additionally, as laser scanning becomes the industry norm, the equipment itself has reduced in size and price. Yet laser scanning is one important example of how technology is only as valuable as the professional who operates it and can maximize its purpose and benefits. "The skill of scan placement and post-scan processing has not changed much at all," Arabia says. "It still takes a trained and skilled technician."
Deploying Drones
Unmanned aerial systems (UASs), or drones, are hardly the latest buzzword in the construction industry. "Drone technology is more accessible than ever," says Oliver D. Smith, Assoc. AIA, LEED AP BD+C, Virtual Design and Construction (VDC) Director, Skanska USA Building.
"Early adoption was challenging because of changing government rules and regulations. More progressive rules and understanding from the government and the Federal Aviation Administration have allowed commercial drone users, such as Skanska, greater flexibility to receive licensing."
Construction companies pilot drones during various phases of a construction project. "In pursuits and project planning, it is challenging to obtain accurate information for the site and its surroundings. We can use drones to capture aerial photos and video to improve safety and logistics plans for vehicles and pedestrians, and to minimize disruption near the project site," Smith says.
"During operations, drones provide real-time information for team members to track, monitor, and evaluate the site's changing environment. Coordination and quality efforts are also enhanced through progress tracking and model or image analysis," he adds.
Skanska uses drones to create 360-degree photos and video, point clouds, and 3D models. Paired with virtual reality, stakeholders and team members can view the materials in an immersive environment.
Drones also play a role in improving overall safety on a jobsite. Field personnel can complete inspections and reviews from the ground, eliminating the need for lifts and ladders for that purpose. Leak inspections for facades that require scissor lifts or scaffolding can be replaced with drones, reducing the time it takes to complete the inspection.
Some common misconceptions surrounding drone usage are time and regulation. "A year ago, the process of flying a drone and creating deliverables required one to two weeks from planning, through execution and delivery. Today, the process is reduced to less than 24 hours," Smith says. "Sometimes we hear from our clients and projects, 'I can't fly a drone here because I'm near a city, an airport, a building.' Truth is, most sites can be flown with the proper planning."
As regulations continue to advance — for example, the FAA and NASA are discussing ways to implement an Air Traffic Control system to support the increase of drone usage in the U.S. — and the technology becomes more autonomous, Smith predicts that drone technology will continue to take off … literally.
Prefabricating Projects
A construction project can be summed up in two words: Manpower and material. For Michael Jackson, vice president of field operations for Philadelphia D&M, "prefabrication can be rationalized as the byproduct of implementing modern technology, along with properly preparing for a scope of work, before material and manpower are required onsite." The result? "Greater adherence and gains to schedule, increased productivity, increased quality, and reduction of incident and injury," he says.
"Off-site fabrication allows for the most important LEAN principle of minimizing and eliminating waste to be properly implemented on a construction project," Jackson explains. "Since the item is manufactured off-site in a controlled environment, the project will experience reduced defects and rework. Also, the project experiences reduced dilution of resources since task durations are easier to predict and workers can maintain focus on a task that can be mastered, leading to an increase in productivity and less of a learning curve."
In addition to maximizing resources and reducing costs — all factors which have led to the rise of prefabrication during the post-Recession specifically — prefabrication plays a role in safety by eliminating the risk of injury. It is "prevention by design" in action. Jackson shares the example of preassembling a 15-piece top track unit for a bathroom in a condo building. When developed off-site, only two employees will need to make one trip up and down, compared to 15 if built conventionally. Multiply that by the number of units in the building, and you eliminate a significant number of fall hazard
Automated Building Intelligence
Today's homes are getting "smarter" with the implementation of automated technologies, and commercial buildings are following suit. The use of automated building intelligence makes systems, operations, and data analytics smarter through centralized operations.
"Earlier in my career, systems tended to be designed in silos — meaning the mechanical designers are specifying the building automation system [BAS] for the HVAC, the lighting designers are specifying the control/automation system for lighting, and so on for fire safety, security, domestic water, and more," says Ellis Guiles, building performance advisor, Graboyes Smart Buildings.
"Real benefits, starting with lower first costs and ultimately resulting in improved performance and operation of buildings, are realized when these systems finally are converged and integrated from the very start of the design process."
Automating a building offers substantial benefits from the perspective of labor and time savings. With the real estate industry already at the cusp of an increasing shortage of building managers and operators, a significant increase in productivity will be required to meet the demand, notes Robert Debski, president, Graboyes Smart Buildings.
"Converged building systems and data analytics are truly a labor force multiplier," he says. "For instance, the most common and time-consuming tenant complaints in commercial office buildings are being too hot or too cold. The technology already exists today that integrates tenant portals, BAS, and maintenance management systems. Significant labor efficiencies can be gained when everything from the logging of the hot-cold call, to HVAC troubleshooting and generating work orders, can be automated."
Beyond these efficiencies, today's BAS are integrated with machine-to-machine platform (M2M) technology that allow for advanced data acquisition and analysis like never before. "Until M2M technology arrived, it wasn't possible to add these capabilities without having to completely redesign and install an entire network infrastructure," says Guiles.
"Now, with M2M technology, in existing buildings we can cost effectively add data acquisition and analysis without negatively impacting the operating performance." A converged network can be created to support all the operating systems in a building, then integrated with IT systems that support the business functions in the building. The result is installation cost savings and achieving an "optimized, truly high-performance building," Guiles says.
The technology and systems can be used to enhance the experience of the occupants, too. Features like smart glass, circadian lighting, and green walls are all supported by BAS. In healthcare settings, some features can even positively impact organizational goals, such as creating a healthier environment and reducing patient recovery times.
As rapid as technology is evolving in the construction industry — and with what was once considered revolutionary now commonplace on many jobsites and end-projects — it's hard to predict what the future holds. What's certain is that Philadelphia's construction community is ready to take the ride, to discover what's next on the horizon and move our industry forward.
GBCA (General Building Contractors Association) advances the union commercial, industrial, and institutional construction industry in the Philadelphia region by serving members as the industry leader in labor relations, education, advocacy, safety, and networking opportunities.