Tech Employment Trends in the AEC Industry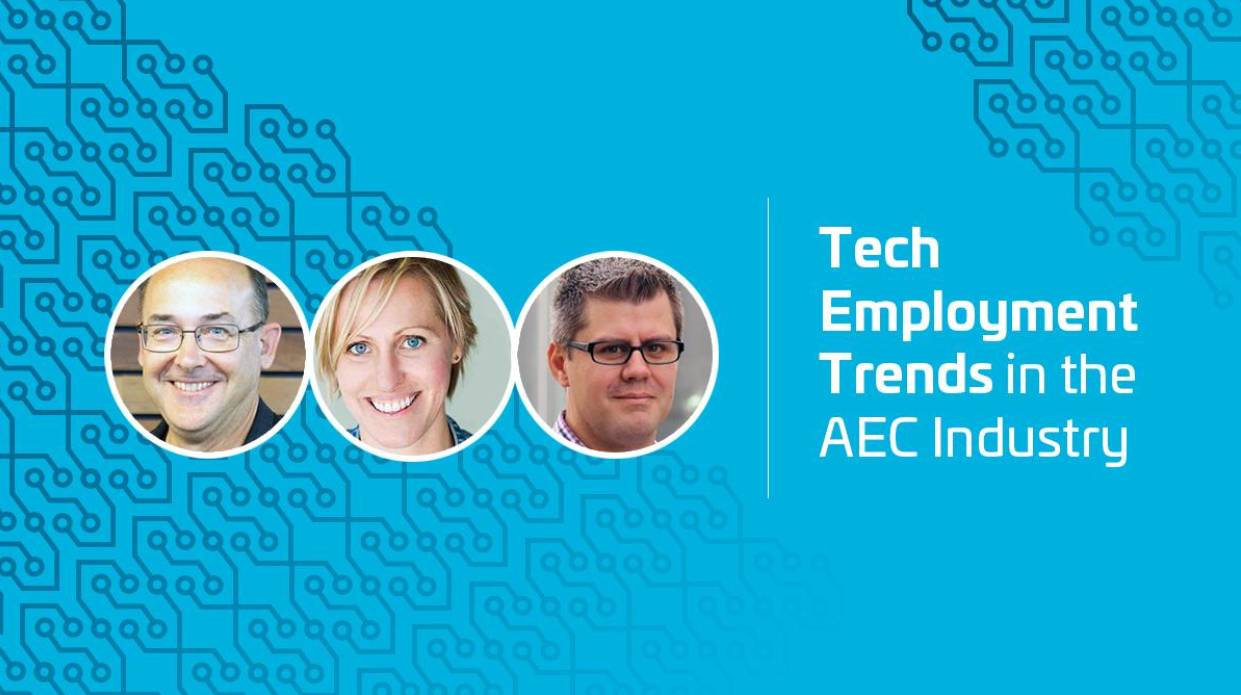 For generations, the construction industry has lagged in its adoption of technology, making it one of the last places ambitious tech savvy employees thought to apply for work. So when Mark Stocks tries to recruit tech gurus to his application development and data team at JE Dunn Construction, he admits it's initially a hard sell to get them through the door.
"There is a preconceived notion that [construction] is a bunch of old guys swinging hammers," said Stocks. "But we've got folks out in the field using VR and AR and we're adopting technologies so fast — it's a great space to work and be in."
Now, as the industry adopts new technologies at an accelerating pace, not only are old notions changing, but the AEC industry is also emerging as a frontier for some of the most exciting tech opportunities for workers. In fact, since 2014, there has been a notable uptick in newly created roles that only exist today as a direct result of increased tech adoption in AEC companies.
For Stocks, recruiting begins first with changing mindsets. "We get a lot of people who say 'I wasn't thinking about a construction career,'" he says. "But then in the interview we explain to them our vision and focus for technology within the construction industry and they very quickly realize how advanced [as an industry] we are."
It's not just the construction companies, either, but also the technology providers that are seeing the shift. Jim Quanci, who leads the developer network and software partnerships for Autodesk Forge, thinks two factors — transparency and connectivity — are accelerating the industry's move to technology and uptick in tech hiring.
In the past, the disjointed, time-intensive, and highly "siloed" processes for construction projects fostered a sense of mistrust and close-to-the-vest thinking among owners and contractors alike. Key records for each project were spread across departments and frequently kept on paper. When, for instance, the need for a design change arose, cost estimates could take months to calculate while the project lumbered forward under the original plans, which only compounded the change order's costs and delays. Building owners could never be certain they were getting a fair deal and contractors were constantly scrambling to get accurate financial forecasts and stay on schedule.
Now the emerging technology allows for greater transparency and creates powerful connectivity among the information formerly stored on PDFs and in departmental records. An owner can understand the implications of making a design change in real time or a designer can see the complications that might arise as a result of a decision they are making. "It really is technology as the enabler," said Quanci. "You end up with better design, lower costs, and things running ahead of schedule."
Stocks, who migrated to construction after time in the dot com world, built his division up from a single server to a seven-person tech team and now believes his job "is cooler than any other I've worked at." He says that gaming may attract a lot of developers, but when he started looking at the technology, "the construction industry is really where it's at."
Interesting opportunities and growth aside, the AEC industry as a whole now faces not only a skilled labor shortage, but also a new challenge in training and funneling tech talent toward these newly created jobs.
Stocks' recruiting efforts have also moved down the supply chain to get the next generation excited about tech possibilities. He recently spoke at his son's junior high, drawing parallels between his career and the video games they love. He showed the kids the first-person navigation VR tool he uses for "clash detection," which is a kind of a virtual "meet up" within a building model. A structural engineer and an MEP engineer, for example, can resolve conflicts between their plans using this tool all while walking within the model and viewing the clash together.
"This is what you do for fun," he tells them. "And I do for work."
- Jennifer Roche