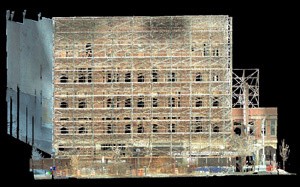 Colorized Point Cloud of Building Facade (with scaffolding)
Case Study: Survey of Historical Building to Document it Prior to Demolition
Location: Columbus, Ohio
Task: To scan the exterior façade of a historical building to document it prior to demolition.
Challenge: The building was enclosed in Visqueen during the interior demolition, and the façade was blocked by scaffolding. There was only a short window of opportunity in which to document the façade once the Visqueen was removed and prior to demolition of the structure. In addition, the scaffolding made it difficult to document the façade using traditional methods.
Solution: By using laser scanning, TruePoint was able to scan the façade in a matter of hours. Also, by scanning from several locations in order to capture different angles, the scanner was able to pick up the data that would otherwise have been hidden behind the scaffolding. During post-processing, our team was able to "clean out," or remove, the scaffolding from the point cloud data, leaving only the building façade visible in the data.
Deliverables: In this particular case, the client was only interested in documenting the building for historical purposes for the time being and, therefore, only requested a colorized point cloud and TruViews. TruViews are 3D photographs overlaid on top of the point cloud data which allow anyone with Internet Explorer to look at the 360-degree pictures taken from the scanner's perspective.
Added Value: The great thing about using laser scanning for a project like this is that, although the building has been demolished, once the point cloud data has been captured, it can be used at any time, presently or in the future. Laser scanning captures the existing conditions and features at the time of scanning; therefore, the building has been preserved forever through photographs – and, more importantly, through the scan data. The scan data can be electronically saved and referenced back to at any point in the future to re-create the building, either through drawings or even a 3D scaled model.
For project inquiries in Cincinnati and surrounding cities, contact TruePoint at 513-609-7244 or cincinnati@truepointscanning.com.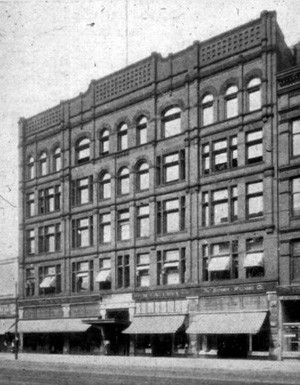 Figure 1: Built in 1893 – this picture shows what it looked like in 1919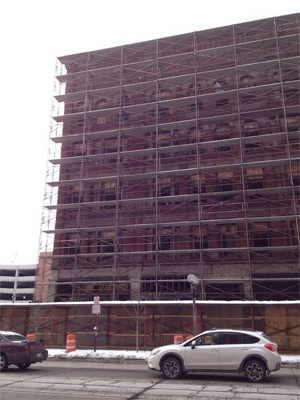 Figure 2: Picture taken in 2014 shortly before demolition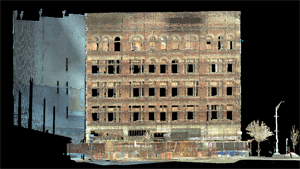 Figure 3: Point Cloud of Building Facade after post-processing of point cloud to remove the scaffolding