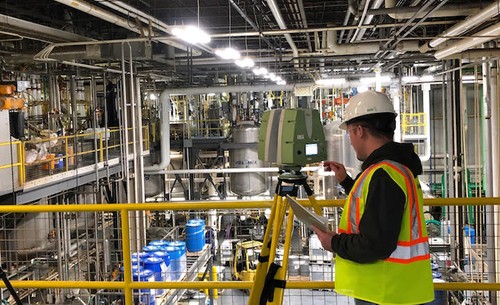 TruePoint laser scan technician prepares to run a scan on the 3rd level of the space.
Case Study: Successful Manufacturing Plant Upgrades with 3D Laser Scanning
"Installation clashes can be a big (and costly) problem in complicated projects like this. TruePoint 3D Laser Scanning Services eliminated the guesswork and the potential clashes." -- Karl Hofmeister, Scan Technician
Location: Bowling Green, Kentucky
Task: Highly congested and consisting of large tanks, dense piping, mixing stations, processing centers, platforms and supports, TruePoint was hired to laser scan approximately 20,000 sq. ft. of industrial manufacturing space. Three levels with mezzanines would soon house a new mixing station for laundry and home care products. Having an accurate LOD 200 model of the space was vital for accurate design and installation of industrial piping into the retrofitted space.
Challenge: The client was in need of valid, detailed documentation of the existing layout. The amount of current equipment and piping in the space made it difficult for the architects and contractors to know the precise location to install new lines and equipment. In challenging manufacturing facilities which house complicated, congested piping structures, clash detection via Building Information Modeling (BIM) becomes a vital planning step. The BIM helps identify clashes during the design stage, virtually eliminates design changes, and reduces costs and project delays.
Solutions: Using a survey-grade Leica laser scanner, the TruePoint team completed 254 scans during two days on site. The Scan-to-BIM services will allow the client to accurately design the new pipe runs and install the new mixing station with confidence and ease. The 3D model will also be useful for any future projects that may be needed in the same area, as well as on-going operations and maintenance.
Deliverable: TruePoint professionals provided an intensity map point cloud, LOD 200 AutoCAD 3D model in Revit 2017, and TruViews. In addition, the client is utilizing TruePoint for consulting services and training on how to overlay the cloud onto the model and cut 2D sheets.
Added Value: 3D laser scanning eliminates potentially costly guesswork with documentation. The client had a general idea of where the tank and piping was to be installed, but with accurate scans and models of the entire processing room, they possessed accurate documentation of the entire space. This eliminates the guesswork, allowing them to accurately plan a layout and tie into the existing systems avoiding clashes with existing the piping and equipment.
TruePoint is a highly experienced team of 3D laser scanning professionals who deliver exceptional service, accurate data, and custom deliverables to expedite your project. TruePoint can quickly mobilize to your site and provide free project estimates.
3D scanning provides a much more accurate and complete model for structural engineers. For 3D laser scanning service in Kentucky, call 502-640-0009 or email louisville@truepointscanning.com.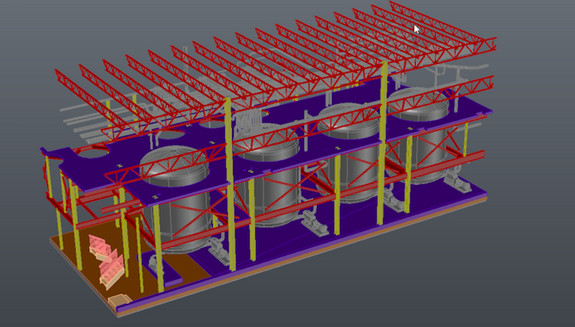 Closeup of the LOD 200 AutoCAD model.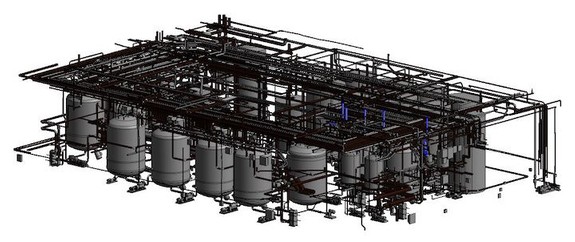 3D scan model showing the highly congested area consisting of large tanks, dense piping, mixing stations, processing centers, platforms and supports.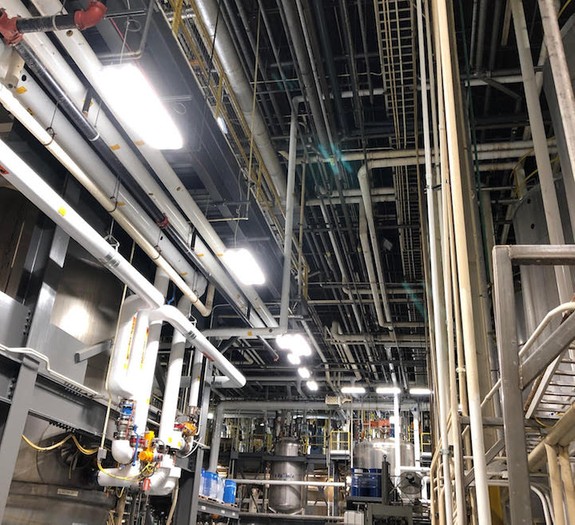 A view from the open, ground level area showing a fraction of the dense piping throughout the space.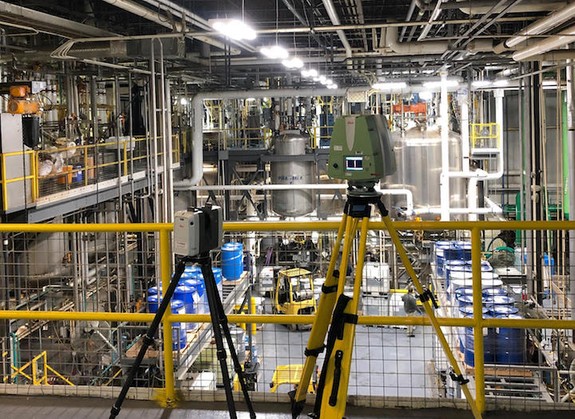 Two Leica laser scanners used on site, the RTC360 (left) and the survey-grade P20 Ultra-High Speed Laser Scanner (right).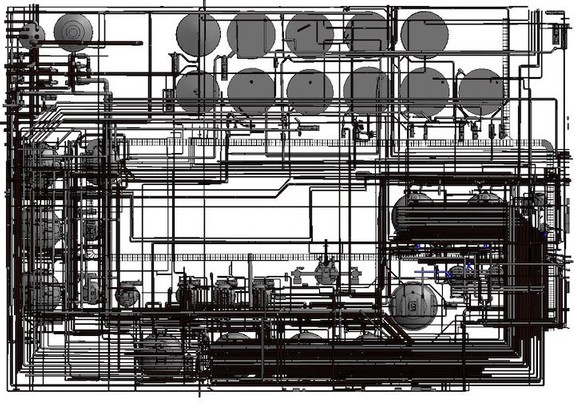 Plan view of equipment and piping from the AutoCAD model.

Side view of the 3d model included MEP equipment, tanks, piping and conduit 2" and above.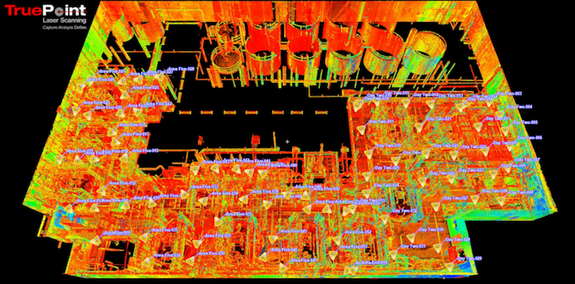 TruView sitemap of 3rd level.