Rocket Mortgage Field House in 3D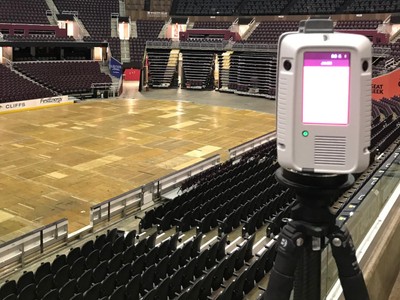 Lidar News Blog Feature: March 24, 2022
Rocket Mortgage Field House Captured in 3D
This is a story from the current TruePoint Laser Scanning e-newsletter on documenting the Rocket Mortgage Field House in 3D.
Location: Cleveland, Ohio
Task: TruePoint 3D laser scanned Rocket Mortgage FieldHouse in Cleveland, Ohio for a mixed reality project for the 2022 NBA All-Star Weekend. A LOD 200 Revit model was created to export an FBX file used in animation software. Our client, The Famous Group, brought Vixi Live, the ultimate video selfie cam, to the NBA All-Star Weekend.
Rocket Mortgage FieldHouse by the Numbers:
152,970 sq ft.
19,432 seats, divided into three levels
2,000 club seats
88 luxury suites
Challenge: Our client needed a quick turnaround on this project. Our project manager was contacted in mid-January and needed complete data and a 3D model for the All-Star Game Weekend in mid-February.
Solution: TruePoint's experienced scan technician used the Leica RTC 360 to capture colorized 3D point cloud data from multiple vantage points throughout the field house. The Leica RTC 360 scans at two million points per second and captures a full-dome HDR image in one minute. With automated targetless field registration, we were able to offer our client superior scan speed.
Deliverables: Our in-house team of engineers and CAD experts created an LOD 200 Revit model to export an FBX file used in animation software. The model was created specific to their list of requirements. The court, tunnel entrances, seats, media booths, suites, light poles, railings and video board were 3D laser scanned and modeled.
Added Value: For more than 20 years, The Famous Group has created mixed reality and augmented reality for Fortune 500 brands, professional sports events, esports, concerts, festivals and retail environments. The NBA All-Star Game was another opportunity to showcase this cutting-edge technology before a global audience.
For information on 3D laser scanning for mixed reality applications, contact TruePoint 3D Laser Scanning at 419-843-7226 or info@truepointscanning.com. For 3D laser scanning services in Cleveland, Ohio, call 216-470-7262 or email cleveland@truepointscanning.com.
###
BIM • Laser Scanning • Surveying • Technology