Case Study: Model for Construction Verification of a Steel Structure using a Non-Contact Measuring Tool
Location: Detroit, Michigan
Task: To determine the location and dimensions of the existing arena's steel structure.
Challenge: The steel is located approximately 100 feet overhead and is, therefore, only accessible using a lift and, in some cases, not even with a lift. In addition, the sheer amount of steel makes it impractical to document using traditional methods.
Solutions: Using 3D laser scanning, a significant amount of the steel was able to be documented safely from the ground. For the remainder of the upper steel, TruePoint was able to gain access to a catwalk located at the center of the arena which allowed for the necessary angle to document the remaining steel.
Deliverable: The client requested a 3D CAD model. In addition, TruePoint provided TruViews (3D photos) of the space.
Added Value: Laser scanning offered a quick, safe, and accurate solution. Documenting the steel's location and measurements using traditional methods would otherwise not have been practical, feasible or safe to accomplish. Additionally, Laser scanning was cost-effective. TruePoint was able to meet the client's need for less than it would have cost to rent a lift, which would have been necessary to access the steel to measure the dimensions manually.
If you have a project that requires dimensions of a surface or object that is not easily accessible due to safety or other limitations, contact TruePoint Laser Scanning at 734-807-0117 or detroit@truepointscanning.com to discuss your needs.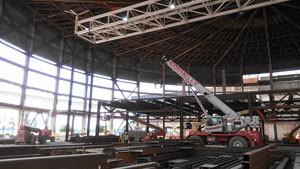 3D Laser Scanning of Arena Steel Structure