The PGA Tour & NBC Debut Mixed Reality For the First Time on a Golf Broadcast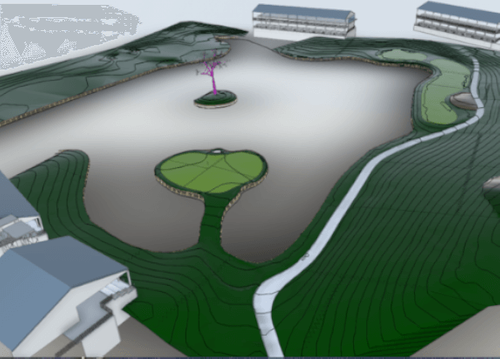 The Players Championship Brings the Golden Golf Statue to Life
The Players Championship 2022 introduced a mixed reality experience for the first time to a golf broadcast. NBC, partnering with The Famous Group, brought to life a golden golfer trophy to showcase some of the most iconic shots on TPC Sawgrass' 17th hole.
According to Jared Goldstein, contributor editor to Golf Digest, "On Saturday, the golfer appeared on the back of the island green as the network rolls Tiger's "Better than Most" putt from his 2001 victory. On Sunday, the trophy man appeared to "Own the Island Green," in the image of Rickie Fowler during his 2015 sudden-death triumph."
Using 3D laser scan data of the 17th hole, and technology from the Famous Group and Epic Games, the golden golfer animation will appear to happen in real time, with real weather conditions. Though this is only the first time the tour has made use of mixed reality, it's unlikely to be the last.
TruePoint helped make this mixed reality come to life by 3D laser scanning the 17th hole at TPC Sawgrass. According to Ryan Hacker, President of TruePoint Laser Scanning, "We provide the point clouds and 3D models that are the framework for these amazing mixed reality experiences."
For more information on 3D laser scanning for mixed reality, contact TruePoint at 419-843-7226 or email info@truepointscanning.com.