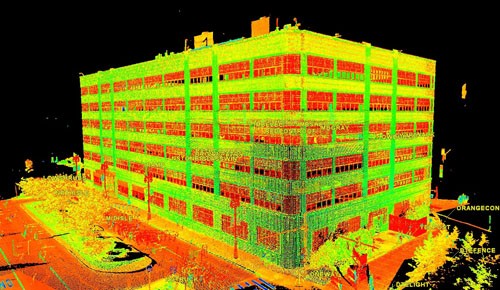 Case Study: Lidar Survey Dimensions of a 6-Story Building
Location: Detroit, Michigan
Task: To capture the dimensions of all the window openings on the building.
Challenge: The building was a 6-story building with windows on all four sides. The height alone of a 6-story building can create enough challenges when obtaining accurate measurements of window dimensions. This project, however, presented additional challenges. For example, the exterior of the building was not easily accessible by lift or scaffolding due to its being located along a busy road with minimal right of way. Additionally, the other sides of the building also had obstacles which further limited access to the windows.
Solutions: By utilizing laser scanning, a non-contact measurement tool, TruePoint was able to capture the accurate dimensions of the window openings safely from the ground, as well as from other safe locations. Window sills can sometimes be difficult to capture when scanning from the ground, but our scan technicians were able to set up on and scan from surrounding buildings and rooftops to ensure enough elevation to capture these features accurately for our client. And since laser scanning is not only safe and accurate, but also is extremely fast, the field work was limited to one day.
Deliverable: TruePoint provided our client with 2D elevations in AutoCAD, which included the dimensions of the edge of existing rough openings dictated by the limestone cladding. Additionally, we supplied our client with TruViews – 3D photographs overlaid on top of the point cloud, allowing for rudimentary measurements directly from the photos. The client can now view the building and its openings in 3 separate deliverables: the point cloud, the 2D drawings, and the TruViews.
Added Value: Many times in field measuring there is an assumption made, after measuring several similar units, that others will likely be of the same dimensions. With laser scanning we are able to easily and accurately determine the dimensions of each and every opening individually. As is common with many older buildings, many of the openings of this building appeared to be the same size but, in fact, varied enough to cause potential problems. TruePoint's accurate measurements allowed the client to order dimensionally-correct windows for each specific opening, thus reducing any change orders for windows that did not fit perfectly the first time they were placed.
If you have a project that requires quick and accurate dimensions which may be otherwise difficult to obtain, contact TruePoint Laser Scanning at 734-807-0117 or to determine if 3D laser scanning may be the right solution for your project.