Recap point cloud with "bubbles" (3D photograph from scanner's perspective) from each scan locations
Case Study: Laser Scanning Two Mechanical Rooms
Location: Galveston, Texas (near Houston)
Task: To capture all visible pieces of equipment in two 20' x 40' mechanical rooms. The measurements were used for designing and installing new systems to interface with the existing equipment.
Challenge: The mechanical rooms are congested, complex spaces. Hand measuring mechanical spaces to be used in 3-dimension could take multiple people several days on site to acquire a small sample of what laser scanning can accomplish in a fraction of the time. In addition, laser scanning is more accurate and comprehensive than taking manual measurements.
Solutions: TruePoint was able to utilize one scan technician in order to capture both mechanical spaces in one day on site. At 1,000,000 measurements per second, the speed of scanning allows extremely accurate measurements to be collected in a very short amount of time. In addition, the range of the scanners allow for measurements near the ceiling to be collected safely from the ground.
Deliverables: The client on this project was interested in working directly with the point cloud as their deliverable. Point clouds can be used for extracting dimensions and measurements and can be used for clash detection and prefabrication. By utilizing the point cloud the client saves any additional expenditure related to modeling. TruePoint also provided a training webinar to better familiarize the client with how to work with point could data since it was their first time using laser scanning.
Added Value: Not only did the client receive the measurements that TruePoint captured, but the time they saved allowed them to focus on other aspects of the project while TruePoint was on-site capturing the as-is conditions.
Laser scanning is currently one of the fastest ways of gathering highly accurate field measurements. The amount of time TruePoint spends on-site gathering measurements can be minimal compared to traditional field measuring. In addition to saving time taking dimensions, the client is able focus their time in a more productive manner.
For project inquiries near Houston, Texas, call 713-818-2799 or send an email to Houston@truepointscanning.com.
Click here to view more case studies.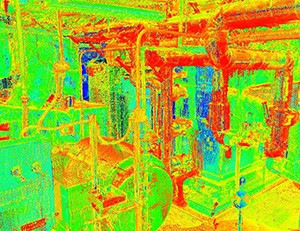 Screenshot showing dense point cloud of mechanical, electrical and plumbing equipment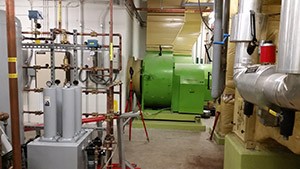 Mechanical room with fixed height tripod target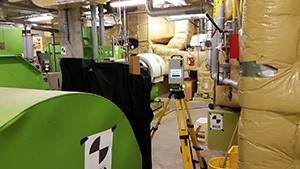 Photo of Leica HDS7000 scanner after it completed its 360 degree laser scan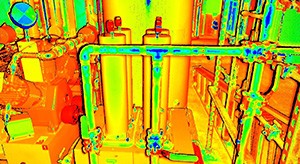 Intensity Map Point cloud from scanners perspective viewing mechanical equipment