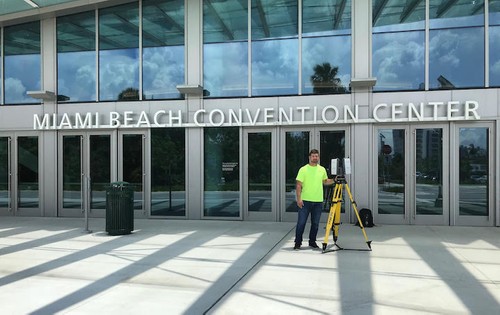 TruePoint collected raw point cloud data of the Miami Convention Center for the client to produce a 3D model.
Case Study: Laser Scanning Streamlines Planning at Miami Convention Center
"As-built surveys using 3D laser scan technology are incredibly valuable to clients. They are dimensionally accurate, measurable and sharable, expediting future design and construction." Andy Foshee, Southeast Regional Manager
Location: Miami Beach, Florida
Task: TruePoint was hired to provide 3D laser scanning services to capture 500,000 sq. ft. of open exhibit hall floor space located inside the Miami Convention Center. The main objective was to capture the overhead detail (MEP, structural steel, trusses, catwalks, ductwork, etc.) as well as electrical boxes inside the concrete floor slab. TruePoint collected raw point cloud data for the client to produce a 3D model. The Miami Beach Convention Center will use the 3d laser scan data collected as a tool for future planning and construction.
Challenge: In surveying a large amount of space, 500,000 sq. ft. in this case, the task would have taken many man hours to complete by hand, especially documenting the overhead detail. The client needed fast and accurate existing conditions documentation of the project area for planning purposes. 3d laser scanning will allow the engineering firm to build a 3D model with pin point accuracy, saving significant time in the visualization and pre-construction process.
Solutions: Using industry-leading survey-grade Leica Laser Scanners (P40 and P50), two TruePoint scan technicians quickly and accurately captured 500,000 sq. ft. of exhibit hall space in a matter of days. 3D mapping the building interior saved the client time and money and was able to produce more accurate results than hand measuring.
Deliverable: After compiling 460 data scans, TruePoint delivered a registered point cloud file in Recap (.rcp format) to the client. This point cloud data would allow the client's modeling team to create a structural and MEP Revit model. TruePoint also provided JetStream Viewer files. JetStream Viewer is a free, no-install, no-license viewer allowing ultra-high-speed rendering of 3D photographs and point cloud data which instantly opens and displays an unlimited number of points allowing the viewer to navigate the data set. The interface is simple, easy to learn and makes project collaboration easy.
Added Value: TruePoint has a team of engineers dedicated to proper registration ensuring the most accurate measurements are delivered to the client to produce a 3D model.
For 3D laser scanning services in Miami, call 786-858-2412 or email miami@truepointscanning.com.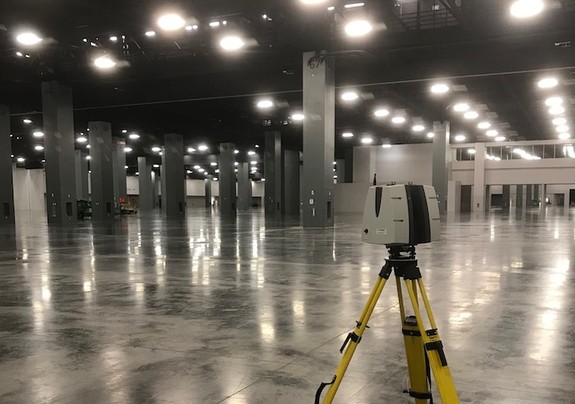 Using only survey-grade Leica laser scanners to achieve 2-4mm accuracy, TruePoint 3d laser scanned 500,000 sq. ft. on the exhibit hall floor.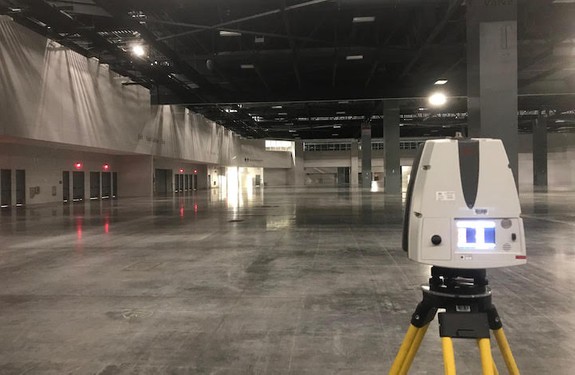 Two scan technicians completed 460 total laser scans in a matter of days.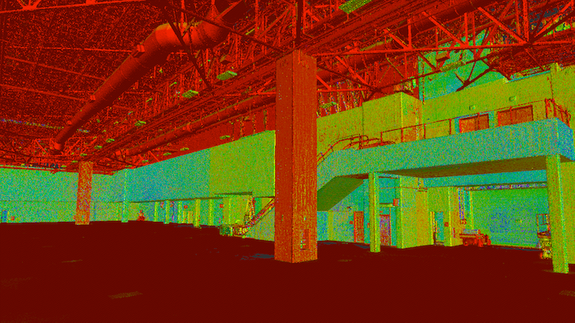 Intensity map point cloud of exhibit hall.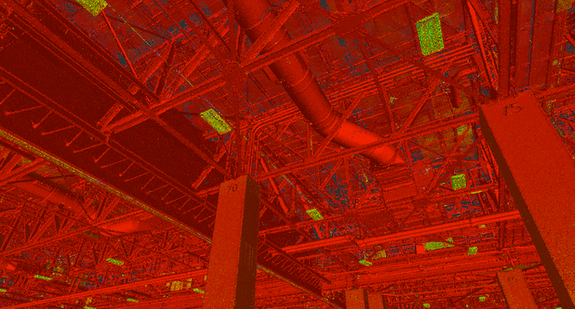 Intensity map point cloud close up on overhead detail.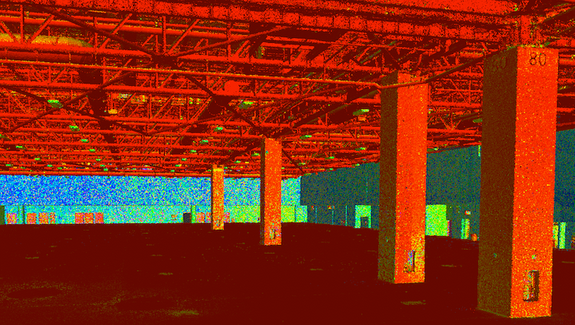 Intensity map point cloud showing structural columns.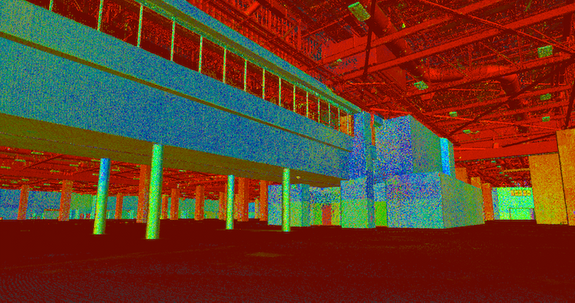 Intensity map point cloud showing catwalk.