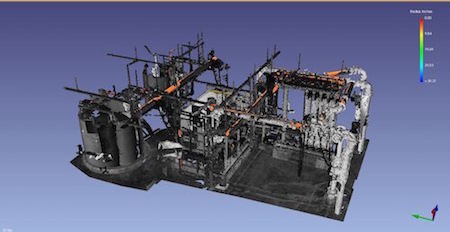 Point Cloud Data with Extracted Pipe Displayed
Case Study: Laser Scanning of Water Membrane Filtration System
Location: Cleveland, Ohio Area
Task: To laser scan a water membrane filtration system, including the tanks, valves, control panels, and associated piping—some of which is as small as a half-inch in diameter.
Challenge: The client needed a detailed 3D Model of the currently installed filtration system which was actively in use and not able to be disrupted. Traditional methods of measurement would have been time-consuming and far less accurate than 3D laser scanning.
Solutions: By utilizing 3D laser scanning, the entire system was captured in just one day. Because laser scanning is a non-contact measurement tool, the filtration system could remain in operation while data was gathered from a safe distance.
Deliverables: TruePoint generated Leica TruViews, allowing the client to perform a "virtual site visit" where they could view dimensionally-accurate panoramic photographs of the site. Additionally, TruePoint provided point cloud data in an Autodesk compatible rcs format and generated an AutoCAD 3D model that included a generic PVC Schedule 80 system information best fit of the point cloud, with valves represented symbolically.
Added Value: TruePoint was able to occupy various positions throughout the room, including an elevated stair landing, allowing for a more complete set of data. Additionally, nearby equipment was also captured, allowing the client to have a complete picture of their installation and how it interacts with other equipment within the existing space.
For 3D laser scanning services at Water Treatment Facilities or in the Cleveland Area, please contact our Cleveland area representative at 216-470-7262 or email at cleveland@truepointscanning.com.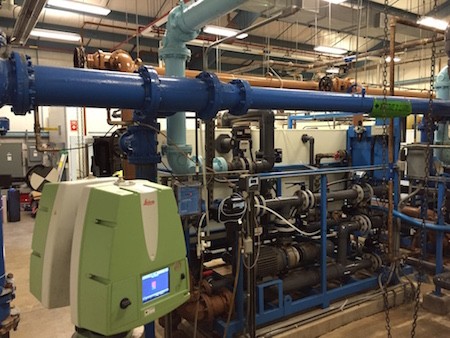 Leica P-20 Scanner Capturing Detailed Features of the Water Membrane Filter