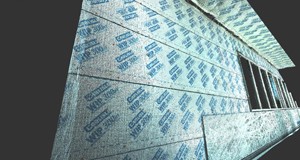 Colorized point cloud showing what the substrate looked like in the field prior to installation of envelope system
Case Study: Laser Scanning of Substrate Surface
Location: Dallas, Texas
Task: To laser scan a building before installing metal paneling to verify that the exterior walls were level and uniform.
Challenge: The client had concerns about the flatness of the substrate surface and needed to accurately document potential deviations with no interruption to the already tight construction schedule.
Solutions: To avoid disrupting the work on-site by manually measuring elevations in the substrate, a TruePoint Scanning Dallas representative was able to set up the Leica P20 scanner in multiple locations around the site to accurately capture data. To ensure full coverage of the substrate, in addition to scanning from the ground around the structure, TruePoint also completed two scans from the roof that gave clear line of sight to the areas of interest. TruePoint Scanning produced documents clearly showing deviations in the wall surfaces.
Deliverable: Deliverables included a Colorized Point Cloud, TruViews, as well as multiple .pdf files showing the locations of all the wall deviations.
Added Value: Only 3D Laser Scanning is capable of capturing as much data in such a small period of time. Because of the speed of laser scanning, TruePoint Scanning was able to document all of this information even while work was already underway, with no interruptions to the on-going construction. The Dallas client could then make fast and exact adjustments to the installation, avoiding errors and loss of time.
If you are in need of as-built documentation, existing condition drawings, or a 3D Model of an intricate space, TruePoint Scanning provides an extremely fast, accurate and efficient way to gather the necessary field data. For project inquiries in Texas and Oklahoma call 214-551-6201 or email at dallas@truepointscanning.com.
Construction can continue uninterrupted while the TruePoint Scanning representative collects the necessary information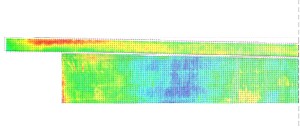 Deviation map created from the point cloud and formatted to show deviations from a theoretical plane.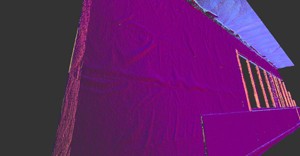 The same view of the point cloud data showing wrinkles in the building wrap. TruePoint Scanning is then able to analyze this data and tell the distance from a theoretical flush surface at any point on this substrate.