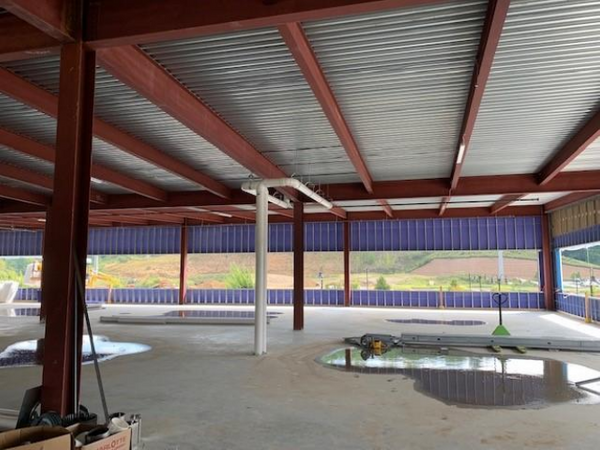 Laser Scanning for Construction Coordination
Client Testimonial: "I am very happy that your team was expeditious with the scanning and the model creation. My last experience with a different company did not go as smooth and I am glad to have found a reliable company to work with in the future." Joseph M. – Project Superintendent
Location: Paoli, Pennsylvania
Task: Use 3D laser scanning to create a BIM model for new construction coordination.
Project Application: The VDC engineer requested a BIM model they could trust for project coordination, planning, and scheduling. Virtual design and construction (VDC) engineers manage the planning, visualization, and computer modeling of building projects. They work closely with BIM modelers, architects, and clients to create a cohesive construction plan.
Problem:
The building shell existed, including the foundation, structural skeleton, columns, beams, and fire piping.
A BIM model was requested to complete the design, minimize clashes, and plan for field coordination.
The VDC engineer wanted each trade to conduct their specific work without interference from other trades.
Solution:
A 3D Revit model was created from the point cloud with standard detail of architectural, structural, and MEP features.
A reflected ceiling plan, an architectural drawing that shows visible objects located on the ceiling of a space, was delivered for MEP coordination.
2D plans and 3D models allowed this client to complete the design, communicate the scope of work to each trade, and efficiently schedule work to be completed.
Benefits:
Model-based implementations are the foundation of our client's VDC department. They plan site layout and work sequencing for efficient logistics and safety.
The VDC engineer received an accurate as-built model to place all building components and MEP into.
Effective planning and communication minimized trade interference, clashes, installation problems, rework and added costs.
For 3D laser scanning services in Pennsylvania, contact TruePoint today at:
Philadelphia
215-871-9231
Pittsburgh
412-639-7564
Images for Laser Scanning for Construction Coordination