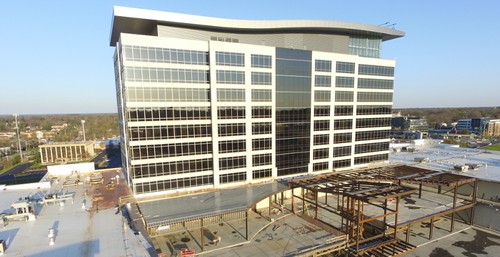 TruePoint 3D laser scanned a 15-story structure in Cincinnati, Ohio capturing data for over 1.54 million square feet of space.
Case Study: Laser Scan to BIM of 15-Story Structure
Location: Cincinnati, Ohio
Task: TruePoint provided 3D laser scanning and modeling services for a 15-story structure in the greater Cincinnati, Ohio area. This included 8 floors of commercial space, 2 stories of retail, 5 levels of parking garage, as well as, the exterior façade and roof surface. TruePoint's laser scan technician captured over 1.54 million square-feet of space, and in-house engineers created a custom Revit model based on the point cloud of the existing conditions. Once construction was complete, this project received the 2017 Build Ohio Award for New Construction Over $30 million.
Challenge: The challenge was that the construction management firm hired to renovate the project did not build the existing project. The existing plans were limited and there were concerns that they were not entirely accurate.
Solution: 3D laser scanning was an efficient way to measure this vast space with millimeter accuracy. TruePoint's team of in-house engineers created an as-built Revit model, autocad .dwg's and 2D PDF's -- replacing the original proposed documents with field-verified dimensions. This process gave the client confidence that countless design changes could be planned for and built.
Laser scanning captured the exact details the client was looking for. For example, the eighth-floor top of steel elevations for framing connections and fifteen floors of elevator analysis for eight shafts were accurately measured. By utilizing 3D laser scan data, tape measuring and human error was reduced, as well as the administrative time for processing information requests, approval submittal and change orders. Not one panel from the iconic roof had to be cut, because the client had accurate locations and dimensions. According to the client, "The cost avoidance impact of the integrated scan-to-BIM work flow saved the project an estimated 5% of total contract amount." (a savings of approximately $1,500,000).
Proactively planning scan to BIM applications enabled this client to deliver an extremely complicated project, on time to a very satisfied owner.
Deliverables: Due to the size and scope of the project there were many deliverables: point cloud files in .pts and .pcg formats, 3D Revit model, GPR findings, TruViews of each floor, 2D drawings – elevations and sections, and details of keys areas such as elevators and stairway shafts. Also, there was concern about the flatness of the concrete floor, so floor flatness analysis was performed. TruePoint provided elevation contours of each floor surface and assisted with determining the volume of latex that was needed to level each of the rough floors.
Additional benefits of point cloud analysis included detention pond quantity, stair, elevator and escalator shaft alignments, structural steel tolerances, exterior framing, cladding, mechanical coordination and curtain wall systems. The client maintained a uniform grid on every elevation, from which they compared "proposed" to "actual" (x,y,z) dimensions. The grid orientation was used to deliver shop drawings in an "as-built" format. Shop drawings were inserted into the model to generate a "best fit" for building components prior to submitting. This allowed contractors to install their products at a very high rate of efficiency, reducing field alterations, saving both time and money.
Added Value: In an effort to mitigate the risk involved with existing conditions analysis and the transition of the building, the client performed 3D laser scanning and BIM utilization. This laser scan not only saved the owner a significant amount of money from the very beginning, but also set the team along the path of transforming a structure into a high-end office and retail space.
Since laser scanning was new to the client, the TruePoint staff was available for meetings, training, and consultation on how to best use the data, what information could be extracted from the data and overall questions for using the various software – interacting directly with the client's Virtual Design team.
In addition to 3D laser scanning services, Ground Penetrating Radar Service (GRPS) was used around the exterior of the building to identify buried utilities. Knowing the location of the utilities was important to the construction team to minimize damage and the associated repair costs. The GPR findings were then tied into the 3D model to permanently document the types of utilities and their location and depth. TruePoint also brought in survey crews to establish survey control in and around the building. This allowed the laser scan to be tied into state line coordinates.
To learn more about the 2017 Build Ohio Award for New Construction Over $30 Million, click here >
For 3D laser scanning services, contact TruePoint Laser Scanning at 419-843-SCAN (7226) or email info@truepointscanning.com.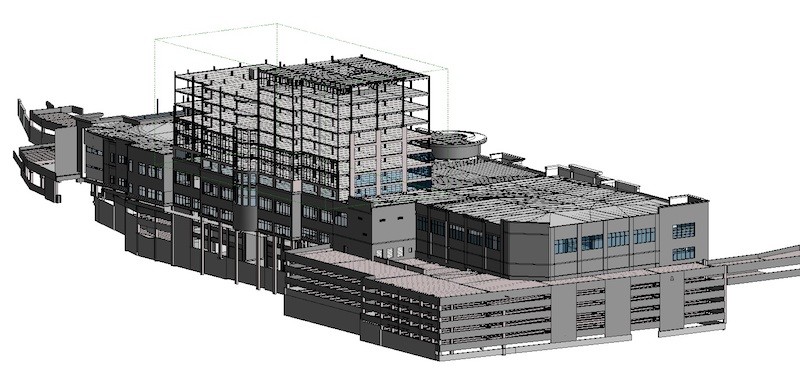 Screen capture of Revit model provided to the client.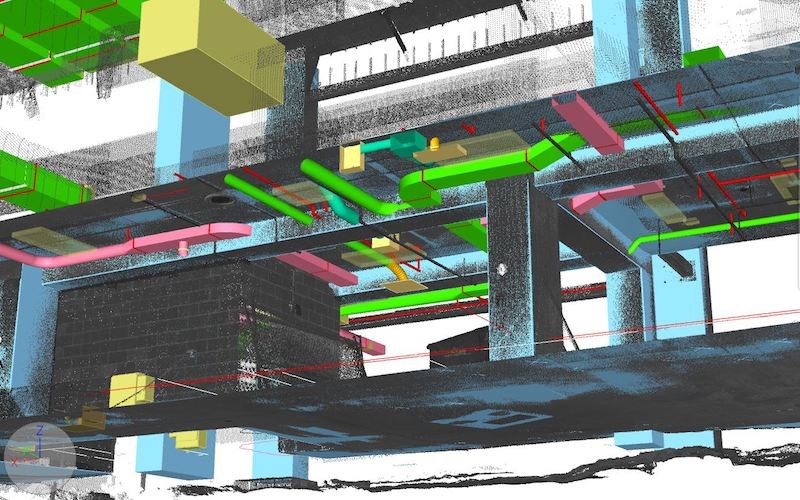 Navisworks model of MEP features.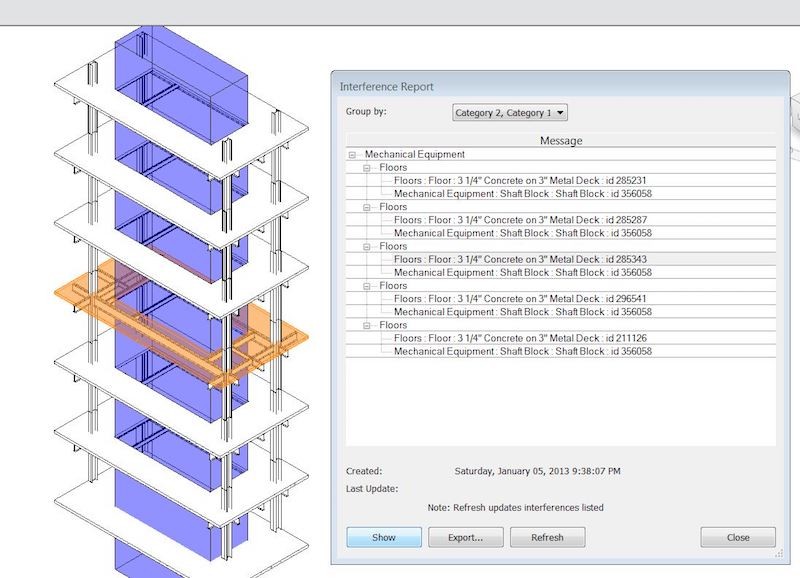 Shaft opening analysis clash detection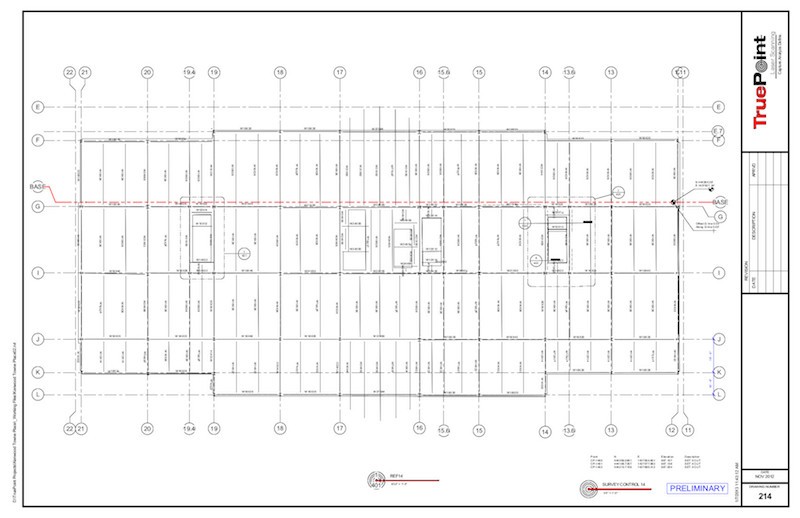 PDF of office floor 7 framing plan.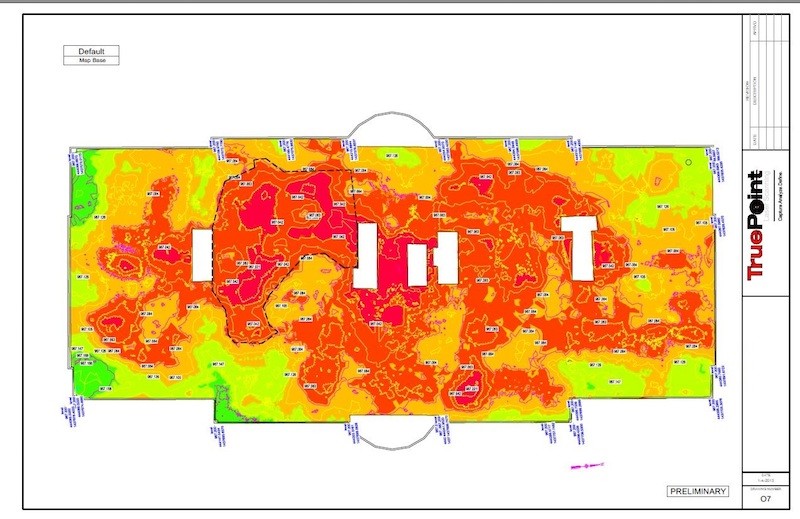 Tower Floor Contour Color Map.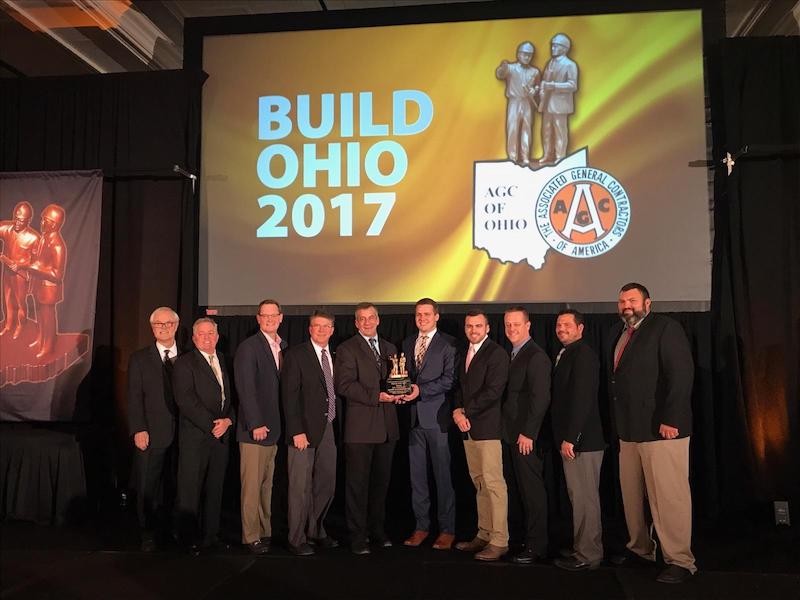 This project received the Build Ohio 2017 Award Winner for New Construction Over $30 million.