Colorized point cloud screen capture of production line.
Case Study: Laser Scan Data Expedites Plant Upgrades Without Costly Overseas Site Visits
"Laser scan technology was the best solution for obtaining accurate data without having to make a trip across the globe for hand measuring. Colorized point cloud data was invaluable to this client for designing plant upgrades."
- David Sauceda, Texas Regional Manager
Location: San Antonio, Texas
Task: Using 3D laser scanning technology, TruePoint was hired to capture precise dimensions of a multi-line production system located in a San Antonio, Texas manufacturing facility. Scans were used to survey existing conditions which included conveyors, mechanical equipment, piping layouts (2" and larger), pipe supports, structural steel and platforms.
Challenge: With inaccurate 2D drawings, the client needed new, precise data to design upgrades to the existing production lines. Having an accurate point cloud was critical for evaluating the equipment, adding electrical boxes for new equipment, and designing overall modifications to the site. Because the production line was located in a working facility, TruePoint professionals had a limited amount of time (3 hours) to capture the data before production resumed in the facility.
Solutions: Using an industry-leading survey-grade Leica laser scanner, professionals from TruePoint's Texas office captured the existing conditions of the production line in record time. The client provided our comprehensive 3D colorized point cloud to companies located outside of the U.S. who were working on the new, upgraded facility design. This allowed for preparation of accurate design plans from their overseas office, eliminating costly and time-consuming field visits from across the globe.
Deliverable: TruePoint delivered colorized point cloud files of the facility. The client also received the JetStream Viewer, a free, no-install, no-license viewer allowing ultra-high-speed rendering of point cloud data. It instantly opens and displays an unlimited number of points as the client navigates the data set. The interface is simple, easy to learn and makes project collaboration easy.
Added Value: Laser scanning services by TruePoint provided the client with an easy to use, dimensionally accurate data set in order to measure and plan equipment installation before they mobilize to the field work phase. The client will now be able to confidently use the raw point cloud data as the basis of the designs and renovations moving forward.
TruePoint is a highly experienced team of 3D laser scanning professionals who deliver exceptional service, accurate data, and custom deliverables to expedite your project. TruePoint can quickly mobilize to your site and provide free project estimates.
For 3D laser scanning services in San Antonio, Texas call 210-607-0800 or email sanantonio@truepointscanning.com.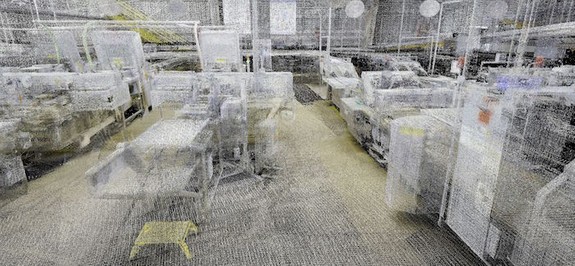 Colorized point cloud screen capture of production line.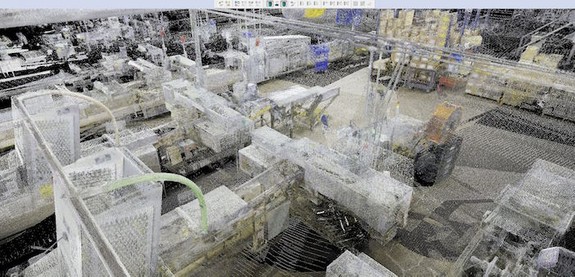 3D colorized point cloud view of plant production line.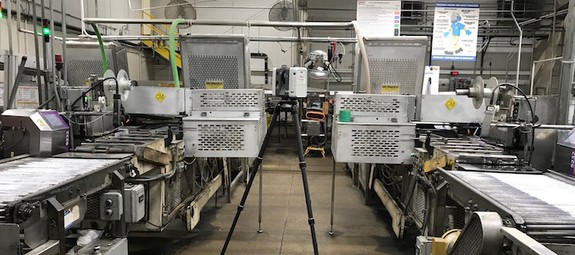 RTC360 capturing existing conditions of the facility showing equipment and nearby grade.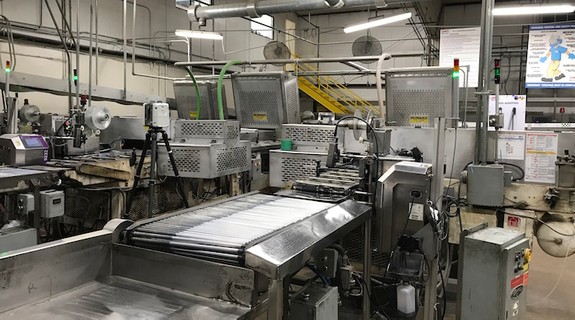 Collecting accurate laser scans of a multi-line production facility using a Leica laser scanner.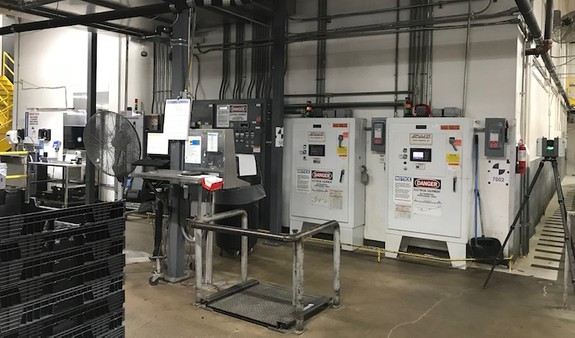 Mechanical equipment surveyed during 3D laser scanning by TruePoint.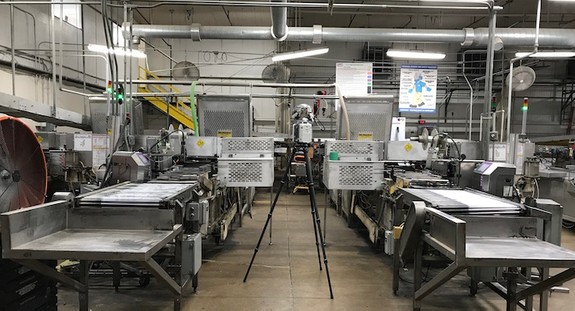 Precise reality capture of production facility using the RTC360 laser scanner.