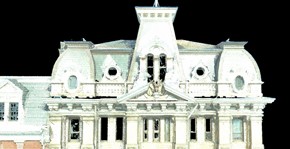 Case Study: Historical building façade documented and modeled for historical preservation
Location: Wooster, Ohio
Task: To scan, measure, and document the architectural façade elements of the Wayne County Courthouse, located in downtown Wooster, before it underwent historical preservation.
Challenge: The challenge was to capture the complicated façade detail while preserving the historical building's 19th century identity. The building's ornamentation included sculptural friezes and entry-way columns, Doric and Corinthian colonnades, decorated parapet, and various material textures (sandstone, limestone, wood, concrete, brick).
Solutions: Multiple scans captured a million data points per second at various heights, angles and distances. Scans were then stitched together to produce a point cloud for "as-is" dimensioning and referencing, which ultimately was used to build a Revit 3D model of the neo-classical architectural façade. Additionally, scanning at various times of the day allowed cross-referencing of the sun's orientation for proper light exposure when capturing photographs for the colorized TruViews.
Deliverables: Colorized point cloud; colorized TruViews; 3D Revit exterior model overlaid on top of the point cloud data.
Added Value: Scan technicians occupied the courthouse rooftop, as well as three neighboring rooftops, in order to acquire data at downward angles. This elevated procedure picked up intricate architectural detail on the 134' clock tower, the mantels/sills of the tripartite building, and the detail of the roof pitches—all of which would otherwise not have been captured from ground level.
If you have a historical structure that needs to be documented for historical preservation or renovation needs, contact TruePoint Laser Scanning at 216-470-7262 or cleveland@truepointscanning.com.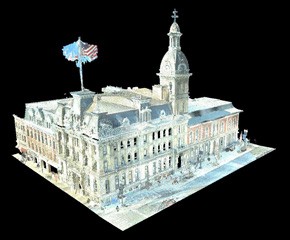 Colorized point cloud of Wayne County Courthouse at the Market/Lincoln intersection.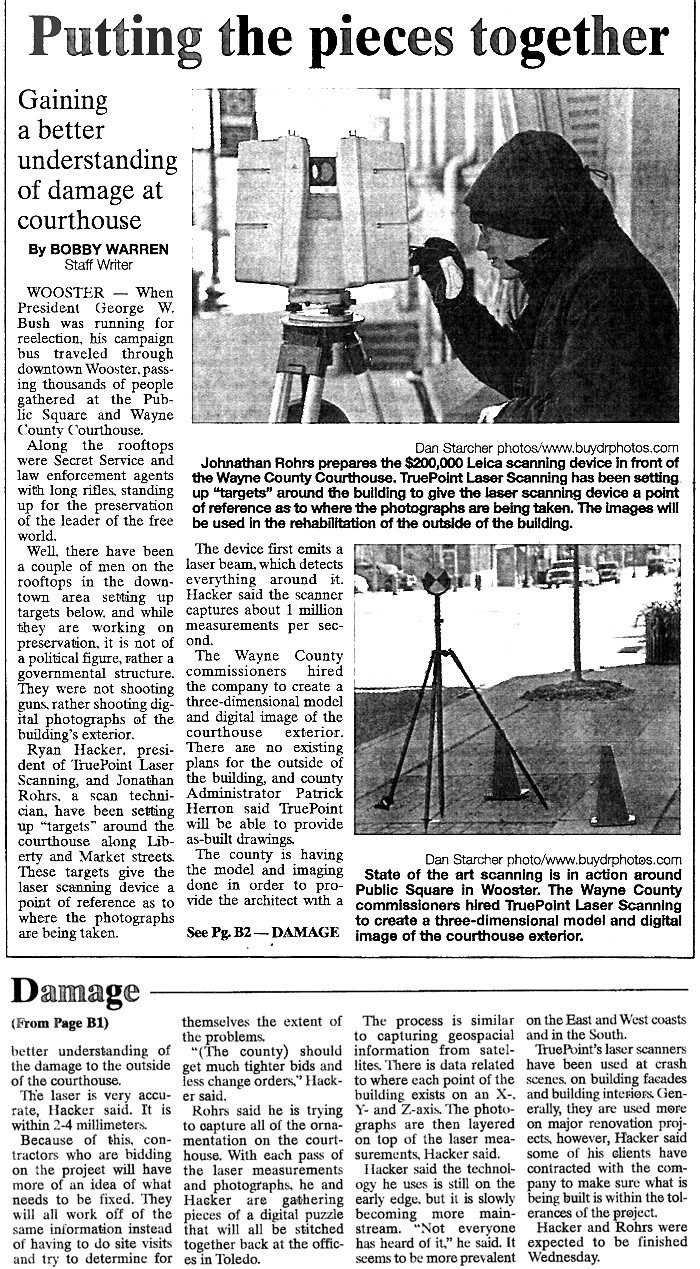 TruePoint featured in local newspaper, The Daily Record, on March 20, 2014