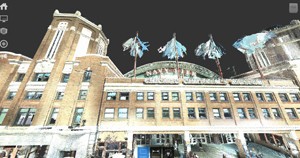 Colorized Point Cloud of Navy Pier
Case Study: High Definition Surveying (HDS) Iconic Chicago Destination for 3D Documentation
Location: Chicago, Illinois
Task: To 3D laser scan the north, south, and west building elevations and towers of the welcome building at a key Chicago tourism destination.
Challenge: To obtain accurate measurements and detailed documentation of the architectural façade elements- specifically terra cotta sills, plinths, and cornices- for lighting product specifications and installation plan without compromising on-site operations, pedestrian traffic, adjacent businesses, and ongoing renovation work at the Chicago landmark.
Solutions: TruePoint was able to document the existing conditions of the exterior in a safe, quick procedure through 3D laser scanning. TruePoint used its Leica brand P20 laser scanner which captures 1 million measurements per second with a 1/16" tolerance within a 360' range. This reduced field verification time immensely (two days on project site for data acquisition), expediting as-built documentation and reducing cost, time, risk, and possible site congestion of scaffolding associated with traditional measuring practices. The existing measurements were then processed into a 3D point cloud and imported into AutoCAD where TruePoint's architects, engineers, and BIM technicians created a 3D as-built model for the client to take accurate façade dimensions and project coordination.
Deliverable: A colorized point cloud delivered in .PTG and Autodesk Recap (.rcp and .rcs) file formats; AutoCAD 2015 3D model of building exterior.
Added Value: Since 3D laser scanning captures building information within the scanner's line of sight, some information, such as tops of sills, can be hard to capture due to angles of sight or obstructed by site elements (e.g., building protrusions, trees). To accommodate these obstacles, Scan Technicians safely occupied various roof tiers and utilized a compact jib lift to collect and reveal information at different heights and angles (e.g., window sills, architectural detail of towers). Additionally, the laser scanner is equipped with a 3D camera to take 3D photographs that are overlaid onto the point cloud data, creating a colorized point cloud. The colorized point cloud is then clipped and referenced into the 3D AutoCAD model, giving the client the ability to distinguish building materials of the architectural details for future renovation or restoration projects.
If you have a façade renovation project, need to capture architectural detail or existing building dimensions, or other laser scanning needs, contact TruePoint Laser Scanning at 312-448-1509 or chicago@truepointscanning.com to discuss your project needs.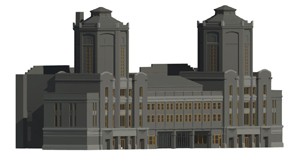 3D As-Built of Building Exterior showing materiality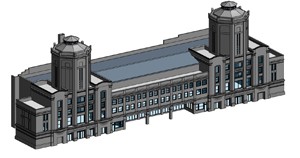 3D As-Built Model of Chicago's Navy Pier Welcome Building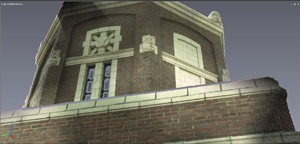 Colorized Point Cloud Close-up of Façade Detail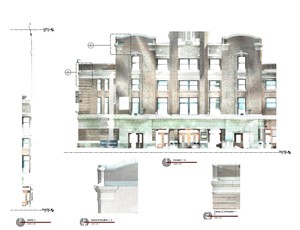 2D Elevations and Sections of Architectural Detail extracted from Colorized Point Cloud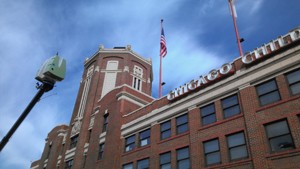 Elevated 3D Laser Scan of a Chicago Building's Exterior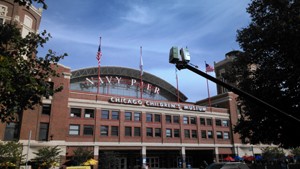 3D Laser Scanner elevated by compact jib lift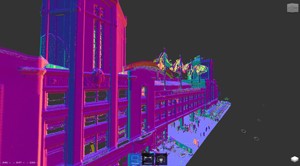 Normals Mapping Point Cloud in Autodesk ReCap