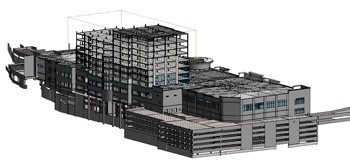 Revit as-built model of building structure interior & exterior utilizing 3D laser scanning to capture as-is conditions
Case Study: High Definition Scanning for a Construction Survey of an Interior and Exterior As-built
Location: Cincinnati, Ohio
Task: To create, as part of the overall engineering survey, an as-built of the interior and exterior of the entire building structure, which included 6 stories of parking garage, 2 floors of retail space and 8 levels of office space.
Challenge: The project changed hands during the development phase, and there were no existing drawings for the new construction management firm that was hired to complete the project. In addition, the project was in various stages of completion so the new CM needed to be able to verify and document the percentage of completion for all disciplines. Given the size and complexity of the project, field measurements would have been timely, incomplete and inaccurate.
Solutions: By utilizing TruePoint's laser scanning services, the client was able to receive an as-is model of the entire interior and exterior of the structure; at the same time, many other objectives were accomplished, including some that were not even part of the project's original scope.
Deliverables: TruePoint provided a variety of deliverables to the client, including the following: a 3D Revit model of the building structure's interior and exterior; 2D sectional plans in .dwg, .rvt and .pdf file formats; TruViews, which are 3D photogrammetry overlaid on top of point cloud data; Contour Maps of concrete floor elevations; and colorized point clouds in .pts (unindexed) and .pcg (indexed) point cloud files.
Added Value: In addition to the aforementioned deliverables, the client was also able to collect other useful information from the LiDAR data, from clash detection of piping and elevator shaft alignments to floor flatness analysis and volume calculations. Furthermore, the floor flatness analysis not only shows the high and low elevations, but it can also be used to determine the amount of epoxy material needed to raise the floor to an optimal flatness, as well as how much weight the material would add to the structure.
Most importantly, in order to make sure that the client, as well as the firms using the client's data, would get the most benefit out of the large amount of data and deliverables provided, our team sat in on meetings—and even presented some of the data—with the client and the firms using the data, sharing our knowledge and expertise of the subject and offering guidance.
If you have a plant or facility that requires complete and accurate as-built drawings or models, contact TruePoint Laser Scanning to discuss your specific needs at 513-609-7244 or cincinnati@truepointscanning.com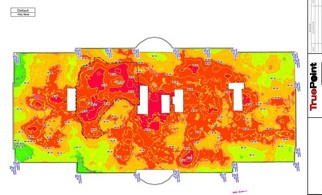 Contours of floor mapping out elevations to calculate epoxy material needed to level floor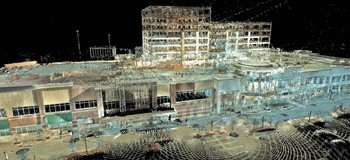 Point Cloud colorized utilizing the photogrammetry created by the laser scanner's on-board camera