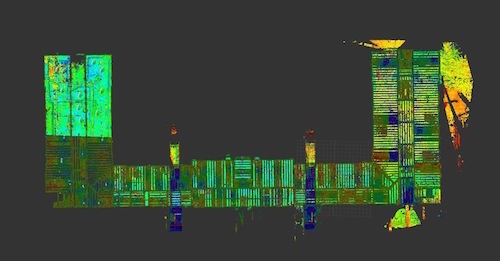 Plan view of the basement in Autodesk Recap.
Case Study: High Definition Laser Scanning a School in Cleveland
Location: Cleveland Heights, Ohio
Task: TruePoint used laser scanning in Cleveland, Ohio to survey approximately 130,000 sq. ft. of space after selective demolition at a school. The areas being laser scanned include the interior of the basement, the 1st through the 4th floor, and a portion of the mechanical space in the attic.
Challenge: The client wanted to fabricate new mechanical, electrical and plumbing features in the existing space. The project had encountered several other delays and laser scanning was imperative to help expedite the MEP design.
Solution: TruePoint utilized a Leica P-20 laser scanner to complete scanning on various floors over the course of several mobilizations. Because of TruePoint's proximity to the job site, the client was able to coordinate laser scanning as soon as demolition of an area was complete. Additionally, some of the areas to be laser scanned did not have active lighting. Because the laser does not require light to capture data, TruePoint was able to capture areas that were in complete darkness.
Deliverables: The client requested a point cloud (.rcs file format) to be imported into AutoDesk 2015 or later products. A plan view of each area in DWG and PDF formats were also delivered.
Added Value: TruePoint's technicians worked directly with the client to ensure they laser scanned the desired features. Upon completion of registration and indexing of the data, CAD technicians communicated directly with the client and their MEP contractor to align the point cloud as desired.
For 3D laser scanning services in the Cleveland area please contact us at 216-470-7262 or cleveland@truepointscanning.com.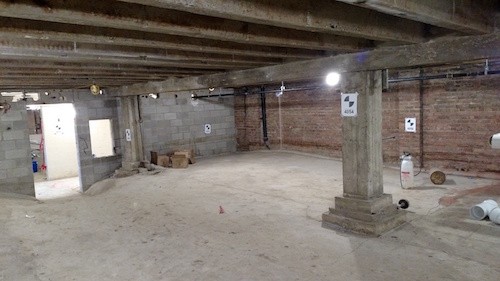 Technicians preparing the area in the south basement for laser scanning.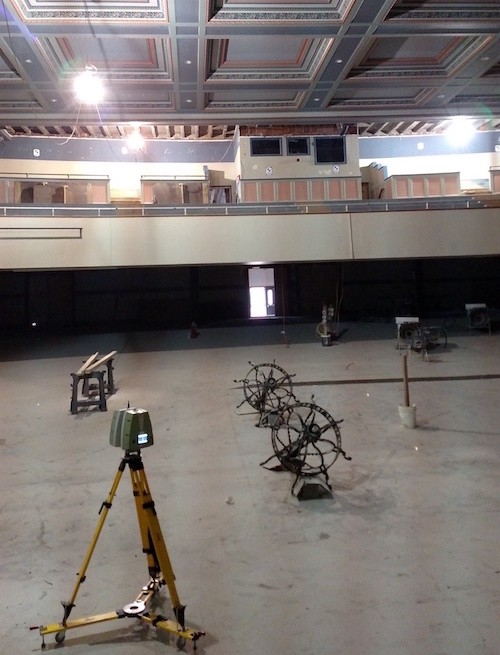 The Leica P20 laser scanning the first floor auditorium of the school.