Guide to 3D Laser Scanning for Concrete Construction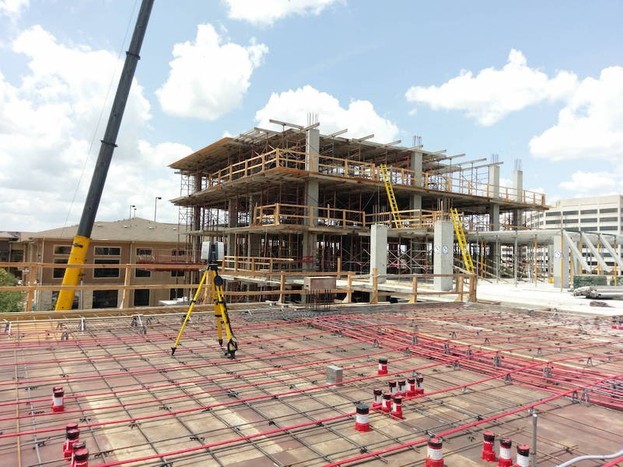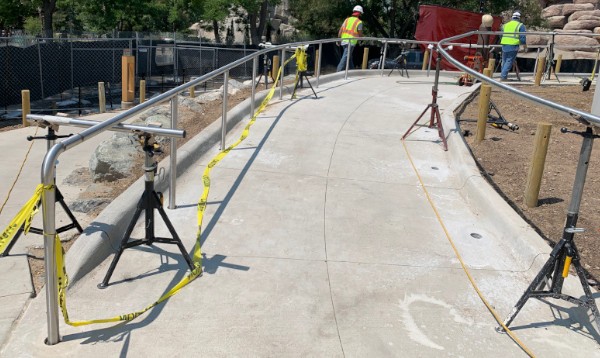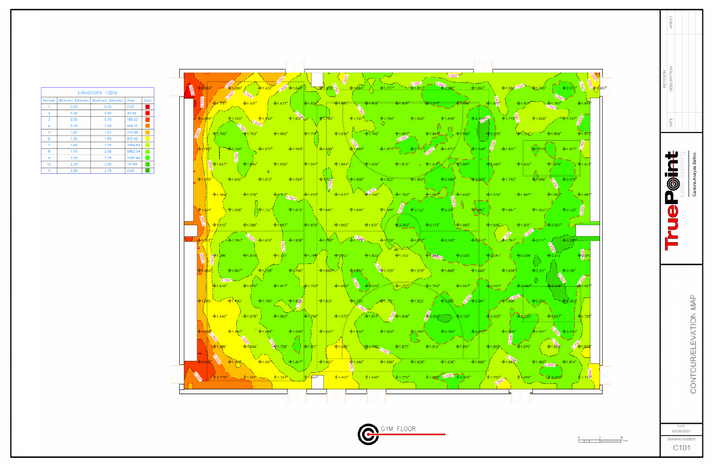 3D laser scanning helps concrete contractors manage and assess construction projects with precise data for decision making.
3D laser scanning is an innovative solution to assessing concrete. Contractors, inspectors, and designers can see issues and reduce errors with accurate data. Dimensional and tolerance assessments can be completed quickly to prevent costly project rework.
The current method for assessing concrete relies on manual inspection and contact-type measurement devices, which are time consuming. The process for gathering information is prone to human error, documenting the information is tedious, and the platform to communicate is informal.
3D laser scan technology is transforming the way contractors document and assess concrete projects. 3D laser scanning can measure floor flatness and floor levelness, scan pre-pour and post-pour, check tolerances and deflection, perform MEP and construction verification, assess structural concrete, plan to prefabricate stairs and railings, inspect for ADA compliance, survey parking garages, assess concrete stairs, laser scan GPR, and more.
3D Laser Scanning to Assess Concrete

With laser scanning, processes that once took several days can be reduced to a matter of hours, providing far more accurate data and better information for your project. 3D laser scanners capture highly accurate digital representations of project sites in 3-dimensional x, y, and z coordinates in the form of a point cloud. Scanners are self-leveling, positioned on a tripod, and setup around the perimeter of the construction site; they will not interfere with work in progress. Data is collected from a distance without physically touching the site. Site data can be analyzed virtually, and adjustments can be made to fix problems immediately.
Applications for 3D Laser Scanning Concrete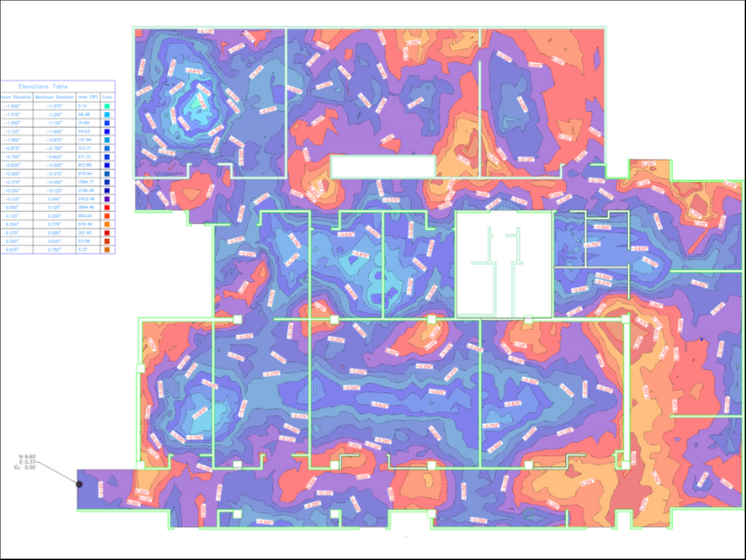 Floor Flatness and Floor Levelness Analysis
The methods used today for conducting floor flatness/floor levelness (FF/FL) slab flatness analysis are manual and labor intensive. A commonly used method requires the creation of a grid on a concrete slab following a set of specifications before taking manual readings. Contractors that use the ASTM E1155 standard method for determining floor flatness (FF) and floor levelness (FL) numbers typically take a measurement every foot along the grid lines. Using this method, even small projects require a substantial amount of time to complete data collection.
Highly detailed point cloud data is used to determine FF and FL values on concrete floor/flatwork. Color elevation maps can be quickly produced from the point cloud data to visualize floor flatness and identify the high and low points in concrete and calculate the boundaries of any areas that need to be adjusted. The data points collected maintain their coordinates and can be easily communicated to the project team. Fast and accurate cut/fill calculations can be computed. Contractors can fix elevation discrepancies with speed and assurance.
Laser scanning produces a colorized elevation map of the entire floor. This way if questions arise, stakeholders can be educated on the standards and the project is validated with data. 3D laser scanning can protect the concrete contractor and minimize disputes.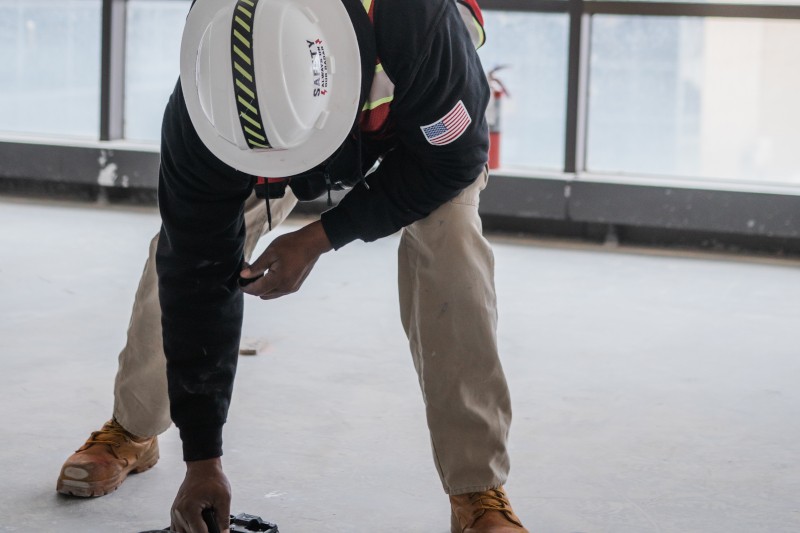 Laser Scanning Concrete Pre-Pour and Post-Pour
Laser scanning is used to capture the pre concrete pour. Contractors use 3D laser scan data to demonstrate that the assets exist per the engineering drawings, giving complete pre-pour asset documentation from the start.
Laser scanning can capture the finished pour with millimeter accuracy to ensure the pour was compliant with the design. Also, once the slab has met strength targets, completed post tensioning, and all temporary shoring is removed, the slab can be laser scanned again. This provides the true deformation of the structure.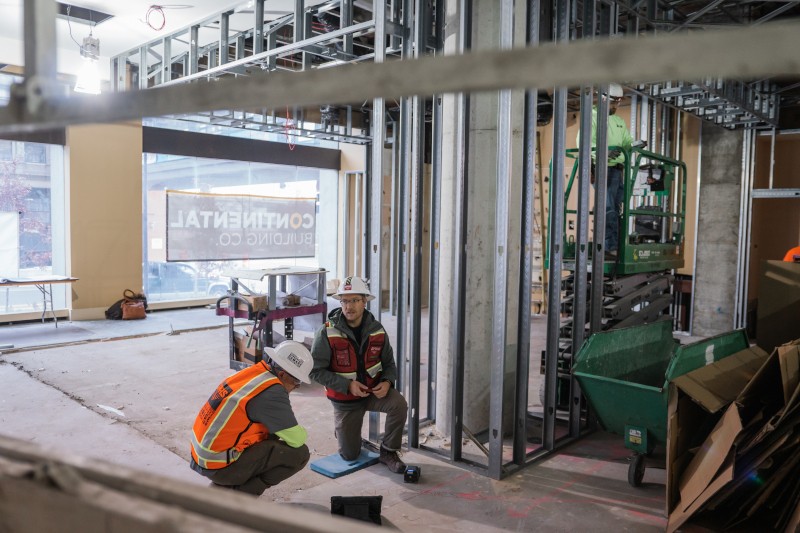 Laser Scanning for Tolerances
Laser scanning is rapidly being adopted to check tolerances. It provides contractors, inspectors, and designers with quantitative data. Contractors will know if concrete floors, walls, stairs, ramps, and columns are out of tolerance. Scans can be performed multiple times in the same area while construction proceeds.
3D laser scanning can also check the status of steel beams before and after concrete pouring to document the location of the steel beams, slab thickness and whether everything is in tolerance.
Laser Scanning for Deflection
3D laser scanning can measure concrete slab structural cracks and deflection. The deflection in slabs can occur over time due to settling, shrinkage, fatigue, design errors, aging, point loads, damage, and more.
Detailed information about existing conditions is documented in a point cloud, accurate to within millimeters. 2D drawings and 3D models can be created to document cracks and deflection and design a plan to correct it.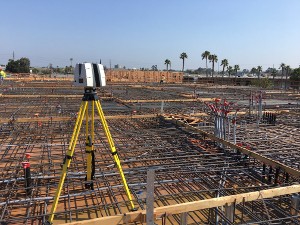 Laser Scanning to Verify MEP Concrete Work
3D laser scanning provides the ultimate solution for verifying MEP concrete work right in the field. Ensure all conduit, rebar, and embedded sleeves are in their proper place. Visualize and immediately identify problem areas, then use the documentation to communicate back to the field crew and office. 3D laser scanning can easily capture data for all surface types such as pre- and post-pour of concrete slabs, structures and MEP installations, in a fraction of what it would take to manually verify proper placement.
Once the concrete is poured, nothing can be changed. 3D laser scanning is a powerful tool to help monitor a project site to make sure everything is ready for a concrete pour. There is no need to risk discovering a problem when it is hard to go back. Data collected will be an asset for years to come, as it can be referenced for any future coring or drilling needs, showing where everything was embedded in the slab prior to pouring.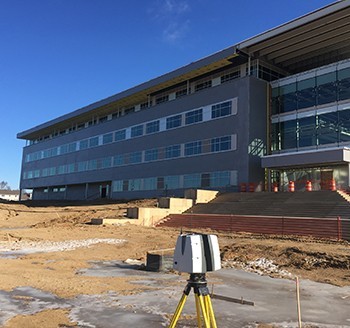 Laser Scanning for Construction Verification
Locate potential risks sooner with 3D laser scanning to capture real-time as-built verification directly at the jobsite. Laser scanning can be used to compare scans against the as-built drawings or model, detecting incorrect placements to fix errors quickly. Contractors and engineers can ensure their design plans are accurate and eliminate clashes before they turn into change orders.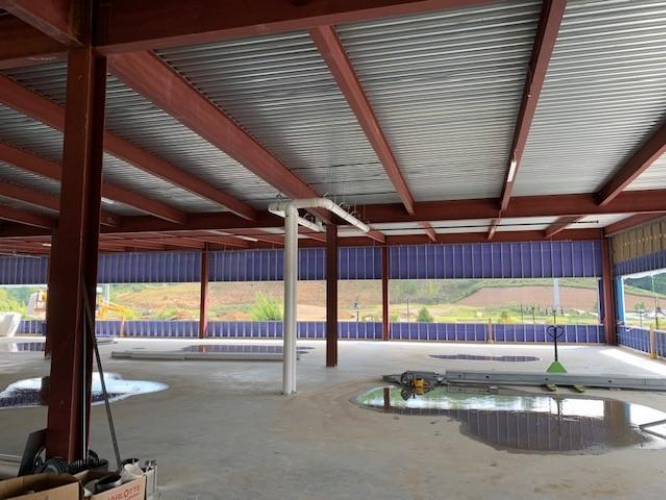 Structural Assessment of Concrete
3D laser scanning can assess and document floors, ceiling slabs, walls, and columns of reinforced concrete buildings. This can be done to create as-builts, identify structural defects, or monitor shifts in the building over time. The spatial information of the point cloud helps make decisions based on accurate data. Identifying defects of components and completing virtual design planning to remedy them will minimize rework costs.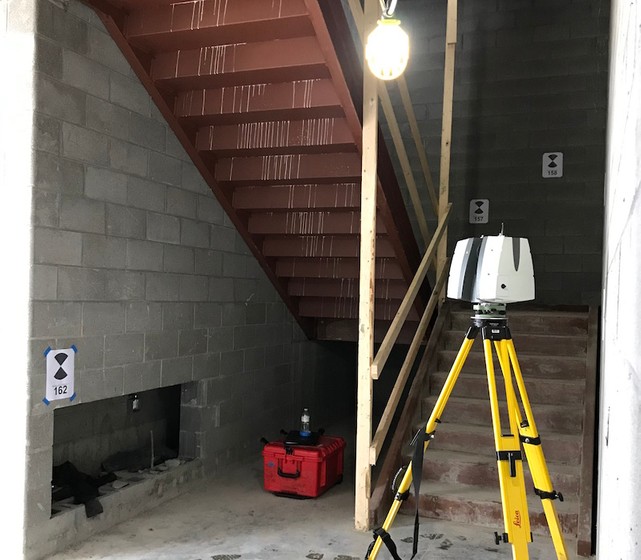 Prefabrication of Stairs and Railing Systems
3D laser scanning can document existing structural elements, staircases, walkways, and railing systems for prefabrication. All necessary measurements are captured and transformed into 3D BIM models, 3D mesh models, or 2D CAD drawings for better project planning, ensuring accuracy with little to no rework. Data ensures elements are prefabricated to the right specifications and expedites installation.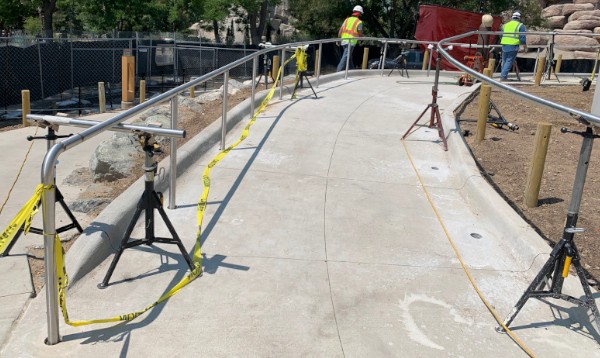 Inspecting Ramps and Cross Slopes for ADA Compliance
3D laser scanning can be used for inspecting ramps and cross slopes for compliance with ADA requirements. Curb ramps must meet specific standards for width, slope, cross slope, placement, and other features to comply with ADA requirements. The current methods used to inspect ramp and cross slopes include manual tape measures and levels. These methods are unreliable. Laser scanning documents ramps and cross slopes with 2-4mm accuracy in minutes. Point cloud data can be delivered quickly, or 2D drawings and 3D models can be created for site evaluation. Data allows contractors or engineers to virtually see the site and obtain measurements for redesign, if required.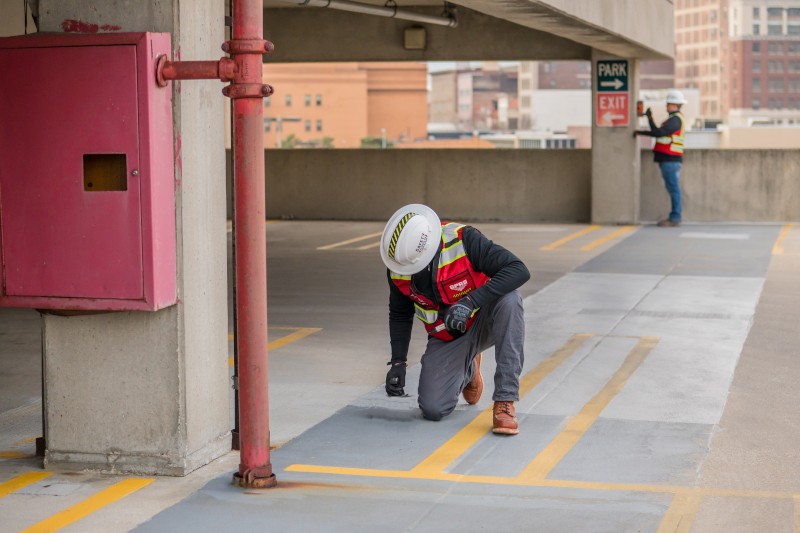 Inspecting Parking Garages
3D laser scan data can be used to estimate clearances, measure slab thickness, measure the thickness and depth of beams, and assess ramps in parking garages. The point cloud data collected can be used to generate architectural drawings, elevation views, color elevation maps, and 3D models for contractors.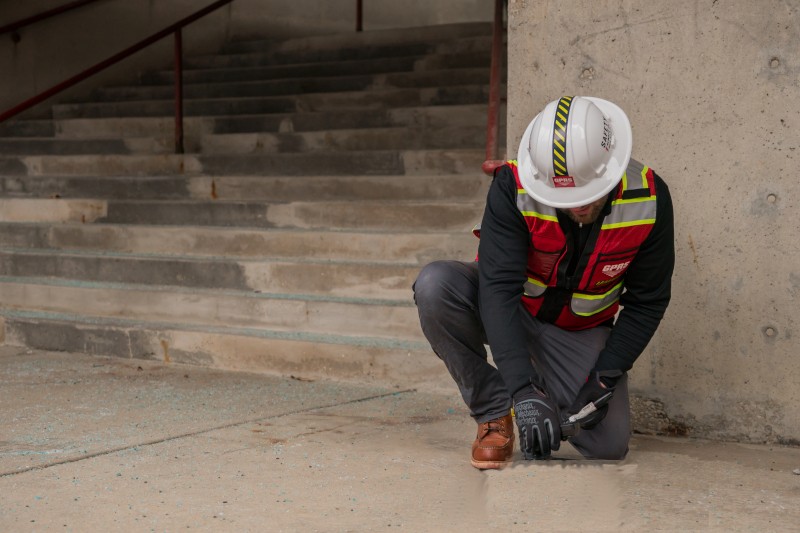 Assess Concrete Stairs
3D laser scanning can document concrete stair dimensions and step construction details. Tread height and depth can be compared to building code specifications. Data can be received in point cloud format, 2D CAD elevations and 3D models. This can be done for documentation repair and construction defect litigation.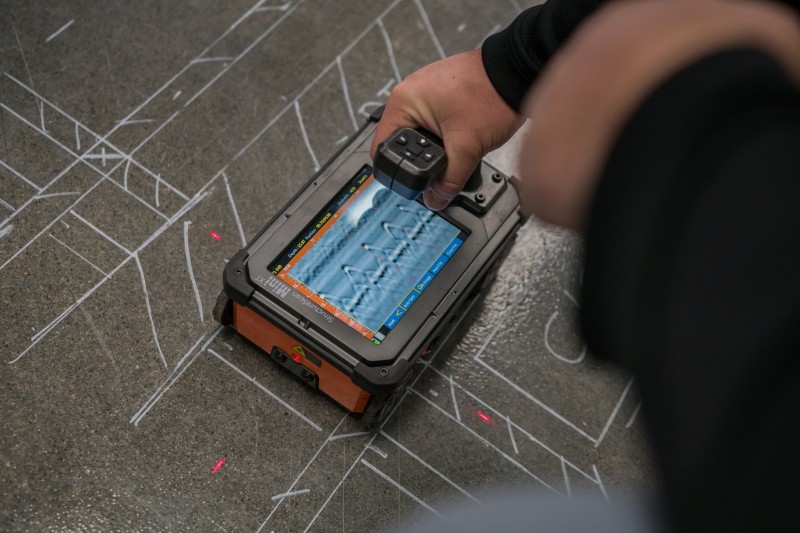 3D Laser Scanning GPR
3D laser scanning can capture ground penetrating radar (GPR) markings to accurately document underground utilities, rebar, and post tension cables located under concrete. 3D models and 2D site plans can be created to eliminate potential problems during construction and improve safety before cutting or drilling into concrete.
More Information on 3D Laser Scanning for Concrete Construction
Laser scanning can provide a complete digital documentation of any structure – top to bottom; slabs to columns; before, during, and after construction. It provides reliable dimensional data and quality assessments of concrete in a fraction of the time it takes with manual measurements. Checking the conformity of concrete levelness, dimensions and tolerances is important to prevent rework or failure during construction. Laser scan data can go to the project owner, or it can be retained for internal use or if a dispute arises.
For more information on 3D laser scanning for concrete construction and analysis, contact TruePoint today at 419-843-7226 or email info@truepointscanning.com.