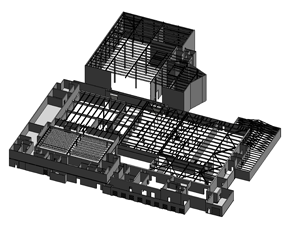 Case Study: Former Meat Packaging Plant
Location: Detroit, Michigan
Task: To scan the entire interior of an abandoned warehouse, capturing architectural and structural elements for as-built documentation.
Challenge: The client needed thorough documentation of the space before continuing their adaptive reuse plans.
Solutions: TruePoint has expertise in capturing and defining existing conditions, regardless of whether they are demo'd spaces, new construction, or ongoing projects. Through 3D high definition scanning, TruePoint was able to utilize a point cloud system by quickly acquiring millions of measurements (within 1/16" tolerance) on the project site and then creating 2D as-built plans and sections of the building from the point cloud data.
Deliverable: Index point cloud data formatted to be uploaded into Autodesk products (Revit 2013, AutoCAD, 3DS max, etc.); 2D AutoCAD 2013 floor plans and structural plans; TruViews
Added Value: 3D laser surveying has proven to be a quick, accurate, and versatile tool for architects, engineers, BIM managers, general contractors, and construction managers for adaptive reuse or renovation projects. In this case, TruePoint provided the client with a TruView (an Internet Explorer "easy viewer" of the space from the scanner's perspective). TruViews provide digital access to the project site, thereby reducing the time, travel, and cost associated with unnecessary site visits. Another advantage of TruView is its collaboration capabilities across project teams. The project architects, engineers, GC, GM, etc., can all access the TruView link and attach manuals, drawings, photographs, and notes, as needed.
If you are in need of as-built documentation, existing condition drawings, a renovation or adaptive reuse project, or any other laser scanning needs, contact TruePoint Laser Scanning at (734) 807-0117 or detroit@truepointscanning.com to discuss your project.