FMC Robotics Building west elevation while under construction.
Case Study: Ford Motor Company Robotics Building, University of Michigan
"It's vitally important to have a true representation of a new structure when components are fabricated off-site. Creating an AutoCAD model was the most accurate and efficient method for making sure the fabricated pieces would fit perfectly."
- Zach Jones, Great Lakes Regional Manager
Location: Ann Arbor, Michigan
Task: The Ford Motor Company Robotics Building, on the North Campus of the University of Michigan, was under construction. TruePoint was tasked with performing laser scanning services to create a 3D model for three separate stairwells within the laboratory building.
Challenge: Our client was hired to design and fabricate metal handrails to be installed on the staircases within the building after the steps and landings had been constructed. Since the handrails were to be prefabricated offsite, the client required an extremely precise as-built model of the stairwells to ensure that the railing systems would fit properly when they were delivered and installed.
Solution: With the industry-leading Leica P40 Scan Station, TruePoint captured 70 separate scans of the three existing stairwells from top to bottom.
Deliverable: With the scans captured, our laser scanning professionals created an Intensity Map Point Cloud. The point cloud provided TruePoint with the necessary data to deliver an LOD 200 model in AutoCAD 2018 to the client.
Added Value: TruePoint provided as-built measurements much more efficiently and accurately than by hand, saving the client both time and money. The digital scan data provided assurance that the products being fabricated offsite would be ready for installation with no modifications, upon delivery.
Due to the client's satisfaction with the data, TruePoint Laser Scanning professionals returned to the job site to scan an additional area of the building. The café would contain some structural and non-structural steel members to form a canopy over an area at ground level. The scans provided new data for offsite fabrication of the elements that would be fitted to the existing structure.
TruePoint is a highly experienced team of 3D laser scanning professionals who deliver exceptional service, accurate data, and custom deliverables to expedite your project. TruePoint can quickly mobilize to your site and provide free project estimates.
For 3D laser scanning services in Ann Arbor, Michigan, call 734-807-0117 or email annarbor@truepointscanning.com.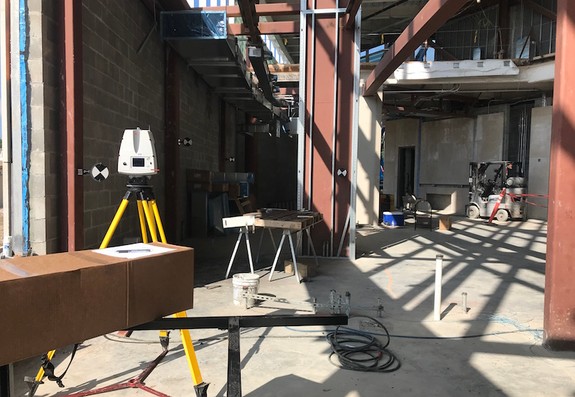 3D laser scanning for prefabrication saved the client both time and money.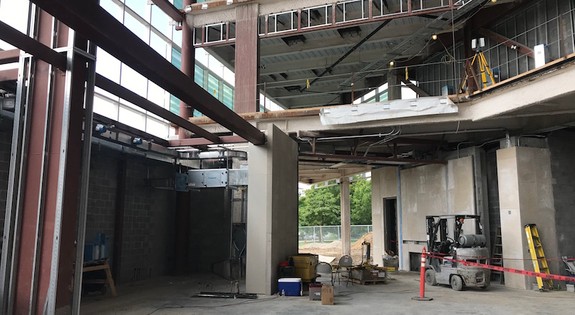 3D building scanning provided assurance that the products being fabricated offsite would be ready for installation with no modifications.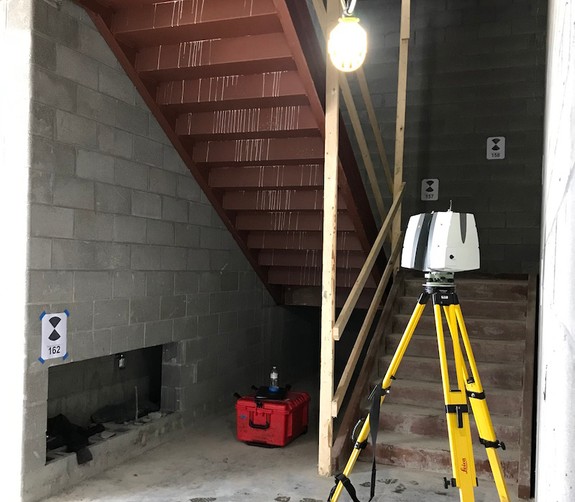 Leica P40 ScanStation reality captures the bottom set of stairs and surrounding features.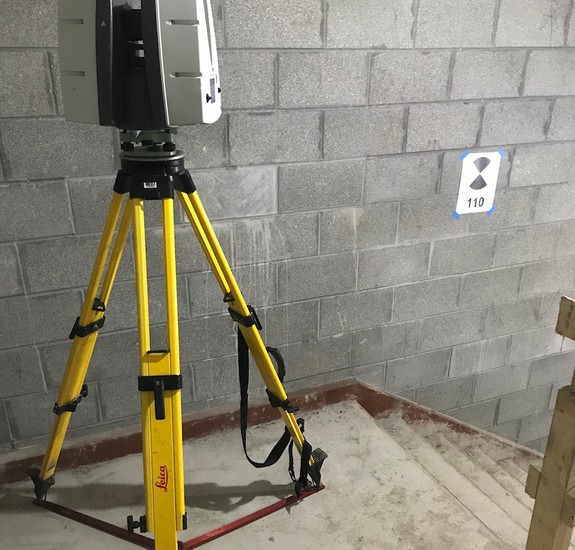 Using a survey-grade Leica P40 ScanStation ensures levelness and flatness as well as provides the highest level of accuracy of the stair set and surrounding features.