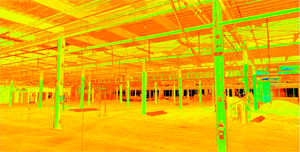 Intensity Map Point Cloud capturing columns, beams, piping, and conduit
Case Study: Denver Technology Center
Location: Denver, Colorado
Task: The client needed to create as-builts and needed accurate room dimensions, beam and column detail, elevations, and dimensions on all mechanical piping and conduit.
Challenge: Traditional methods of measurement would have been time-consuming, less accurate, and disruptive to the active construction site. With the need to acquire 3D information on overhead piping and structural steel, it is much safer, easier and more complete to capture all of this information using laser scanning.
Solutions: By utilizing 3D Laser Scanning, the entire area was scanned within two days. There were no shut-downs or restrictions to the construction or site operations. We were also able to tie the interior data to survey control established on the exterior of the building.
Deliverables: Deliverables included a raw intensity map point cloud to the client.
Added Value: Only 3D Laser Scanning is capable of capturing as much data in such a small period of time. Because of the speed of laser scanning, TruePoint Scanning was able to document all of this information even while work was already underway, with no interruptions. The Denver client could then make fast and exact changes to the installation, avoiding errors and loss of time.
If you are in need of as-built documentation, existing condition drawings, or a 3D Model of an intricate space, TruePoint Scanning provides an extremely fast, accurate and efficient way to gather the necessary field data. For project inquiries in Colorado and surrounding states, contact Dave Schaff at 720-618-1029 or denver@truepointscanning.com.