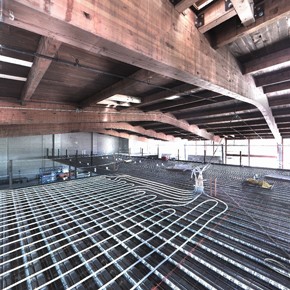 Case Study: Denver Art Studio
Location: Denver, Colorado
Task: To scan multiple floors and map out the radiant heat tubing in the flooring prior to concrete being poured. Doing so would allow the client to safely proceed with any cutting, coring, or drilling that may need to be done, without the concern of hitting any tubing or conduit.
Challenge: With the potential of future renovation, the client needed a safe, accurate way to document what was within the concrete slab after it was poured. The client requested that we do the scanning in multiple mobilizations, due to the different phases in construction. Therefore, TruePoint needed to tie together the scans from three mobilizations into one drawing for the customer.
Solutions: TruePoint was able to arrive on site for each phase and scan the requested areas. Using 3D Laser Scanning, we were able to capture all the radiant heat tubing and conduits that were laid, prior to the slab being poured. Using the laser scanner was a safe, accurate, and effective way to gather all the necessary measurements before the area was covered with concrete.
Deliverables: TruePoint provided the client with a Colorized Point Cloud, PDF, and 2D AutoCAD files of the area scanned. We are also capable of providing 3D AutoCAD and Revit Models, TruViews (3D 360° photos), Recap files, and much more.
Added Value: 3D High Definition Surveying has proven to be a quick, accurate, and versatile tool for architects, engineers, BIM managers, general contractors, and construction managers; it is ideal for adaptive reuse or renovation projects. In this case, TruePoint provided the client with invaluable information that will allow them to safely drill or cut into the slab without striking any tubing or conduit. The deliverables provided will be an asset for years to come.
If you are in need of as-built documentation, existing condition drawings, or a renovation, 3D Laser Scanning is an extremely accurate and efficient way to gather necessary field data. For project inquiries on the West Coast or in the Denver area, call TruePoint at 720.618.1029 or email at denver@truepointscanning.com.