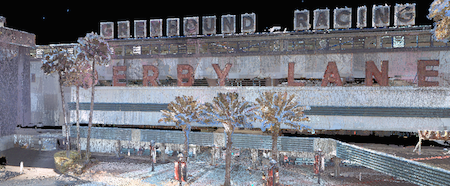 Colorized point cloud data of the building facade
Case Study: Colorized Point Cloud of Facade and Race Track
Location: Tampa, Florida
Task: To provide the client with a colorized point cloud of the facility and track to be used for developing a dimensionally accurate and realistic 3D video game.
Challenge: The client was from overseas and they needed detailed information of the track and the surrounding building facades. Travel costs would have been higher for the client than utilizing laser scanning and making sure they got every measurement they needed before leaving the site would have been imperative to avoid having to re-visit the site and incur additional travel costs. In addition, the track was only available during a small window when the track was not in use. Traditional measurement methods would not have provided adequate detail in the time frame necessary nor ensured that they had captured everything necessary before traveling home.
Solutions: Using a Leica P20 scanner, TruePoint's team was able to capture the information needed in just a couple days, broken up by the limited hours of scanning when the track was not in use. With up to 120 meters in range, we were able to scan all of the areas from the ground level and capture façades, grand stands, and the track quickly and safely. Also, with the P20 having a built in camera we were able to have the scanner take 260 pictures at each scan location and create a colorized point cloud. This is great for clients using the data remotely as it gives great detail and the ability to reference the actual conditions and "real world" colors (RGB values).
Deliverables: We were able to send the project to the client in the necessary file formats for them to use for the modeling process. This being the clients first time using point cloud data to create their video game course, TruePoint's team of in-house architects and engineers were available to assist with any questions throughout the process.
Added Value: By using laser scanning on this project the client was able to receive an accurate, detailed point cloud of the facility without ever having to leave their office. In just days, TruePoint was able to capture more data and more accurate measurements than an entire crew could in weeks using traditional methods.
If you are in Florida and are in need of as-builts of race tracks, stadiums or other facilities, call or email our Orlando office for a quote. Contact 407-558-9716 or email at orlando@truepointscanning.com
Want to hear more about our different applications? We offer Lunch 'n Learn presentations at your office!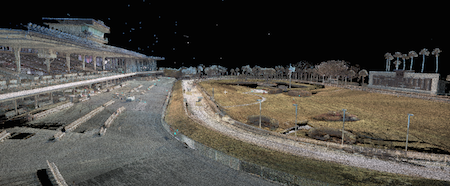 Colorized point cloud data of the spectator area and race track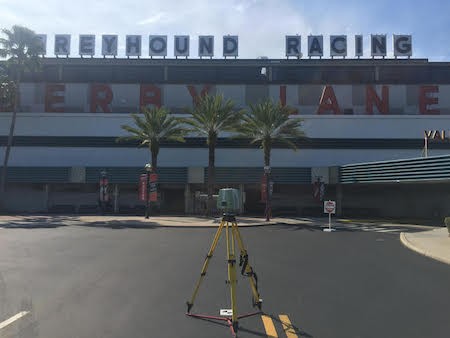 TruePoint scanning the infield and grand stands at the track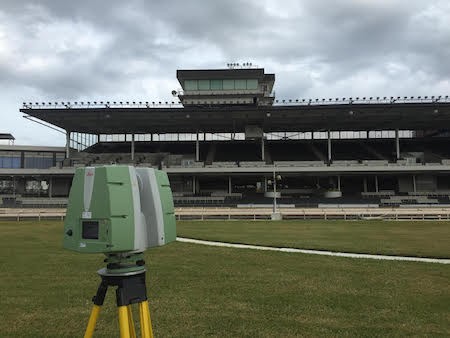 TruePoint scanning the front elevation of Derby Lane race track's main entrance