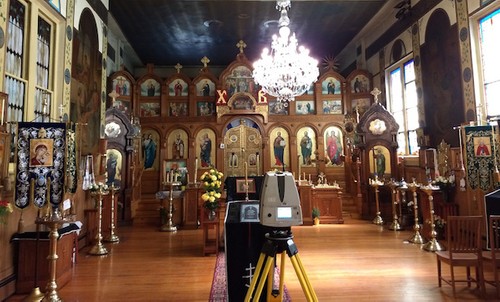 3D laser scanning a historic cathedral for a roof and cupola restoration.
Case Study: Capturing Architectural History with 3D Laser Scanning
"Historical restoration projects are especially challenging. TruePoint Laser Scanning captured the most accurate data possible to get the project done right the first time." - Nate Baker, Northeast Regional Manager
Location: Philadelphia, Pennsylvania
Task: Built in 1897, a historical Philadelphia cathedral was in need of roof and cupola restoration. TruePoint 3D Laser Scanning was hired to capture scans of the cathedral interior, exterior façade, roof and cupolas in order to produce a 3D AutoCAD model and 2D AutoCAD drawings for renovation planning purposes.
Challenge: When tasked with executing major renovations of a historic building, accuracy and pre-planning are vital for project success. Focused on the restoration of the roof and cupola, more than 120 years of architectural history was in major disrepair. Despite repeated efforts, the area was badly worn and leaking water – a serious problem for any aging structure. The challenge was to identify the specific areas of the roof that would require repairs while keeping them consistent with historically accurate standards.
Solutions: Using the industry-leading survey-grade Leica ScanStation P50 laser scanners, TruePoint professionals captured 65 3D scans performed with specific targets for optimal registration of the rooftop, cupolas, façade and interior cathedral. The data was used to produce a 3D AutoCAD Model and 2D AutoCAD drawings for renovation planning purposes.
Deliverable: TruePoint professionals delivered to the client multiple scan files including: a 3D colorized point cloud, JetStream files, 3D AutoCAD model, and 2D AutoCAD drawings for the client.
Added Value: Laser scanning services by TruePoint provided the architect with valuable data for accurate documentation of the complex roof systems for historical restoration to be completed according to original construction methods and standards.
TruePoint is a highly experienced team of 3D laser scanning professionals who deliver exceptional service, accurate data, and custom deliverables to expedite your project. TruePoint can quickly mobilize to your site and provide free project estimates. For 3D laser scanning services in Philadelphia, call 215-871-9231 or email philadelphia@truepointscanning.com.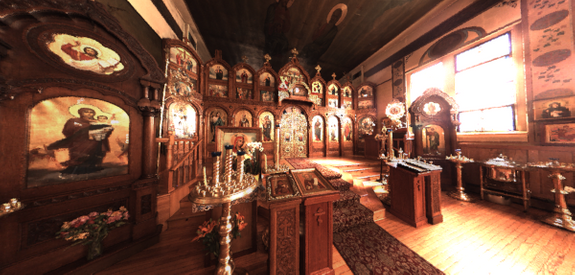 Colorized point cloud created from the Leica ScanStation P50.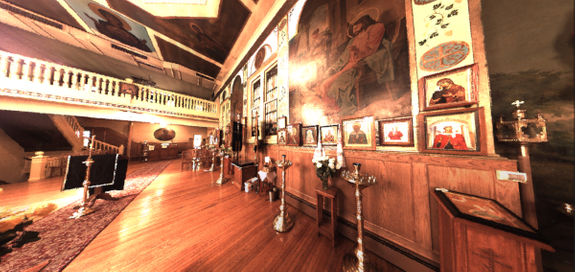 Colorized point cloud of cathedral interior captured through 3D laser scanning technology.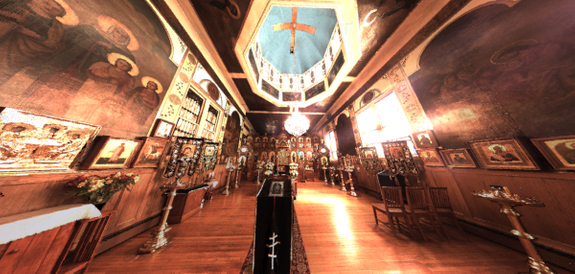 A dimensionally-accurate colorized point cloud provides an as-built representation for restoration planning.