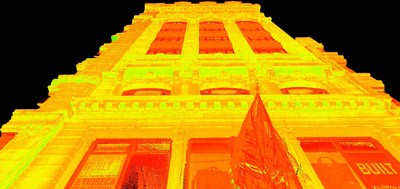 Intensity Map Point Cloud of Facade
Case Study: Capturing Architectural Detail of Building Facade
Location: Broadway—New York City, New York
Task: To capture the exterior façade of the building, including all architectural elements.
Challenge: Since the subject building is located on a busy portion of Broadway in New York City, the pedestrian and vehicle traffic makes it difficult and expensive to use traditional surveying methods to gather the necessary information. Additionally, using scaffolding or manlifts would pose challenges and hazards, adding both time and cost to the project.
Solution: TruePoint utilized 3D laser scanning for several hours early on a Sunday morning when traffic was minimal, which allowed TruePoint to capture all of the necessary information for the client without any major cost and without tricky coordination which could cause delays in traffic. Furthermore, facades and architectural detail are ideal applications for laser scanning because the scanning can be done safely from the ground and can capture hard-to-reach areas easily.
Deliverables: The client was provided with the raw point cloud data which could be imported directly into the 2D AutoCAD elevations that were also created. In addition, TruViews, or interactive 360° photographs that are overlaid on top of the point cloud data, were created to assist in capturing the as-is conditions and detail of the building's façade.
Added Value: For this project, the client was particularly interested in floors one to four, but TruePoint was able to provide the client with information on the entire 15-story building. Additional value for this project was the time and cost savings of not having to use scaffolding or manlifts to access the façade and not having to send staff into the field to gather the necessary information.
If you have a project where gathering the necessary field data is complex, costly, or time-consuming, consider the use of laser scanning, which is both efficient and effective. Call our Corporate Office today at 419-843-7226 to discuss your needs.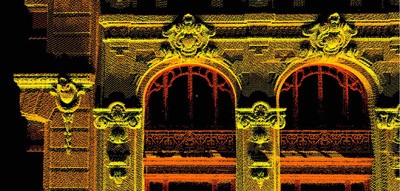 Architectural Detail of Top of Building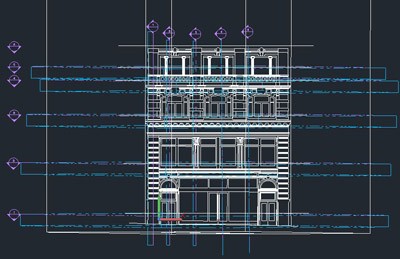 2D AutoCAD Elevation screenshot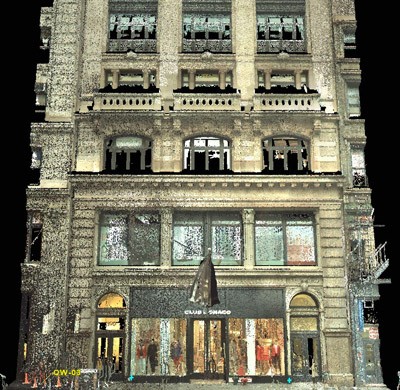 Colorized Point Cloud of Building Façade