Building Renovations Surpass New Construction in 2022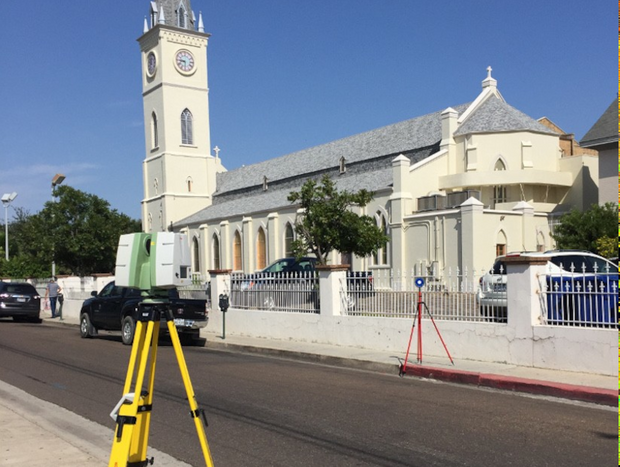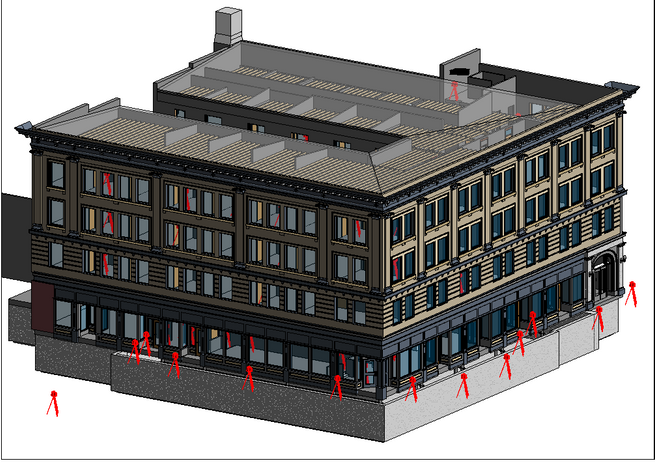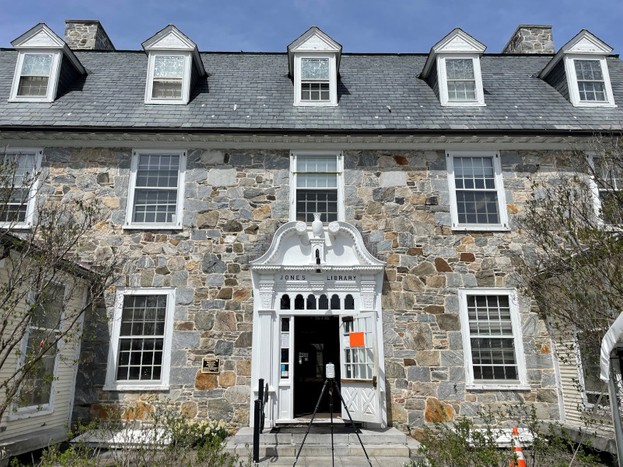 For the first time in 20 years, renovations have overtaken new construction in architectural billings in the Unites States.
The renovation of older buildings in US cities recently hit a record high. As of spring 2022, 52% of architecture firm billings came from renovation work, not new construction, according to the American Institute of Architects (AIA).
In 2005, renovations made up 34% of billings. In 2017, it was 44%. Bloomberg reports that renovations have surpassed 50% for the first time in 20 years.
Renovations, rehabilitations, additions, and historic preservation as a percent of firm building design billings.
Why Building Renovations Happen
Changes in building function are the major cause for renovations. Kermit Baker, AIA's chief economist, asked architecture firms about the most important goal of reconstruction projects they have worked on in the last 12 months and compiled these statistics:
26% adaptive reuse/conversion
24% basic interior modernization
18% tenant fit-outs
10% adding usable space
6% upgrades to building shell
5% upgrades to building systems
4% energy performance
3% historic preservation
2% improve the resiliency of the building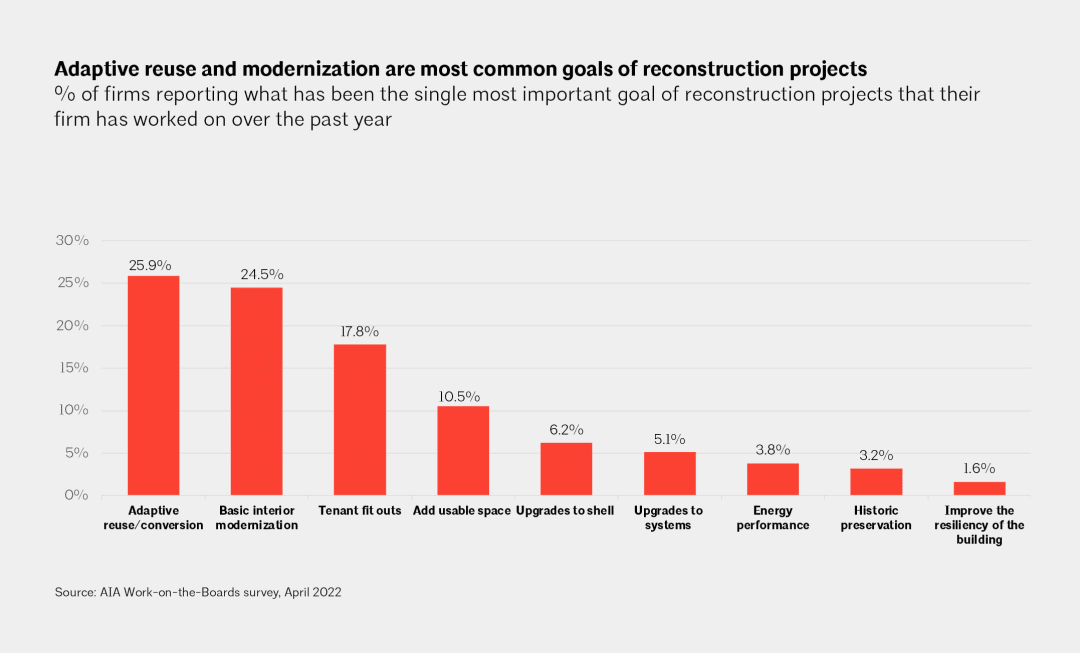 Architectural firms reporting what has been the single most important goal of reconstruction projects that their firm has worked over the past year.
Accurate Site Data for Building Renovations
Renovations can reverse the trend of demolishing buildings and save them by reusing them. "There is an opportunity to adapt or renovate what we already have," says Ryan Hacker, Director of Laser Scanning. He adds, "The challenge is that the architect may not have access to accurate as-built site data to complete these renovations."
There are many concerns when it comes to renovating a structure which does not have the original construction drawings. The architect does not have access to the actual building or site dimensions. 3D laser scanning is the perfect solution to this problem. Exact dimensions and measurements of a building can be obtained in an efficient, accurate and safe manner.
Here are a few project examples where laser scanning can be valuable: expansion of a data center, office buildings being fitted with new amenities, manufacturing facilities adding new production lines, hotels catching up with deferred maintenance, and parking garages getting upgrades.
3D Laser Scanning Can Benefit a Renovation Project
Understanding how 3D laser scanning can benefit your renovation project is an important step in project planning, whether you're embarking on a building renovation or facility maintenance. As-built laser scanning allows you to gather accurate, detailed information about existing site conditions. Data is collected in the form of a point cloud, a database of millions of points in a 3D coordinate system. Accurate to within millimeters, laser scanning captures a precise digital record of a building or site.
What Are the Benefits of 3D Laser Scanning?
3D laser scanning offers the following benefits for renovation, retrofitting, restoration, and construction projects:
Fast, Accurate Data Collection: A single laser scan captures millions of 3D data points per second, providing comprehensive as-built information of a building or project site.
Data Shared Across the Project Team: Datasets are dimensionally accurate, measurable, and shareable, expediting project planning and execution.
Eliminates Site Revisits and Disruption: Sites are captured in high detail the first time, eliminating the need for return visits. High speed data collection expedites projects that require minimal disruption.
Reduced Costs and Change Orders: Accurate design plans are produced from the start, expediting field work and reducing change orders, delays, and costs.
Safe and Non-Contact: 3D laser scanners collect data on tripods from a distance in hard to reach or hazardous locations, keeping workers safe. The non-intrusive nature keeps historic sites and artifacts untouched.
Custom Deliverables: 2D CAD drawings, 3D mesh, and 3D BIM models can be produced at any level of detail. TruViews and virtual tours can be used to visualize the site.
Improved Communication: Teams can discuss plans while each has access to the same information, creating a more dynamic working environment.
Before beginning your renovation, retrofitting, or restoration project, laser scanning can grant architects, contractors, and sub-contractors access to accurate data to quickly move through the design phase. Utilizing laser scanning can offer many benefits and ensure a successful project outcome.
For more information on 3D laser scanning for renovation projects, contact TruePoint Laser Scanning today at 419-843-7226 or email info@truepointscanning.com.