BIM Model Aids Design Renovations for Stadium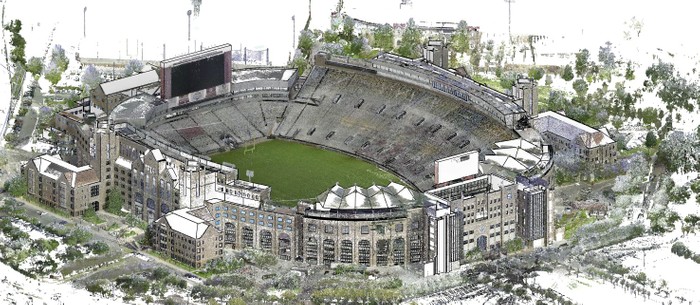 A BIM model provided the stadium owners a better understanding of the design updates.
Location: Tallahassee, Florida
Task: An architect requested an ArchiCAD BIM model of a college football stadium to create renovation construction documents.
Problem:
A vast amount of space required as-built documentation, over 600,000 sq. ft. needed 3D laser scanned and modeled.
The renovation changes were complex. A BIM model was needed to provide the stadium owners a better understanding of the architecture and design updates.
Our client needed a single source of data, where all architects on the team could see the latest design and document their changes.
Solution:
The exterior and interior of the stadium were 3D laser scanned with 2-4 millimeter precision, including three concourse levels, stadium seating, and suites.
TruePoint delivered an intensity map point cloud, TruView viewer files, and a Revit 2021 3D model of the stadium.
Working from precise details in the 3D model, renovations can be designed right the first time, saving time and costly change orders.
Benefits:
The architect utilizes the Building Information Modeling (BIM) process to provide their clients a better understanding of the complexities of architecture and design.
Technical construction drawings (floor plan views, elevation views, cross-sections, iso-metric representations, etc.) can be effortlessly created from the 3D BIM model and shared with all disciplines.
A BIM model allows architects to plan precise renovations, from design changes and material selection, to cost estimation and construction phasing.
For 3D laser scanning services in Florida, contact TruePoint today at:
Laser Scanning Images for BIM Model Aids Design Renovations for Stadium