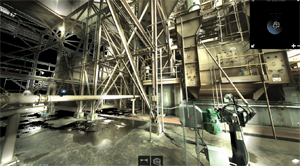 Scans of a power plant in Denver
Case Study: As-is Verification for Denver Power Plant
Location: Near Denver, Colorado
Task: To capture as much of the as-is conditions of the facility, including overhead obstacles, to be used for pre-planning, fabrication, and clash detection for the addition of new equipment to the plant.
Challenge: Due to the size and complexity of the space, as well as many of the features being located overhead, if it were even possible to gather the information manually, it would take an enormous number of hours in the field to do so.
Solutions: Due to the speed, accuracy, and sheer amount of data that laser scanners can capture (1,000,000 measurements per second), TruePoint was able to reduce the field time to a one man crew for one day, instead of weeks or months.
Deliverables: Our client requested indexed Point Cloud files which could be imported into their Autodesk suite. In addition, TruViews, or 3D photographs overlaid on top of the point cloud data, were requested. Since the client was out-of-state from the facility, the TruViews were essential in familiarizing the client with the scan area. TruViews are especially useful for those who have not traveled to the site, but they are also very helpful for those who have been to the site but need to recall specific details of a particular area. Furthermore, since the TruView photos are overlaid on top of the scan data, the client is able to take basic dimensions directly from the photograph for estimating clearances, distances, etc.
Added Value: To have captured manually most of what was captured by laser scanning, a field crew would have needed to rent multiple lifts in order to physically reach some of the areas that, due to laser scanning, were captured safely from the ground. And since the client is located out-of-state from the facility, their travels costs are reduced significantly and their lost productivity is minimized, since they do not have to travel to the site or be out of the office to gather the data. The client is able to continue to generate revenue on other parts of the project while TruePoint collects the required information in the field.
If you have a project in the Mountain or Western Regions you would like a quote for, or if you'd just like to hear more about the benefits of using TruePoint and 3D Laser Scanning: Contact Dave Schaff at 720-618-1029 or denver@truepointscanning.com.