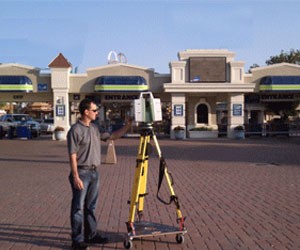 Creating As-Builts of an Exterior Building
Case Study: As-Builts Created using 3D Lidar Services
Location: Sandusky, Ohio
Task: To create as-builts of the interiors and exteriors of three recently acquired buildings, as well as elevations and contours of the surrounding parking lot area for the purpose of both design planning and the development of a proper drainage system.
Challenge: The client had recently acquired three buildings. Because of their age and the fact that the buildings had been empty prior to acquisition, there were no current drawings or models of the buildings available. The client needed detailed CAD models of the buildings and needed them quickly. Additionally, the client needed detailed information about the parking lot and surrounding topography of the property so that they can plan and re-design the space for their needs and ensure an appropriate drainage system is in place as well.
Solutions: Using laser scanning, TruePoint was able to provide the client with 2D drawings of the interiors of the buildings and elevations of the exteriors of the buildings to use for their planning and design process. Additionally, the client received 3D elevations and contours of the land and parking lot so that the they can plan for traffic flow, a drainage system, and the expansion of the buildings.
Because of the laser scanner's range, TruePoint was able to capture all the topographical features surrounding the buildings at the same time that the exteriors of the buildings were being scanned. Not only did scanning save time that way, but it also provided the client with much greater detail than traditional land surveying could offer. Additionally, TruePoint worked in conjunction with a survey company that provided control points, so TruePoint was able to tie the CAD models and drawings to state plane coordinates, giving the client coordinates for every detail within the scan data.
Deliverables: TruePoint provided the client with 2D Plan Views and elevations of the interiors/exteriors of the three buildings, as well as 3D elevations and contour maps of the topography.
Added Value: By occupying existing survey control points during scanning, TruePoint was able to tie their scan data to the existing coordinate system. In this case, state plane coordinates were provided, allowing every point in the scan to be on state plane coordinates, regardless of whether the point is inside the building or outside on the property. This can be extremely helpful for the planning phase of a project as it shows the exact location of key features, such as corners of buildings, storm drains, curb cuts, lights, fences, etc.
Contact TruePoint Laser Scanning, Inc., at 216-470-7262 or cleveland@truepointscanning.com, if you have a project which requires precision and a high level of detail, and/or you are on a compressed time schedule.