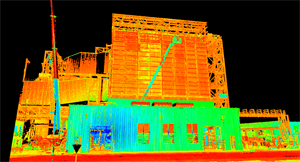 Case Study: As-Built Verification Compressor Building
Location: Tulsa, Oklahoma
Task: To capture the interior and exterior of a newly built compressor building. The measurements were to be used to create accurate as-builts of the building as well as the equipment, piping, and conduit associated with the system.
Challenge: The mechanical rooms were congested, complex spaces. Manually (by hand) measuring the mechanical features to be used in 3-dimension could take multiple people several days on-site. However, the site was an active construction site and operations could not be halted in order for by-hand measurements to take place
Solutions: TruePoint was able to utilize one scan technician in order to capture both the interior and exterior of the compressor building in one day on-site. At up to 1,000,000 measurements per second and around three minutes per scan, the speed of scanning allows extremely accurate measurements to be collected in a very short amount of time. Furthermore, TruePoint was able to complete the scanning without any disruption of construction operations.
Deliverables: The client on this project was interested in working directly with the point cloud as their deliverable. Point clouds can be used for extracting dimensions and measurements as well as for clash detection and the creation of as-builts. By utilizing the point cloud data, the client saved any additional expenditure related to modeling. TruePoint can also provide training to the client to better familiarize them with how to efficiently work with the point cloud as well as explain to them the process of going from point cloud to model.
Added Value: Not only did the client receive the measurements that TruePoint captured, but the time they saved allowed them to focus on other aspects of the project while TruePoint was on-site capturing the as-is conditions. In one day, TruePoint was able to capture all the information needed to create extremely accurate as-builts for the newly constructed building.
Laser scanning is currently one of the fastest ways of gathering highly accurate field measurements. The amount of time TruePoint spends on-site gathering measurements can be minimal compared to traditional field measuring. By saving time in this way, the client is better able to focus their time in a more productive manner.
If you are in need of as-built documentation, existing condition drawings, or a renovation, 3D Laser Scanning is an extremely accurate and efficient way to gather necessary field data. For project inquiries in Seattle, Los Angeles, San Francisco, Las Vegas, Phoenix, Salt Lake City, Denver or surrounding areas, call Dave Schaff with TruePoint at 720.618.1029 or email at denver@truepointscanning.com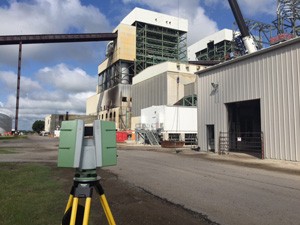 Scanning the exterior of the compressor building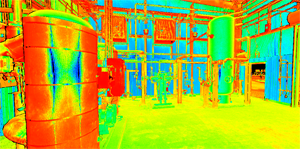 Raw data of the industrial space for the creation of as-builts