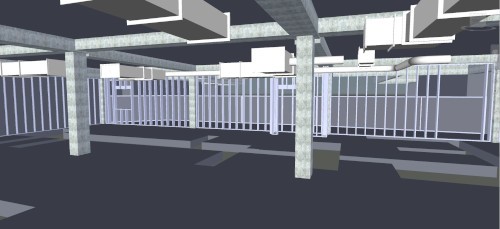 As-Built Data To Remodel a College Campus Building
Laser scanning is a highly accurate method to measure and capture the details of an existing building or construction site. Many construction projects lack current as-built drawings. This information is critical because it helps expedite design planning using real-world building data as a foundation. By utilizing laser scanning to capture and share information, clients are able to focus on delivering projects on time and on budget.
Location: Tucson AZ
Task: Using 3D laser scanning to capture as-built data for the remodeling of a college campus lab building.
Project Application: The contractor required exact details of the building structure, HVAC, and piping to plan for renovations.
Problem
A college lab building was undergoing renovations, 19,000 square feet and 4 rooms required laser scanning.
The contractor needed to capture exact locations of the building structure, including mullions, HVAC equipment, and piping locations.
This project required a fast turnaround.
Solution
In one day on site, 97 scans were taken with the RTC360 Leica laser scanner.
The client received a colorized point cloud, 2D floor plans and sections, a 3D Revit model and TruViews for this project, all uploaded to ShareFile for fast access.
The 3D Revit model was created in high detail featuring the size, shape, and locations of the lab in current conditions.
Benefits
The Leica RTC360 is fast – capturing 2 million data points per second. The creation of colorized 3D point clouds can be completed in under two minutes per scan location.
Laser scanning captures comprehensive project data to review off-site. This dramatically reduces the need for follow-up visits to review as-built details.
Clients have quick access to the scanned data to make initial assessments and calculate estimates of a site build-out.
The client was able to renovate an existing facility into a state-of-the-art lab space.
For 3D laser scanning services in Arizona, contact us below:
Images for the Remodeling of a College Campus Building