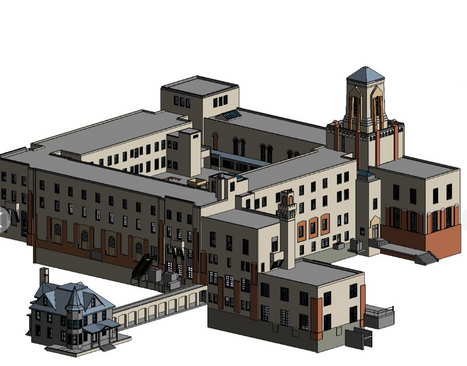 Building Information Modeling (BIM) is an intelligent 3D model that gives architecture, engineering and construction (AEC) professionals the insight and tools to more efficiently plan, design, construct and manage buildings and infrastructure. BIM models give engineers data to manage the building throughout its entire life-cycle. It provides accurate geometry and spatial relationships, as well as documents specific building features.
3D BIM modeling has been used in construction and other industries to better understand and organize the entire scope of a project. Here's how BIM helps construction projects run as smoothly as possible.
Increased Productivity
BIM gives engineers, architects and contractors the opportunity to design the details of a building virtually. It expedites design planning and reduces miscalculations, building faults and material waste. As a result, buildings that begin with BIM are often built with great efficiency and better productivity. An improved workflow helps to speed up the project.
Effective Cost Estimation
Using 3D BIM modeling in conjunction with cost-estimating technology can lead to more accurate estimates. In the early stages of building planning, construction firms can leverage automation technologies to cut down on the time spent calculating costs for each part of the project. Using the dimensions of the BIM model they can quickly estimate the amount of material and costs needed.
Foreseeing Potential Issues
One of the greatest benefits of BIM modeling is that it can be used to factor in risks and potential problems that may arise during the building stage. Before construction even begins, scan to BIM helps contractors identify internal and external clashes, and work to correct and prevent these. In this way, BIM technology reduces the need for rebuilding, which in turn increases project efficiency and reduces the costs associated with rework. At the same time, it creates safer, more predictable working environments for those on the building site.
Better Building Quality
With more productivity, cost reduction and fewer faults, BIM leads to better buildings. Team members are better able to coordinate with each other on project details, and contractors can rely on a coordinated model that helps to mitigate risks. Thus, BIM is a crucial part of ensuring exceptional building quality.
Better Marketing
For construction businesses, BIM goes much further than the buildings themselves. Existing BIM models can be used to market the kind of work that a construction company does. By using these models as part of the company's marketing, business owners are able to show potential clients how they can benefit from the company's technologies. While this is not one of scan to BIM's biggest benefits, it's important to know that it can help make an impressive proposal.
Look to 3D BIM modeling as the complete source of project knowledge. Use Scan to BIM services to improve productivity, cost estimation, clash detection, build quality and marketing.