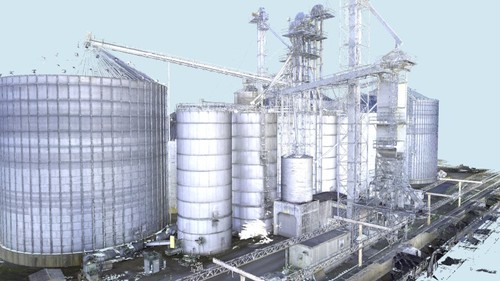 A facility scan allows a contractor to have accurate site data from the start, which can create better communication for everyone involved.
Technology Streamlines Grain and Feed Milling Facility Design, Maintenance
Article Written by Lisa Cleaver
Accurate Documentation Can Facilitate The Design And Engineering Of Improvement Projects.
When it comes to the construction or modification of a grain processing or animal feed mill operation, technology is revolutionizing the way we engineer and plan these projects.
Laser measuring and topographical mapping offer a precise method to collect information to record and measure existing facilities, essentially creating a digital twin.
"This technology eliminates the need to manually collect measurements on site ever again," said Dan Starr, owner and partner of ScanStar. "This information can then be shared with owners, contractors, surveyors, earthmoving companies, and more – really anyone involved in the project team."
This technology is also beneficial in bid packages, says Starr. "It possibly lowers bids by reducing confusion with bidders and giving them a base to start their bid drawings," he said.
Facility mapping with 3D scanners
Topographical mapping documents site features such as buildings, structures, above-ground utilities, terrain and landforms into a 3D digital map.
The map contains the exact locations and elevations of the existing site conditions and is used by engineers to plan accurate designs, said Jeff Barrett, Inside Sales Manager with TruePoint Scanning.
"As grain processing and handling facilities age, they require updates to maintain efficient and safe product workflows," said Barrett. "3D laser scanning will document all site conditions -- structures, towers, tanks, silos, grain bins, hoppers, conveyors, spouting, grain elevators, machinery, loading docks, catwalks and more – with 2- to 4-millimeter accuracy."
A facility scan allows a contractor to have accurate site data from the start, which can create better communication for everyone involved.
"Having the project scanned ahead of the bid process will ensure bidders have all the geophysical information they need to produce an accurate bid," Starr said.
The process of 3D scanning
Topographical maps can be used for a variety of facility projects, from the initial planning and design of a grain silo to engineering grain intake and distribution towers to the construction of a grain loading dock to replacing ducts and piping for a grain chute – and more.
To map a site and create a point cloud, 3D laser scanners are placed in multiple positions around a site and take individual scans from varying viewpoints.
They work by digitally capturing the dimensions and spatial relationships of objects using the reflection of the laser light. A 360-degree scan is taken of a location with the option of capturing panoramic photos.
When the existing conditions of sites are scanned, millions of data points from the surfaces of the objects are captured and the result is an accurate point cloud of the scanned areas.
"Design and engineering consultants will appreciate accurate digital representations of the facility to assist in their collaboration with the client," said Barrett. "From the point cloud, 2D CAD drawings and 3D BIM models can be created for reliable project planning."
Laser scanners are high-speed and can quickly capture large-scale sites and facilities. Traditionally, 3D scanning has been used through laser-based and tripod-mounted scanners, says Starr. But feed and grain facilities generally involve massive exterior structures with very limited access.
"This results in an incomplete scan with chunks of interconnections, structures and equipment completely missing," said Starr. "We overcome this problem by capturing the point cloud from the sky as well. We use a large drone capable of carrying a payload and employ a federally licensed commercial drone pilot to operate it."
The drone is tracked by GPS and its location is verified through the base station and the set control points. The GPS server and the drone's firmware work together through a program to take thousands of geotagged images.
Tripod-mounted laser scanning equipment is necessary, however, for interior spaces and is valuable for complex processes.
Depending on size, it can take anywhere from one day to weeks on site to complete a 3D scan of grain or feed milling facility.
"Since 3D scanning requires line-of-site, these spaces must be cautiously and painstakingly accessed in order to capture everything," said Starr. "Generally, we find that for a relatively clean mill with about a 3- to 4-ton/hour output, plus loadout, receiving, warehouse and office is about three days of work."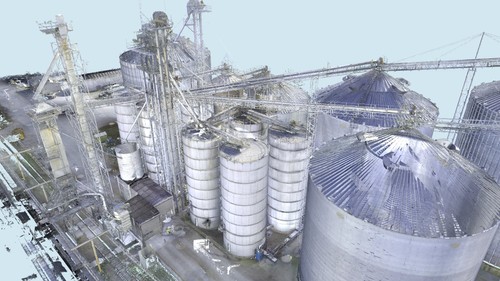 When existing conditions of sites are scanned, millions of data points from the surfaces of the objects are captured resulting in an accurate point cloud of the scanned areas.
Design-bid-build advantages
3D laser scanners can capture existing conditions more completely and with a higher level of detail than manual methods.
"Laser scanning is the most accurate form of measurement available, delivering accuracy of 2 to 4 mm," said Barrett. "Incorporating a laser scan into the design of your project assures accurate and complete information, avoiding costly headaches, clashes and wasted material during the construction phase. Laser scanning is quick, safe and non-intrusive – eliminating or minimizing operational shutdowns and client inconvenience."
Other benefits of using a laser scanner include:
Reduced errors and rework
Improved responsiveness to project changes
Schedule reduction
Increased worker safety
Improved quality control
3D visualization and spatial analysis (i.e., line of sight)
"3D laser scanning quickly collects precise as-built data, to expedite design planning and improve communication – ultimately reducing the costs and change orders," said Barrett.
Starr adds that in addition to design-bid-build advantages, creating a digital twin of your facility allows an extra layer of assurance for other purposes.
"Using 3D scanning allows you to create data for insurance and asset tracking, planning and design, records, and documentation," he said.
3D scanning and digital twins for predictive modeling
Predictive modeling is a mathematical process used to predict future events or outcomes by analyzing patterns. This could help a grain processing or animal feed facility gain efficiencies in their processes.
"A digital twin is a highly complex virtual model that is the exact counterpart (or twin) of a physical object or space," explained Jeff Barrett with TruePoint Scanning.
3D laser scanning can be used to collect as-built data for a grain facility and create a digital duplicate. Data can be easily viewed, measured and analyzed, said Barrett.
"Digital twins are used to improve efficiencies, optimize workflows and detect problems before they occur," he said.
Gero Zimmermann, head of technology, animal nutrition for Bühler, said recently in a Feed & Grain Chat with Editor Elise Schafer that a digital sensor setup combined with a digital twin and a machine learning algorithm could provide recommendations to a non-skilled operator or an operator with less experience.
"With this kind of decision support systems, having different skill levels in your staff, you can run a feed mill on average at a much higher efficiency level than without such a system," said Zimmermann.
At its highest development stage, this type of digital twin system does all these optimizations independent of the operator, so it becomes a fully automatic process control system.
"We have seen cases in pelleting lines where we install such systems and the process runs much more stable than before – throughputs of 20% higher than before, energy levels 10% to 20% less than before," said Zimmerman. "And with a very consistent end-product quality."