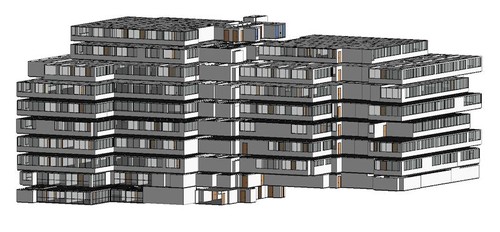 Exterior view of Revit 2019 LOD 200 model of the building interior.
Case Study: 3D Scanning for Next Generation Building Modernization
"People work differently in today's world, so spaces aren't just renovated, they are modernized. Creating an accurate digital representation of the current space helps keep the planning and design process efficient."
- Andy Foshee, Southeast Regional Manager
Location: Miami, Florida - Carnival Cruise Lines Corporate Headquarters
Task: TruePoint was asked to use 3D laser scanning to help develop as-built drawings, plans, and specifications necessary for construction space planning, and furniture placement. The data will be used by the client to develop plans for renovating 350,000 square feet of office space between two separate buildings.
Challenge: A strict deadline required a rapid capture of information. Carnival Cruise Lines plans to redesign existing office workspace in the Miami, Florida headquarters. More than a simple renovation project, Carnival seeks to develop a workspace that is aligned with core organizational values such as collaboration, transparency, diversity and inclusion. Secondary goals include improved efficiencies and modernization of the space to meet the needs of current and future employees.
Solution: Laser scanning provided accurate and detailed information, plus the ability to quickly create a 3D model. Manually pulling hand measurements would prove hugely inefficient in a space of this size.
Deliverable: Upon laser scanning the North and South Tower, TruePoint produced a LOD 200 Revit model showing basic architectural features (walls, doors, windows, and ceilings) of the entire area.
Added Value: Demonstrating the ability to successfully manage a 3d laser scanning project of this scale, TruePoint provided a LOD 200 Revit model that can be used along with the 3D JetStream viewer files as a means of showcasing the existing conditions to their client throughout the duration of their project. TruePoint possessed the ideal qualifications, skills and depth of management experience to deliver a successful project. By involving laser scanning on the front end of the project the client will pay for the laser scanning services by reduced change orders, rework and associated delays by having all of the necessary information upfront.
TruePoint is a highly experienced team of 3D laser scanning professionals who deliver exceptional service, accurate data, and custom deliverables to expedite your project. TruePoint can quickly mobilize to your site and provide free project estimates.
For 3D laser scanning services in South Florida/Miami, call 786-858-2412 or email miami@truepointscanning.com.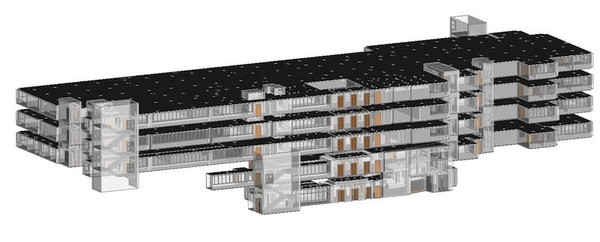 Overall 3D view of project.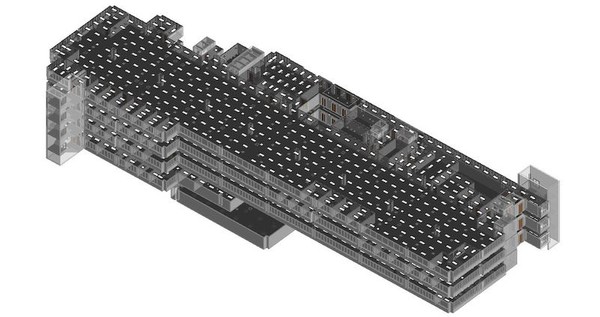 3D view showing the lighting on the 5th floor.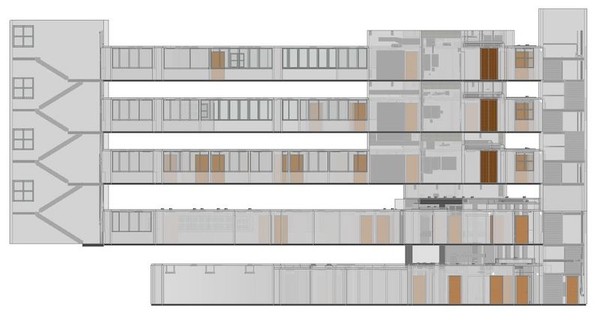 This 2D elevation displays the side view of one of the buildings.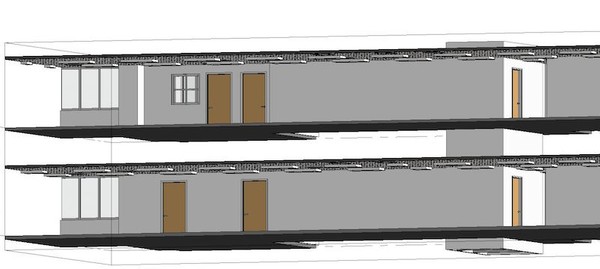 Close-up interior view of Revit 2019 model.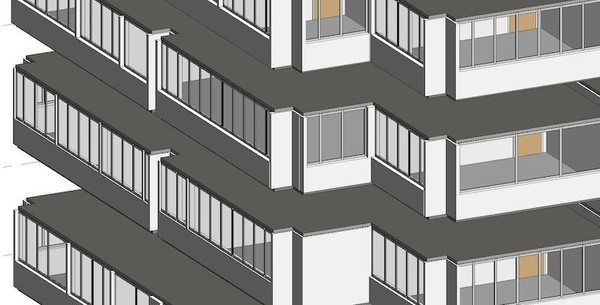 Exterior close-up view of Revit 2019 LOD 200 model.