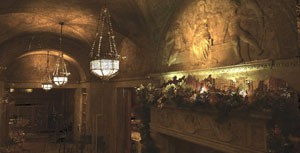 3D Scanning of a Hotel's Architectural Details
Case Study: 3D Scan of a Hotel's Architectural Detail
Location: New York, New York
Task: To document the intricate architectural detail of the existing interior hotel walls.
Challenge: Due to the finite and sheer amount of detail needed to document, the architect needed to come up with a better way than simply using photographs or trying to sketch details.
Solutions: By using 3D laser scanning, even the minute details are quickly and accurately captured. A project that would otherwise take days to field document was completed in one day of scanning, even while the facility was in operation.
Deliverable: For a project such as this the raw data, or point cloud, was very useful in itself. Elevations, plan views and cross sections of the point cloud were created and imported directly into AutoCAD and were used to create 2D drawings. A 3D model of the walls and key features can also be created from the data and then imported into AutoCAD, Revit or other such software packages. The point cloud can be overlaid on top of the 3D model to provide additional detail that is not contained in the model.
Added Value: Since the hotel was in operation, having as minimal impact to the hotel staff and its customers is of primary concern. By utilizing laser scanning, it is possible for most of the hotel operations to continue on as normal. Additionally, because laser scanning is a fast alternative to manual field measurements, the number of people necessary to conduct the work can be significantly reduced, as well as the amount of time on-site. Traditional methods of manually completing the fieldwork for this project would have taken a number of people and several days to collect a fraction of the information that is possible with 3D laser scanning.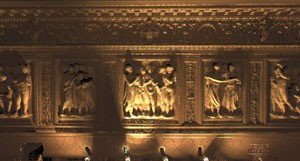 Architectural features on wall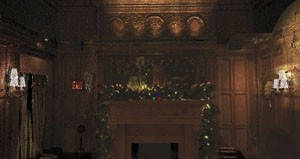 Fireplace, hearth, and wall detail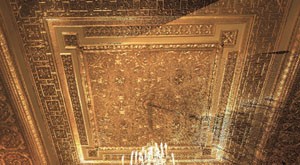 Colorized point cloud of ceiling