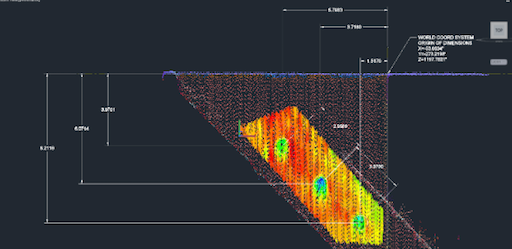 TruePoint provided accurate measurements of the bolt holes so the client could prefabricate steel bracing.
Case Study: 3D Laser Scanning to Prefabricate Platform Upgrades
Location: Crawfordsville, Indiana
Task: Using Lidar mapping, TruePoint laser scanned a steel platform near Indianapolis, Indiana. The platform structure was 30 feet above the ground in an extremely dangerous environment. It was adjacent to equipment used for melting raw steel and exceeded temperatures of 2500°F. The scan data target objects were the underside of the platform including columns, beams, deck and other structural features.
Challenge: The client needed to capture the bolt holes on the underside steel connections and side elevations of the platform to prefabricate new steel cross bracing. The bolt holes that needed to be located were in existing gusset plates at ground level and 30 feet above grade on the underside of the platform.
Solution: Using 3D laser scanning, TruePoint was able to safely and accurately capture the platform and bolt holes from the ground, a safe distance from operating equipment and heat, as well as without the use of a lift. Traditional measurements would have been difficult due to the height of the platform and dangerous due to the extreme temperatures of the equipment.
Deliverable: TruePoint provided the point cloud data in Autodesk Recap (.rcs) and Raw Point Cloud (.ptg) format so the design team could overlay it on their design drawings and prefabricate the necessary steel bracing. Recap files and .PTGs are point clouds that can be used for extracting dimensions and measurements and can be used for clash detection, shop drawing verification and prefabrication. Utilizing point cloud data saved the client additional expenditures related to modeling, and ensured that the accuracy was within ASTM and ASIC tolerances for steel construction.
Added Value: TruePoint quickly and safely captured the platform from the ground, without renting a lift. By determining the exact location of the bolt holes, the steel yard could prefabricate the bracing instead of field-welding those connections.
For laser scanning services requiring a high level of detail in a dangerous environment that cannot be captured quickly, safely, or accurately using traditional methods, contact TruePoint today at 312-448-1509 or chicago@truepointscanning.com.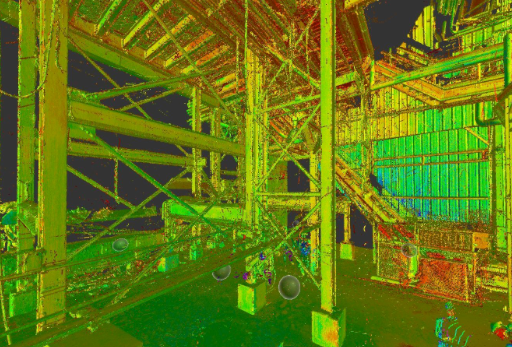 This intensity map shows the underside of the platform, including the columns and beams.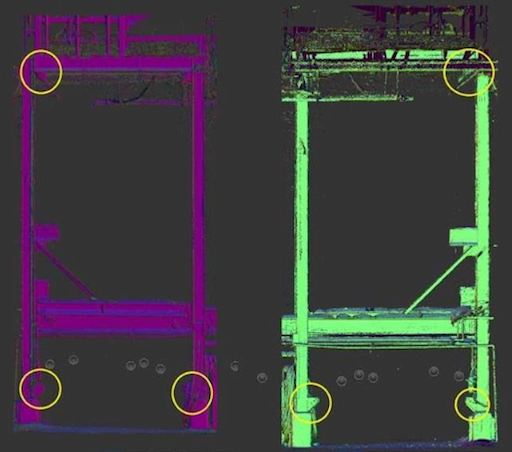 The bolt holes that TruePoint laser scanned were in gusset plates at ground level and 30 feet above grade on the underside of the platform.