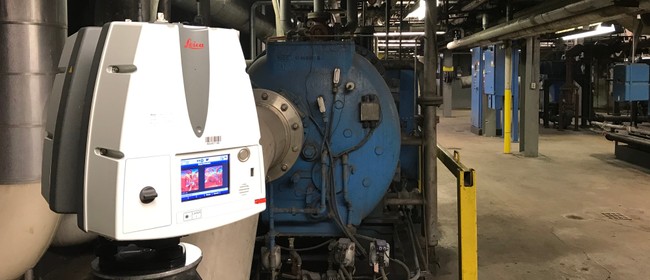 Rental vs. Purchase vs. Hiring a Service
Option 1: Renting Laser Scanning Equipment
Renting a 3d laser scanner can be a quick means of documenting as-built conditions. Many companies offer 3d laser scanning rental programs for high definition scanning equipment and point cloud processing software. If you can't yet support a purchase based on your scanning volume, renting could be a perfect way to reduce costs, increase your margins and test out your success. Rentals are also a good option when you need a specialized laser scanner that you might not use on an ongoing basis. There's no need to worry about servicing or maintaining the equipment and the latest model can be selected. A major downside to renting equipment is knowing how to use it. Time can be wasted learning to use the equipment, in addition to time and money spent fixing mistakes which can arise from improper use. Note additional charges such as targets, tripods and shipping. Most scanner rental companies also require proof of insurance and account pre-approvals.
Option 2: Purchasing Laser Scanning Equipment
If you have a continuing need for laser scanning, then buying a laser scanner is the best solution as long as you have trained staff that can optimize its use. There is a significant learning curve to attaining proficiency in 3d laser scanning. It is a capital investment, but it can cut costs, and allow you to respond quickly when laser scanning opportunities arise. Take note of additional investments such as purchasing software, hardware, firmware, training, maintenance and calibration year-in and year-out.
Check out the equipment TruePoint has available for purchase.
Option 3: Hiring a Laser Scanning Service
If you are just starting out with laser scanning or don't plan to use laser scanning often enough to justify the purchase, hiring a 3d laser scanning service provider may be a good choice. An experienced 3d laser scanning company is able to provide accurate field documentation and more insight to the nature of a project than someone using laser scanning equipment for the first time. Experienced companies offer faster and more efficient work and stay up on the latest trends in technology, workflow and software.
Why Call TruePoint Laser Scanning?
TruePoint is one of the top laser scanning service providers in the United States. Our project managers undergo an extensive training program to ensure their competence in terms of equipment, field knowledge, and providing the best possible results for every project. Our CAD technicians constantly advance their education to improve efficiency and expedite deliverables for clients. Constant personal development enables us to provide the best quality and service.
Why Do I Need a 3D Laser Scan?
3d laser scanning is the most effective solution for measuring and documenting the existing conditions of an environment. Laser scanning accelerates design planning, cost estimation and scheduling, while reducing errors and change orders. For more information on hiring a 3d laser scanning service, contact TruePoint today at info@truepointscanning.com or 419-843-7226.