3D As-Built Model of Small Volume Provers Trailer Plan View
Case Study: 3D Laser Scanning of Petroleum Refinery Equipment
Location: Lebanon, Ohio (near Cincinnati)
Task: To create 3D as-built models of five (5) small-volume prover trailers. The as-builts would be used for re-engineering purposes and for designing future small-volume prover trailers.
Challenge: These complex trailers are used every day all over the U.S. except for one time each year when the vehicles are all taken to one location at the same time to be re-calibrated and re-certified. This small window of downtime did not allow enough time to accurately create as-built models of the vehicles using traditional methods.
Solutions: While the five trailers were out of service and in one location, TruePoint was brought in to scan them. The scanning was able to be completed in one day so that the units could be back in use the next day. When TruePoint completed the scanning, the vehicles were returned to the field, and, then, the actual modeling of the small-volume provers could take place in the office where it did not impact use of the trailers.
Deliverable: The client received five separate 3D CAD models of the small-volume provers, one for each. In addition, through the use of the scanner's on-board camera, TruePoint was able to provide the client with a TruView of each vehicle. A TruView is a 3D photograph overlaid on top of the point cloud (raw data). Using an Internet Explorer plug-in that is provided to the client for free, the client is able to access the 3D photo and can move it left/right, up/down, zoom in/out and even take rudimentary measurements and do text mark-up on it. A TruView can be especially helpful in situations like this where it is not necessarily feasible for the client to go back and look at the units later if they wanted to check on a specific detail.
Added Value: Downtime can be costly for any company. Minimizing the time the vehicles were out of use more than justified the cost of laser scanning. The client was also given a much more accurate and complete model of each of the units than they would have been able to create manually. The client also received the added benefit of 3D pictures that permanently document the vehicles and can be referenced by anyone in the company, regardless of where they are or where the vehicles are stationed.
If you have a time-sensitive project that could benefit from the cost savings provided by 3D laser scanning, contact TruePoint Laser Scanning at 513-609-7244 or cincinnati@truepointscanning.com to discuss your project.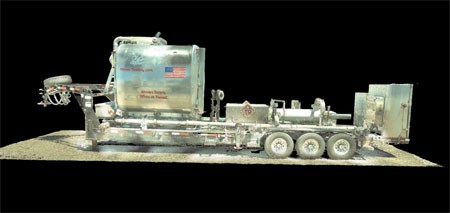 3D As-Built Model of Small Volume Provers Trailer Side View