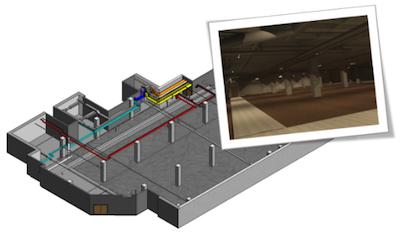 3D Model (left) of Structure & MEP Features and Rendering (right) of Model
Case Study: 3D Laser Scanning of Hospital Kitchen
Location: Lexington, Kentucky
Task: Laser Scan the interior of approximately 17,000 SF of Hospital Kitchen to capture all exposed MEP and conduct a floor fill analysis. The contractor and architect also wanted to see where installed systems aligned with their proposed model.
Challenge: The client was going to build a Kitchen in a basement of the hospital. Before they continued with framing and pouring of the floor they wanted to capture all of the exposed MEP. Since the Kitchen was in the basement there were some challenges associated with bringing concrete into the building for the pour. The client wanted to know with accuracy how much material they would require in order to receive the best price and help expedite the process.
Solutions: By utilizing 3D Laser Scanning, the entire interior space was captured in one day. TruePoint's Scan Technician was able to capture in detail all MEP in the area exporting detailed data very quickly. Creation of an Autodesk Revit model began upon completion of the export. Utilizing the scan data, TruePoint provided a floor fill analysis by generating a subgrade plan and determining how much material would be required to match the existing slab's grade.
Deliverables: Intensity Map Point Cloud, an Autodesk Revit Model, elevation drawing file and slab thickness plan drawing file.
Added Value: By utilizing 3D Laser Scanning early in their project the client received accurate measurements of both ceiling and ground level features with just one site visit. This saved the client time and money by not having to field measure congested and complex piping. In addition, by having accurate calculations for their cut/fill and slab thickness analysis they will get the best price for their pour.
For 3D laser scanning services in Northern Kentucky please contact Zach Jones at 513-609-7244 or email at louisville@truepointscanning.com.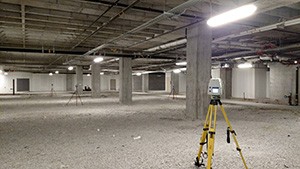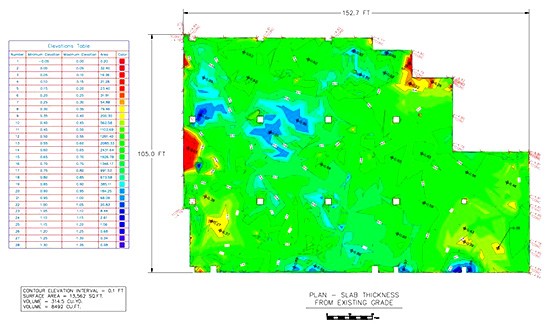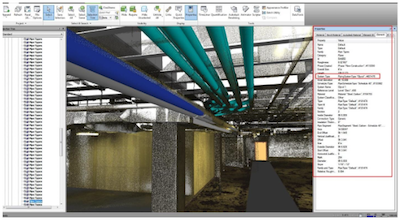 Point Coud & Modeled Features Used in Navisworks for Clash Detection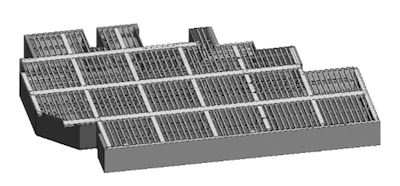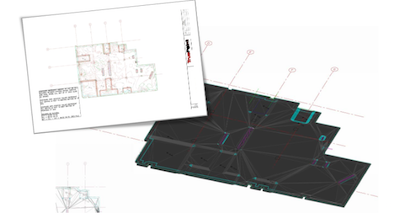 Floor Flatness, Contours, & Topography of Concrete Slab Foor Surface